When we moved to our current fixer upper, we left behind our completely newly, finished-in-the-nick-of-time, house. We weren't looking to move you could say. In fact, we decided six months prior to finding our current home that we would turn our home at the time into one we could stay in for five more years.
We decided we would personalize our home even more than we had, and we would enjoy the spaces we lived in. After all, we had JUST finished so many projects there that made our house work for us! Infact, one of the rooms we put our own spin on, was our daughters bedroom. We did so by hand paining a fun tree above our daughters bed and she adored that space! It was one of the things she missed when we ended up unexpectedly moving to our fixer upper.
She adored sleeping under her little quirky tree and quickly decided that her new space needed some personalizing too.
So, we wasted no time getting to it. I started by personalizing her space with a hand painted floral wall and then last year at this time we upgraded her dropped ceiling and bulked up her space with trim work and custom DIY closets. We shared her room reveal with you, but we didnt show you how we went from a blank slate bedroom to the girliest room around.
Here's how we did it!
It was messy. 😉
As soon as we moved in, we started by priming and painting the interior of the bedrooms closets.  I then painted the exterior doors a bright white for an easy refresh.
Most recently, we started out by giving her wall of builtins a facelift with some trim.
We decided to carry on the color we were covering her built in with, all the way down the wall and around her doorway.
We went bright and bold here and let our daughter choose the colour for her wall. We used "Coral Gables" by Benjamin Moore. The rest of her room was painted out "Simply White" by Benjamin Moore and the contrast of the colors is just the right amount to make a big impact.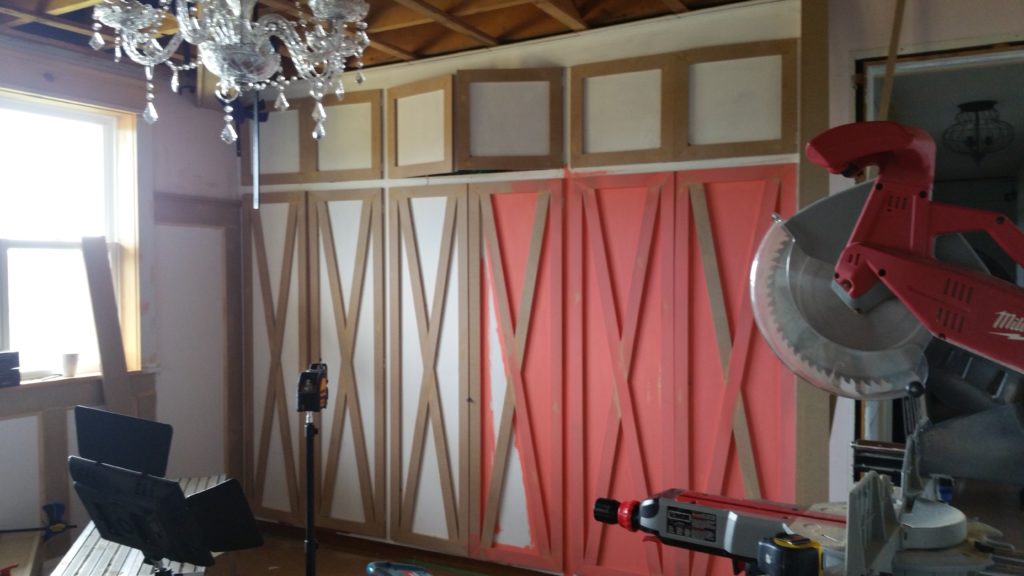 Once we ripped down the old dropped ceiling, we decided on adding a fun pattern to the ceiling to add some interest to it.  We started by adding beams in a diamond pattern on the ceiling and then planned to in lay each section with tongue and groove pine.
To do so, we ripped down sheets of MDF for the beams. We measured our space, cut them accordingly, attached them directly to the bare ceiling and finished each section off with dry wall.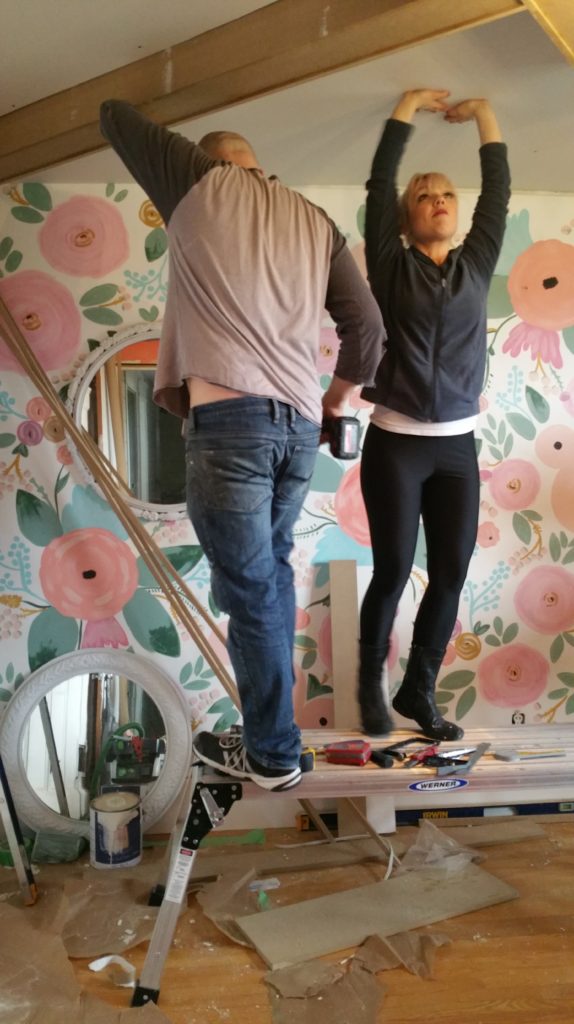 To replicate, find a friend or another set of hands to help.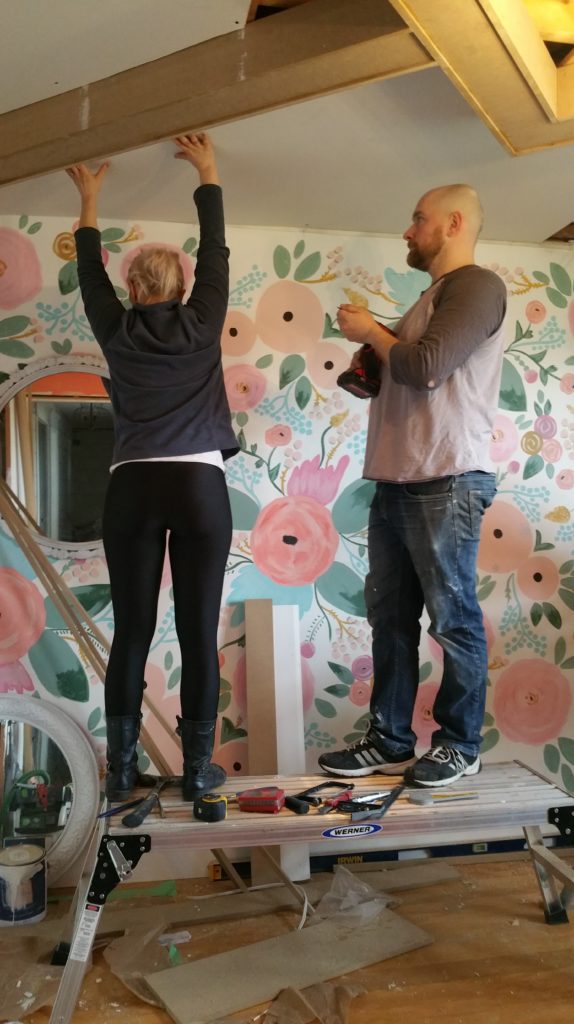 After the drywall was secured, we installed Metrie tongue and groove pine over it. Starting at the outer edge of the room, we angled the boards to the center of the room. For a complete look, we added some corner round around the beams.
Once the ceiling was complete, we putty and sanded any nail holes.
Then we got to work creating some board and batten on the walls with more stripped MDF. We followed our tried and true tutorial that we used in our previous home and in a lot of our spaces in our new home.
With so many elements of texture going on this space, I wanted to keep the walls one colour from floor to ceiling. We painted everything out white and I loved the way it visually expanded the space.
To finish the space we added pot lights in each section of the ceiling, and painted out the ceiling beams in a flat white finish.
We went from this:
To this:
After a good clean, and some pretty closet hardware, this room is the perfect place for our little girl to grow into.
Little by little and room by room, we are making this home work for us. Or, we are working for our home? Whatever the case, it's been one big messy, fun journey with some happy and bright spaces as the end result of our DIY life.
Next up, I'll be sharing how I made this faux animal bust for above our daughters bed. You guys have asked where its from and I'm going to show you how to replicate this one!
What do you guys think of the space? Would you have done a bold closet colour too? How about the diamond ceiling pattern? Do you have any one in your life that would appreciate that little bit of "extra"? 😉