Becoming a mother is one of life's greatest experiences. Its messy and beautiful simultaneously and exhausting and exhilarating ALL at the same time. For mothers of twins, it is all of those things — times two!
That's why we jumped at the opportunity to take some of the guess work out of a double nursery design for a busy mom of three under three. With the help of Sweet Kyla I designed, styled and updated a space for two of the cutest little girls around.
Lynda from Sweet Kyla reached out to me earlier this year after she heard about our giving back initiative. She is a woman after my own heart! She is a local entrepreneur who believes in  sourcing local and Canadian made products for her adorable nursery designs. Together, we created a beautiful new space surely fit for sweet dreams!
I designed this space sight unseen, after finding out a bit about the style the family of five is drawn to. We settled on focusing the room around coral tones and used the  Boho Blush (Zara Sun/White Slub) Draperies as our inspiration for the complete room design.
Here is what I presented to the Mama of the twins to see if she liked the design.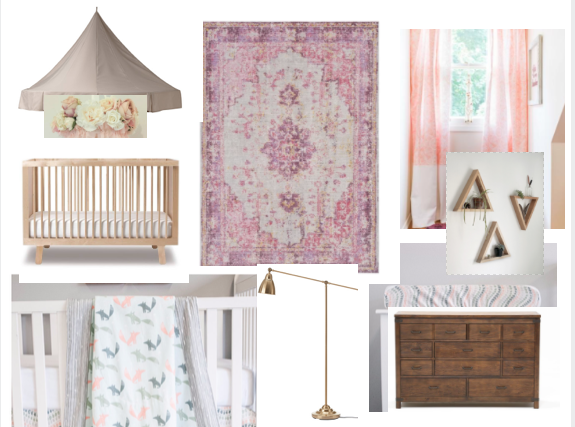 Luckily, she LOVED it!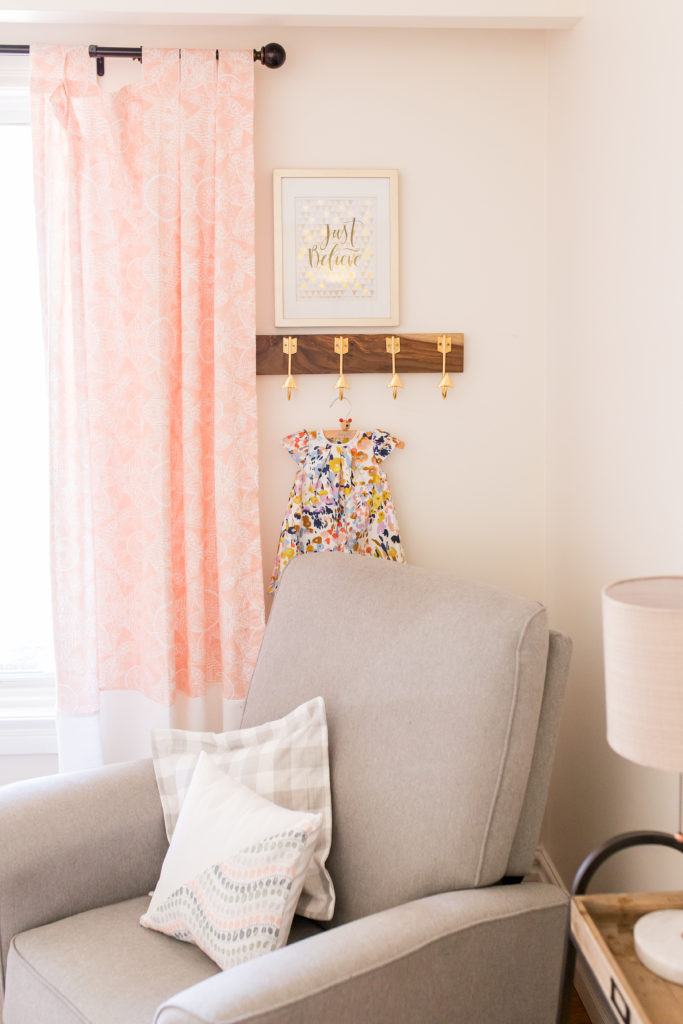 Because sleep is such an important part of babies lives, and double the case with twins, I started the room design off by choosing top tab draperies with incredible black out lining. The beautiful coral and white 100% cotton drapes add just the right amount of softness to the space and act as a functional piece in the room as well. The drapes black out lining will ensure the little ones the get the adequate rest they need — and of course, that means their busy parents will get sleep too.
To keep the room looking curated and interesting, I mixed in a few different Sweet Kyla collections to the space with the different fabric collections. Like this soft hamper in Jewel Dot (pictured above ) used in a versatile way!
I am obsessed with the fabrics and materials that Sweet Kyla uses. They carefully source fabrics and materials from premium suppliers in North America. In fact, their 100% cotton interlock jersey that they use for thier crib sheets, swaddle blankets, sleep swaddles and sacks is knit and dyed right here in Canada!
To cozy up the cribs we layered lots of different pretty bedding elements from Sweet Kyla.
To further personalize each girls bed, my husband and I designed and built planked name plaques for their walls. We matched the girls names to the coral tones in the room and stained the beveled wood frame in a natural tone to mimic the wood tone of their cribs.
Elena and Audrey now have a custom heirloom piece they can keep forever! Something that signifies their sameness in tone, but also their complete uniqueness from each other too.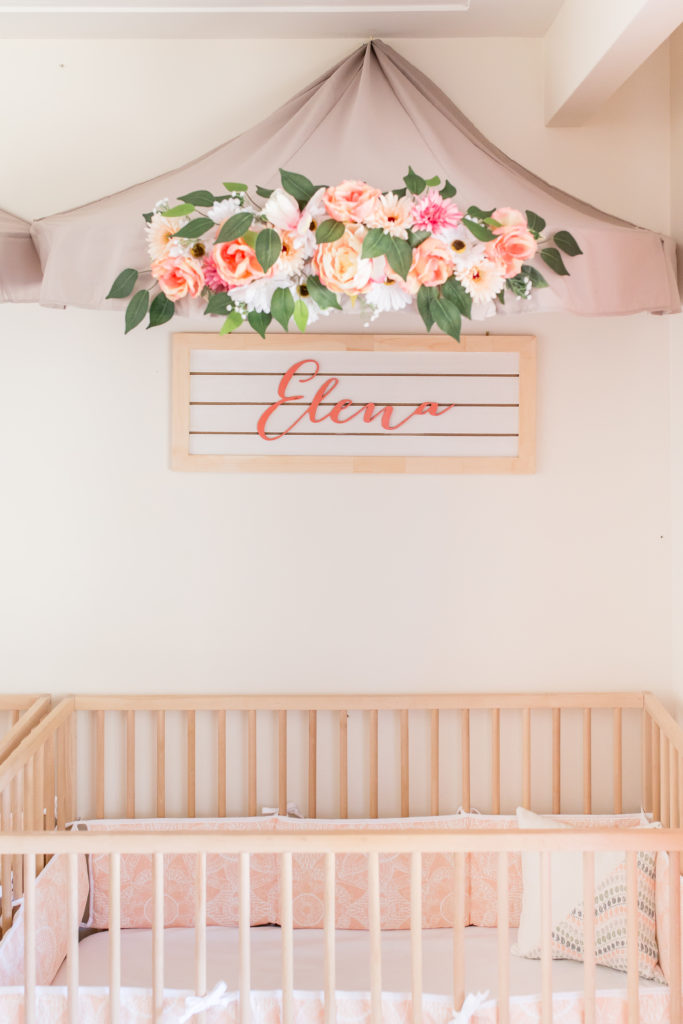 If you are wanting a custom shiplap sign for your own little one, we are now expanding our SHOP page to include custom name signs just like these ones! This is our 13″ by 34″ "Shiplap Sign in small with a natural frame". If you are wanting something larger customized, or something for above your mantle or master bed, we are now offering two larger sizes to accommodate YOUR custom needs! See more about our signs and expansion of our SHOP, HERE!  
To anchor the signs and to create a little whimsy in the room, I designed and created two floral canopies for each girl.
With some hot glue and some pretty flowers, these basic canopies got a makeoever fit for a princess — or two!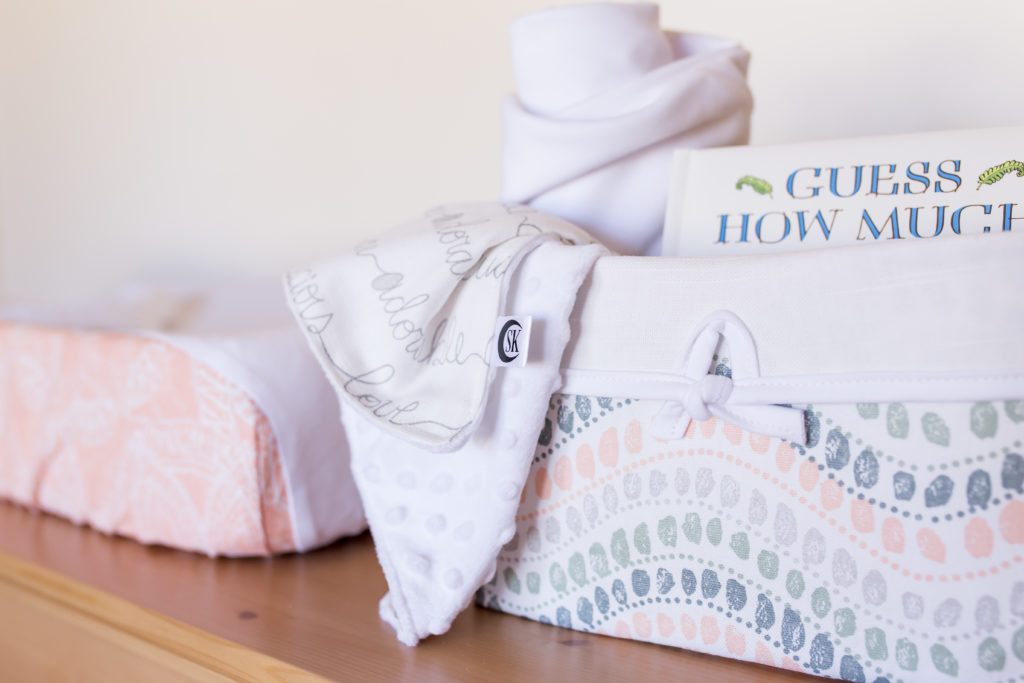 For a curated feel, we continued to mix and match the same Sweet Kyla patterns within the room. The long dresser used as a changng station, got its fair share of pretty and soft elements.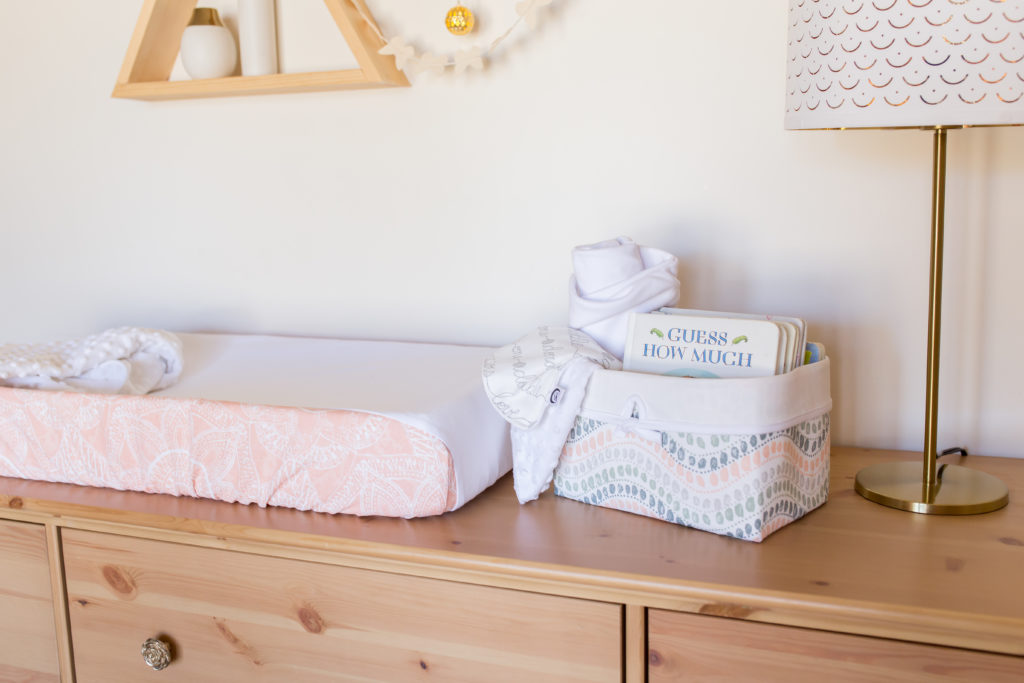 I added some task lighting to the dresser and some interest on the plain wall with a pair of #TLEBuildandDesign triangle shelves and a small "wreath" created easily from a wood hoop and some greenery.
For a quick and easy dresser refresh, I sourced and replaced the dresser's original wooden knobs with some pretty metallic floral shaped ones. This was a ten minute project and quickly elevates the space with the visual interest. AND the quick change is already approved! 😉
With the addition of some beautiful grey and white plaid and some jewel dot accent pillows, the girls have the perfect cozy spot to relax in solo, or with Mom and Dad.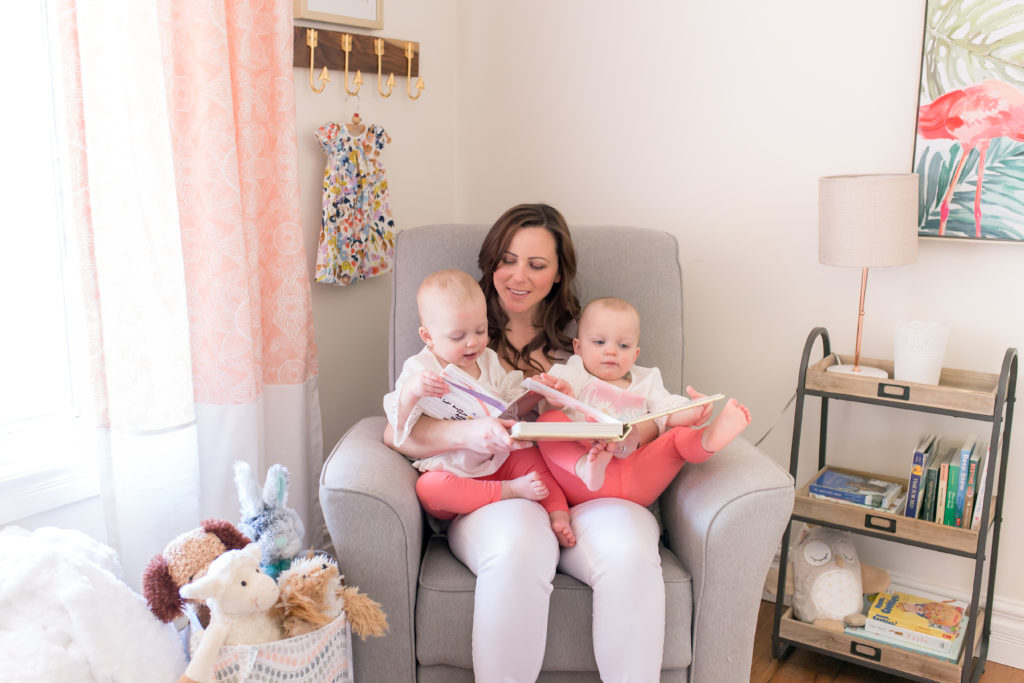 It's true what they say, motherhood is made up of days that are long but years that are short. I imagine this is amplified when a mother has her arms overflowing and two busy beauties to care for.
With twins, there are double the loud noises and sweet amazing laughter, double the middle of the night comforting and double the sweet all day cuddles. Most certainly, a life that is doubly blessed.
Around here, we know Moms are super heroes, so collaborating on this gifted makeover for this twin mom was such a special project.  With a newly designed room taken off of her to do list, this Mama can now focus on the things that really matter.
Twin parents often say, "We made a wish, and TWO came true." and theres no doubt this family has voiced the same sentiment.
This special collaborative rendition of #theporchproject was such a sweet joy to be involved in! Hello, baby fever!!!!
A special thanks goes out to my sweet friend Lynda Murray, co-owner at Sweet Kyla for partnering with us for this project! A giant thank you goes out to Ashley from Yellow Brick Road photography for capturing this project with her many talents! Without her keen eye to detail, these pictures would not be possible!
To see more of our projects we refer to as #theporchproject, our design and build giving back initiative, you can see these posts:
The Porch Project (Part three) A VIDEO!
The Porch Project (Part four) A Family Won A Makeover!
It has been a busy year of continuing this giving back initiative! We have a few more projects that we need to recap for you here, and one that is currently under way! Check back here often!
We couldn't do these projects without the support of local companies who help us sustain these makeovers through the gracious giving of their amazing products. THANK YOU!!!
We cant wait to see where The Porch Project takes us. Hopefully, to a porch near you! 😉