Welcome, welcome! Today is the day we look forward to all year long since we get as giddy as Buddy the Elf around here about all things CHRISTMAS!!!
C'mmon in! Today is OUR turn to take part in the Canadian Bloggers Christmas 2017 Home Tour!!
The Canadian Bloggers Christmas Tour is a week long tour hosted by our friends Shannon from AKA Design and Christina from The DIY Mommy that we are overjoyed to be a part of!
We've decked the halls around here and even completed the dreaded task of chasing down the pet hair tumbleweeds so you can visit today AND sit down and stay a while. I can hardly believe it and you can tell by my grin! SEEEEEEEEE????!!!
We have got lots of holiday ideas up our sweatered sleeves and tried and true decor tips to share with you in today's tour. Don't scroll too fast, this post is overflowing with festive ideas that WON'T break the bank, which means you will still be able to give the perfect gifts to the ones you love.
SO, come in! We are sharing our main floor living and dining room, with you! This year I wanted to embrace all the traditional elements about Christmas that I could think of so I got right to it and started off with covering much of our space with bold douces of festive red and tons of fresh greenery. To me, that colour combo makes our house feel like Christmases past. Do you get that vibe too?
This display was simply made with thrift store finds! From the glass canister, oversized red candle and the faux greenery surrounding it. I quickly pulled each piece together, fluffed the faux greenery, added a heavy helping of clipped greenery and added a string of dollar store twinkly lights! Proof that centerpieces don't have to be costly but they sure can be fun to piece together.
CURATED HOME PRO TIP:

Snag the best faux Christmas swags in the summer!! Few will be looking to add to their Christmas containers during the hot summer months but the BEST faux greenery can be found at your local thrift store and antique store during the hot summer months when no one but YOU has Christmas decor on the brain. 😉
For optimal seating during the biggest hosting season of all, we switched around our living room set up. Not only does this lay out make room for our Christmas tree while creating a comfy cozy corner for Christmas movie marathons, but, believe it or not, this switcheroo also allows you to make some money! In the form of money hail storms from the depths of the transitioning couches depths, after all! 😉
Someone is really breaking in the new layout, and she makes it look oh so comfortable, no?
By reimaging our space and changing things around, we have created a cozy little nest of a room for curling up in during these early winter evenings we've been trying to ignore.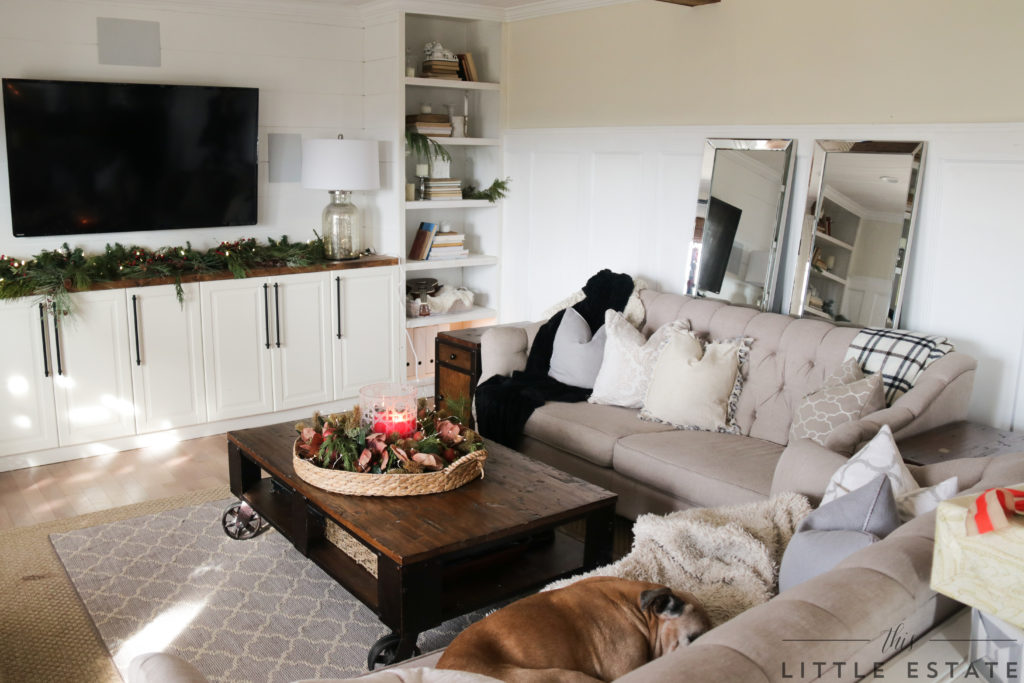 Also this change has NOW created the perfect spot for our Christmas tree!
Because I wanted to implement lots of bold red into our decor this season, I also took into account that I wanted to keep most of the other decor elements quiet and subdued. So, our DIY built-ins got a simple makeover with repurposed and painted thrift store candle sticks, painted white porcelain village homes (found on our treasure hunting travels) and fragrant cedar chopped from an unsuspecting and giving tree in the forest.
CURATED HOME PRO TIP:

Books are always a great purchase. Buy them to add color into a space, or for their vintage quality, OR turn them backwards so you can enjoy their pages patina. Backwards books in displays add texture without being overwhelming to the eye.
Also, who doesn't like to have all of their holiday cookbooks at hand for lazy weekend baking and hopeful subsequent taste testing?
Because this space is our only living area (until we can add an addition and finish our dungeon basement!), I like to treat our DIY built-ins like they are the hearth of my dreams! If you don't have a focal point in your family room/living room/entertainment room, don't fret! It's easy to turn a long linear surface into an eye catching display.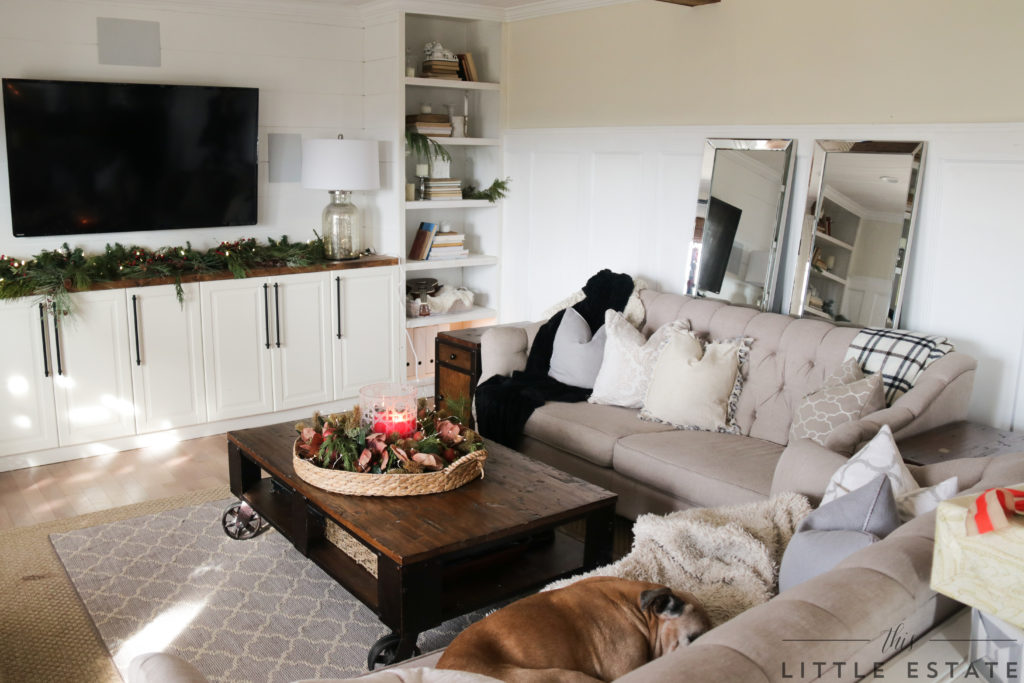 CURATED HOME PRO TIP:

Pick up lack lustre garland at any antique or thrift store year round. Pack up and pull out during the holidays and spruce up (pun intended!) with forest clippings or live clippings from your local grocer! Layer on twinkly lights and faux berries for a traditional Christmas feel.
See? The layering makes faux garland come back to life!
CURATED HOME PRO TIP:

For a quick and fun holiday craft, collect and spray paint porcelain villages in a colour that suits your decor. Dont worry, if your decor changes yearly, a quick spritz of a new color will do the trick! This is such a unique family project that you can add to over the years!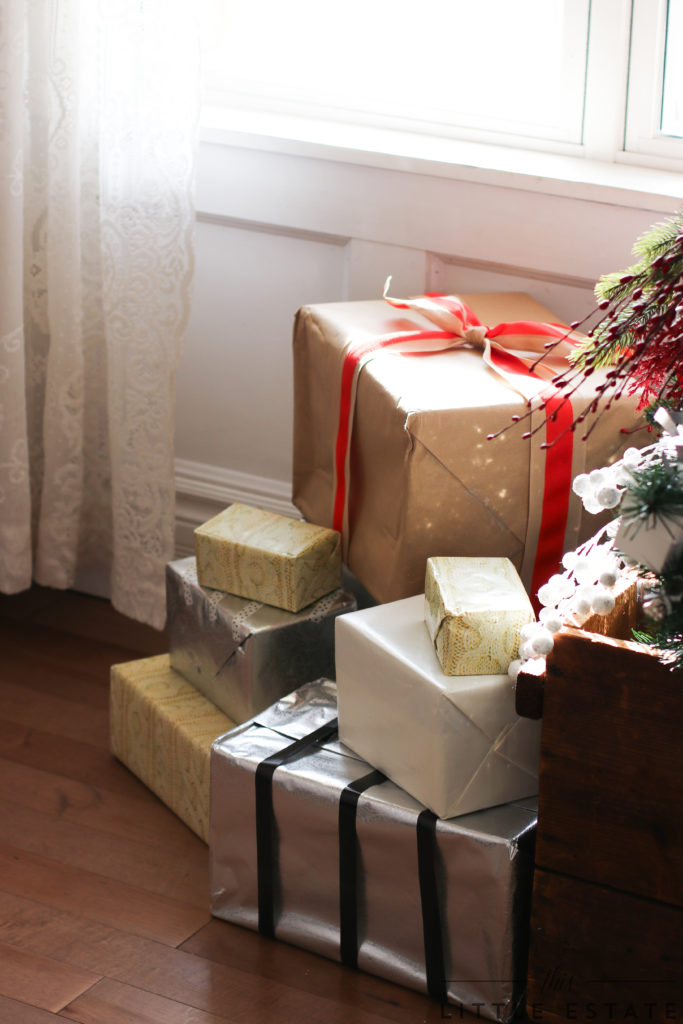 Our Christmas tree that we used this year was slim and medium sized. We elevated it by placing it on a sturdy base within this antique crate. I love the way it brings instant character to the space and it is already a fun conversation starter!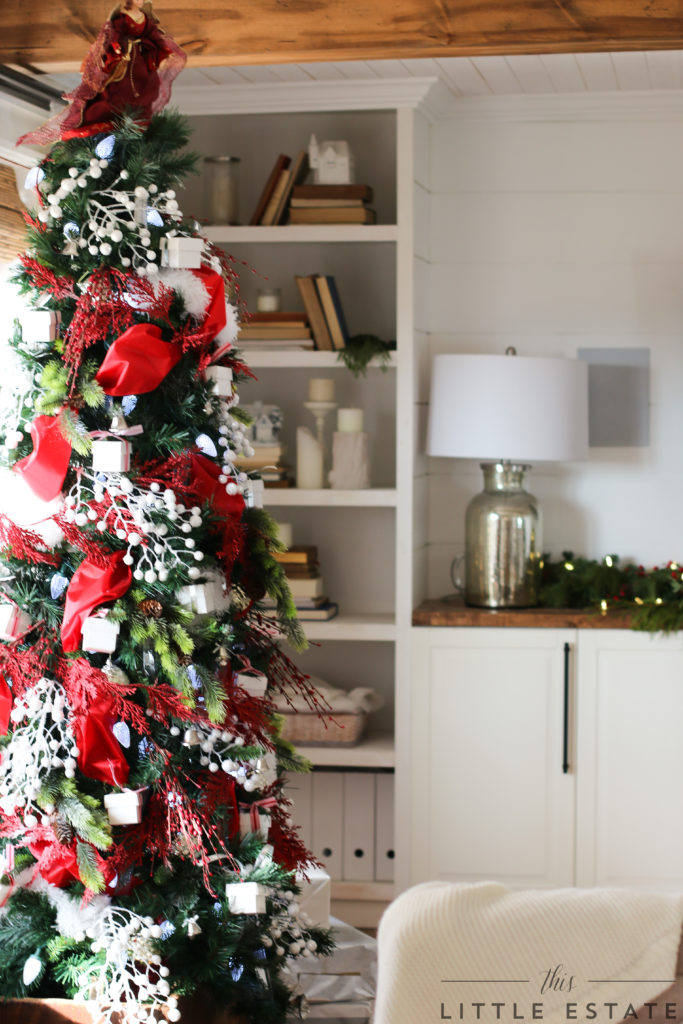 This year, I also changed our tree's colour palette but I didn't break the bank or my Christmas budget by doing so. I simply crashed my local dollar store and dropped $25 on new pretties. Can you believe it?
I have a whole tree layering tutorial in the works for you, but for now, I'm here reveling in the glow of these oversized Christmas lights and wondering when the dollar store started carrying such pretty and intricate Christmas ornaments. Anyone else?
Because we changed the location of our furniture for the holiday season, I repurposed this forgotten sofa table with some chalk paint and some sprayed black legs. Can you believe this table use to be bossy bright pine? I'll share that tutorial with you sometime soon. But for now, more holiday things!
The blankets, wicker chest, small green tree and tall silver trees were all collected from second hand shops over the years. That tall glittery tree was $4 and every time the light hits it so, around 3pm each day, it makes me smile. A true gift that keeps on giving!
Speaking of gifts, it's always fun to rummage in little shops to find wallpaper that can double as wrapping paper. This knit sweater paper is meant for a wall but I thought it would make the cutest cozy wrap! I also scored enough of this silver paper for 15 Christmases! I'm apologizing in advance friends and family! 😉
CURATED HOME PRO TIP:

Check out your local antique shops for bins of rolled paper. They typically will have vintage Christmas wrap that sells for less than current gift wrap — but they are a gift in their own right! They can be a conversation piece at a holiday party, they can be reminiscent of years gone by and they can be valued for their repurposing quality.
Since our house doesn't rock a traditional fireplace, complete with a mantle, the kids and I got creative this year and utilized our handmade blanket ladder and our imagination to create a makeshift hearth to hang our stockings on!
We filled a rustic terrarium with a heap of red and white lights and hung our Chapters Indigo faux skate stockings (with care!) on the ladders steps above it.
The whole look is slightly cheeky and fun and a little bit whimsical. To finish the look off, we made DIY red tassels to secure the stockings with and hung a thrifted chalkboard advent near by.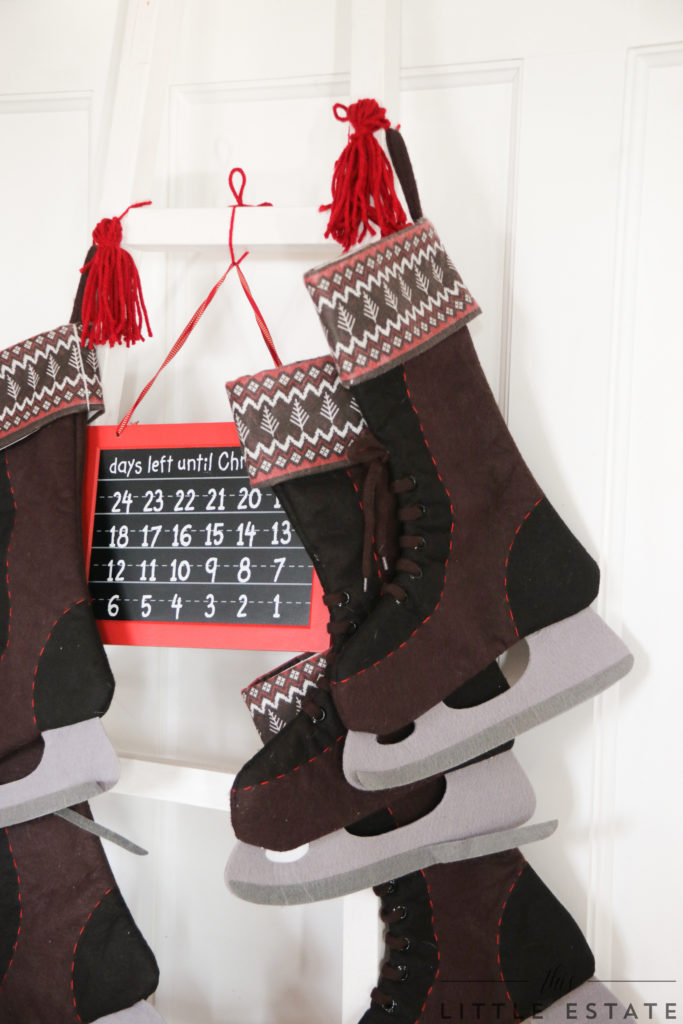 This vignette is far from traditional, but the fun design of the stockings combined with the lights adds a bit of festive fun to an unused corner in our space. The kids think it is the perfect solution for anyone who doesn't have a fireplace, and they have convinced me too!
The formal front door to our home enters into our dining area, which in turn opens to both our newly rearranged living room to the left and our recently renovated kitchen to the right.
This year, I embraced as much vintage charm as I could find to create our Christmas tablescape and I love the curated look.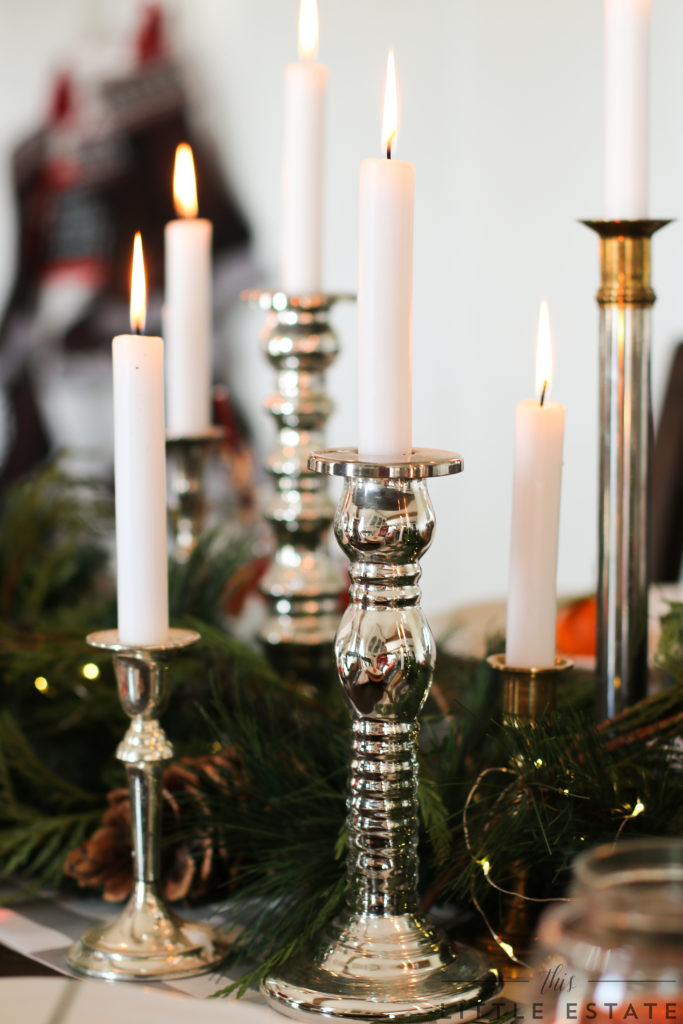 I started the whole look of the table by combining collected gold and brass candlesticks together. Their reflective properties cast their candles glow around the table which is so pretty!
CURATED HOME PRO TIP:

The most hidden shops in tiny towns have the best prices for their brass collectibles. Big cities typically have higher price points because the market is larger for those vintage/trendy/timeless items! SO, save your candles stick collecting for those days when you can travel to sleepy little towns.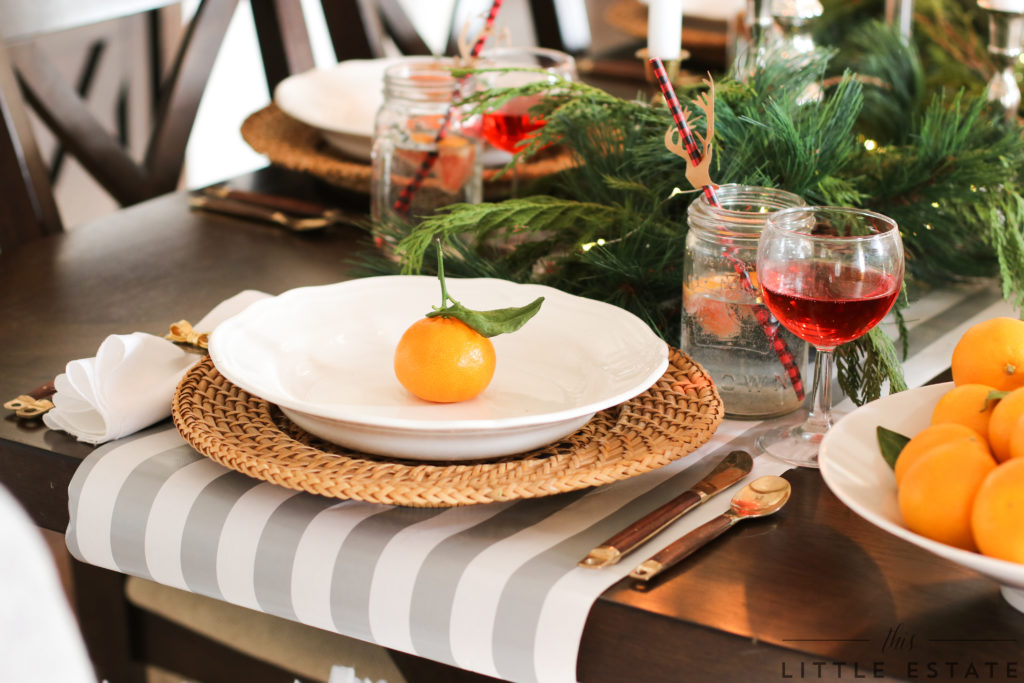 I love a layered table and this tablescape was no exception. My daughter and I chose to cut out our own faux "table runner" out of wrapping paper to match some of our wrapped gifts. The white and grey striped pattern breaks up the otherwise dark table and flat wear and the lines in the wrapping paper keep the eye moving down the tables length.
CURATED HOME PRO TIP:

Tablescape and bar ware items are plentiful at thrift stores. Especially if you are willing to mix and match items like glass ware and linens. Napkins and napkin rings are also plentiful in treasure filled stores. Be patient and collect over time and you will eventually find full sets for four, six or even eight!
Fruits of all varieties add a colourful touch to any table. Also, they are nature's favourite dessert! I love the way they add a bit of traditional charm to this year's table with their colour and they also remind me of the treasured stories from my youth. Like the one my grandmother told me about how when she was a child, the only gift she got for Christmas one year was a treasured big ripe orange shipped up to rural Canada all the way from sunny California! To this day, she describes the scent and taste of that orange like it was the best thing she had ever encountered. I love that, you know?
As with our built in's greenery, I replicated the same layering here on our dining table.
Thrifted greens + real live greens +twinkling lights = low-key pretty.
We layered antique shop wicker chargers, with my favourite delicate edged Ikea dishes and then paired mismatched drinking jars with humble wine glasses. The kids poured our favourite family friendly sparking champagne and chose red and black buffalo check straws to unite the color from the living room to the dining room in our open concept space.
Our sidebar is only an arm's length away from our dining table and often is used as an overflow station for food and sweets. This time of year it gets its fair share of greenery and bling too.
Dancing swirling spheres of light cascade around these walls because of these shiny disco balls Ive snuck into our holiday decor. I swear they are oversized ornaments! 😉 Although they might seem out of place, I love their glitzy juxtaposition against our rustic decor, AND, I REALLY love the way their offspray of glitz puts a smile on everyone's face mid day.
Earlier this year the kids and I began a passion project and set out to create a winter wonderland out of repurposed porcelain houses. We hunted down a few here and there and unified them with a coat or two of white paint. The madeover homes have made it on to our shelves and I also love how we corralled them all in one small spot for a bigger visual impact.
Each house is different in its origin, but with a bit of paint they look like a complete set.
The best part is we can add to our set as time goes on, and we can have fun doing it together.
I'm certain this will be a new Christmas tradition. 🙂
This space of ours was so fun to decorate this year! We used what we had on hand, what we had collected over time and then we made it all work with coats of paint, forged green and a sprinkling of twinkle.
Just incase you're new here and don't know what this space looked like two short years ago, here is a glimpse into our DIY home renovation.
And here is a before shot of our house when we got the keys two years ago.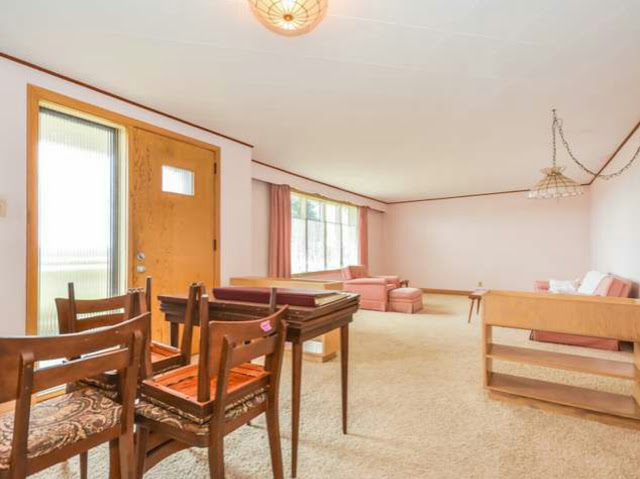 Next up, I cant wait to show you how we turned this space….
…into the coziest Christmas kitchen fit for all the pie baking and cookie rolling!!
Stay tuned! I've got our kitchens big reveal FINALLY coming to you shortly and all dressed up for the holidays!
Thank you so much for stopping by today!
NOW, don't stop here, check out what my friends are sharing for their Canadian Bloggers Christmas 2017 Home Tours!!! You've got a whole weeks worth of pretty to check out! I know I am going to busy swooning!
Monday
The DIY Mommy | The Creek Line House | Woman in Real Life | Life is a Party | Lemon Thistle | The Learner Observer
Tuesday

PMQ for two | Amidst the Chaos | Clean and Scentsible | A Burst of Beautiful | Rambling Renovators
Wednesday

Satori Design for Living | Love Create Celebrate | The Happy Housie | Craftberry Bush | Sustain My Craft Habit | House by the Bay
Thursday
VinYet Etc. | A Pretty Life | Home to Heather | So Much Better with Age | This Little Estate
Friday
AKA Design | Kim Power Style | Elliven Studio | A Pop of Pretty | The Sweetest Digs
Pin this for later, or grab a hot drink and dive right in! Personally, I cant wait to gather some more inspiration from these Canadian bloggers, for the spaces in our home that haven't seen one tiny bit of holiday fluffing yet! Check out #CBHomeTour to check all the pretty on your favourite social channels!
Do you decorate for the holidays? If so, whats your favourite room to focus on? Are you a hunting for home treasure kind of person or hunting for the perfect tree kind of person? OR do you rock a faux tree like our family or do you have family traditions where you gather your own?