We have been in our new-to-us fixer upper for a year now. In
that time we have admittedly taken on too many projects and we are only now
starting to get organized. Let's not mention the unpacked moving boxes that are still
tucked away in our basement, K?
As the dust has settled and we have cleaned it up, it has immediately
come to our attention that we need tons of help where home organization is
considered.
When we first viewed our home it was like opening up a 1950's
House Beautiful magazine. It was a very well kept home but it also had never
been updated.
It was a museum.
If you are new here, here's a glimpse of what we have been up to this past year….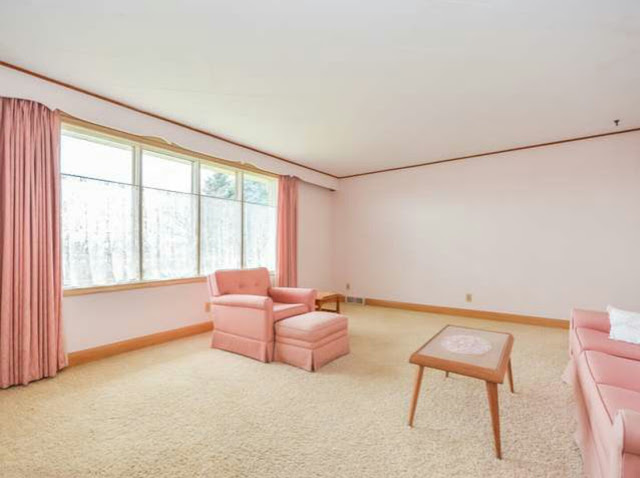 We finally have a (mostly) finished main floor. Could you hear us celebrating where you live? We have been on over drive for a whole year, so the last couple of weeks have felt leisurely and magical even though we have still been doing smaller DIY projects. The last year has been such a great learning experience, but it has also been the most disorganized year and busiest year of our lives.
But that's all about to change.
You see, we are sitting on a gold mine.
Not literally.
If we WERE sitting on a gold mine we would probably be moving to Hawaii or buying our families cottages on private islands. Or buying ice cream trucks. Or moving in to a spa. Or vacationing with the queen…..
But alas, I regress.
I mean to say that we are literally sitting on a house that has SO much potential. One of the rooms I was most in love with, when we saw this house for the first time, was this space. It doesn't look like much but it has the potential to be a hard working room. It is a space that connects many rooms in our home and is also connected to our back door entrance. Hence, this space has inherited the luxurious name of Mudroom.
It also has the hard task of doubling as our laundry room.
AND it has to triple as the space where I store all of my salon products. (
This space is on the opposite side of my salon space. If you've been around for a while then you know I have yet to reveal that finished space here but I have posted many pictures of the space over on my INSTAGRAM. Let me know what you think!)
Last year at this time we were putting the finishing touches on my salon space and these pictures were taken at that time. Although this room has so much potential it also needed to give up a little of it's potential to my business. My salon (on the opposite side of this room) was a fabulous bright space that would be a perfect spa, but it didn't have a restroom.
Ladies, you KNOW that when you sit and sip coffee or tea for three hours a ladies room is a requirement.
So, we did what we had to do. We stole from the mudroom.
Here you can see what we decided to do.
We pulled down a tiny powder room bathroom wall because we needed a bigger entrance near that back door. Also that space didn't have a sink but instead housed a stand up shower.
???
We immediately ripped it out before really realizing that our only other, ancient, crappy bathroom didn't have a shower and instead only had a 1954 tub.
Insert crazy nervous laughter here.
We needed to make the tiny powder room at the end of this space smaller and we needed to build out a bathroom in the salon that would take up the middle of this space.
See?
You can see how the room suddenly felt smaller. Not something I really envisioned for my giant dream room mudroom. However, I did love the fact that this space now had the potential for two separate organizational areas. One at the end by the entrance and one down at this end. The new bathroom wall jutting out into the space, yes, but also acting as a little separation from the back door.
We didn't have too much time to figure out what would work best in this space because we had other rooms to worry about. (Like a gutted kitchen!) However, we really need to finally utilize this space to the best of it's ability!
That's where the One Room Challenge comes in!!
If you have children and don't have a house keeper then you know a multifunctioning laundry room is a luxury all Mothers pray for. Such is the case for us! I have big dreams for this space and am joining in our first ever One Room Challenge to see if we can get this space finished in five weeks time.
Handy hubby and I work well under pressure. (Meaning, we stay up till 3AM if we have to and live off of caffeine if we gotta.) So here's to HOPING we can pull this space off in a few short weeks.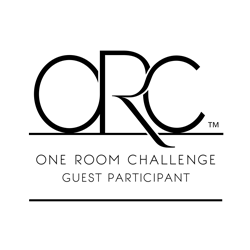 Every year I look forward to following the One Room Challenge featured designers and the amazing participants that take on one room in their home to makeover in five short weeks. Every Thursday you can visit the lovely Linda on her site "Calling It Home" to get inspired by others gumption to complete a room.
We literally JUST decided tonight to officially participate so I don't have any plans drawn up on what we are going to be doing. Read: I finally sweet talked my hubby into taking this on with me, even though I told him we would rest for a month. #heisthebest
I have however been stalking
Pinterest
and have a "Mudroom" and "Laundry Room" board full of ideas there. Feel free to check them out
HERE.
In the end we hope to have a space that flows nicely with our new open living space. I'm thinking lots of white, maybe some DIY made over lockers, a lot of paint, new lighting, stacked laundry, shiplap and some wood counters and a heavy duty wood-like floor. and I also truly, madly, deeply need tons of closed storage so I can stuff it full of ALLLLLL the things.
I can't wait to show you the ideas that are swarming in my little head. Until then, check out
Calling It Home
to see the other participants that are linked up for the
#oneroomchallenge
So tell me, if you were making over a mudroom or laundry room what are some of the elements you would add? What is a must for a family with young children? And, do you really think it is possible to maintain a white mudroom when we have farmers fields behind us and three puddle jumping kids? Help!!