At one point, the lower level of our home, looked like this.
It was big, open and had this awesome echoing affect.
Like, I am telling you, I seriously sounded like Whitney Houston when I would sing…"annnddddd IIIIIIIIIIIIIIIIIII, eeeeeeeee-IIIIIIIIIIIIIIIIIIIIIIIIIIIIII, willllll always lovvvvvvveeeee YOUUUUUUUUUUUUUUU!"
NO lie.
It made sing alongs amazzzzzing, but kind of fell short in the whole style department.
After our third baby was born with some health issues, my husband and I started evaluating our lives and professions very seriously. We decided that since we didn't sound that great singing OUTSIDE of the basement, with its lovely acoustics, that a singing career was probably not in our immediate future.
( Though I am still waiting for Simon Cowell to respond to those tapes I sent him…..)
Instead, we determined that if one of us could work from home, it would make attending numerous doctors appointments and specialists appointments, much easier.
We got started building up walls, taking walls down, and generally redoing the big open space that was once our beloved singing hall.
We had these great plans, and we got started by adding some character.
We went from using our lower level as a storage container….
To turning it into a construction zone.
You could say that the better part of my one year mat leave was spent dreaming up ideas for this level of unused space. This particular small corner had me dreaming up possibilities and ideas.
We had to clear out the storage and the plethora of boxes filled with all of the things that babies come.
And then we got to putting my big dreams down on paper.
You see, I may be pushing upwards in my thirties, but in my mind, I am still a five year old little girl who could spend hours playing house and make believe. I wanted to create a space in our home for our children to enjoy, and ultimately, I wanted the space to be enjoyed by potential clients and their babies.
If you have been following along here for a while, then you know that I am a licensed hair stylist and with the idea brewing in our minds, that one of us should stay closer to home, I was the likeliest perfect fit.
Thankfully I have a husband that has the skills to create the ideas I conjure up — so was the case with the salon play house.
First,
though, we needed to determine what the structure should look like. We
enrolled our four year old son as the lead architect since my husband
and I could not decide which side of the play house should look like
what.
We love having our children involved in the building process of everything we do. The play house was no exception.
You could say this play house was our fourth baby, because, it definitely took a long time to create.
#workingparentproblems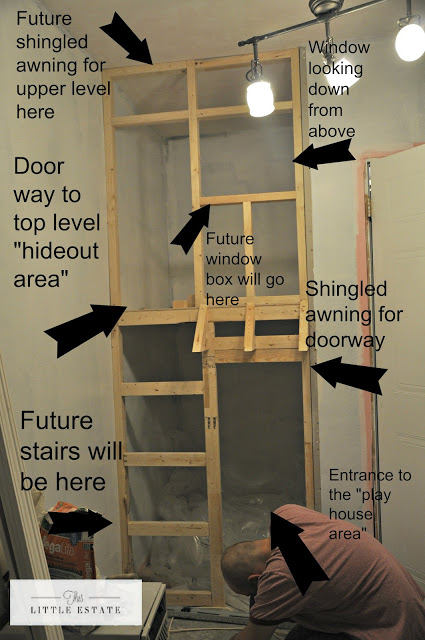 Here are the plans that I shared with you a long longgggggg time ago.
We had little people available to product test along the way.
#winwin
After my husband had installed the walls and the shingles and the stairs, I got to work priming and painting, primping and decorating the play house.
#teamwork
Today, when you visit the salon, the play house is always available for your children to come and take full advantage of. Or, if you are child like, like me, you too can cook imaginary food in the lower level kitchen and let your imagination run wild.
The upstairs level of the play house is comfy and cozy; the carpeted area is usually strewn with throw pillows and is a great escape for little ones.
We call the upstairs the "book nook" or the "library" and the baskets are overflowing with books for all ages.
My goal was to make my salon as family friendly as possible, and I think the play house is the perfect touch to do just that. I knew that Mamas like myself, who worked away from home, struggled with choosing between spending a day off with their babies or getting themselves taken care of at the beauty salon. I realized that combining the two, and allowing parents the opportunity to bring their children along with them to the salon, meant that the power of parenting was left in the caregivers hands.
The bossy side of me loves that.
Now, if you need an afternoon off to focus on yourself, you can do that, or, if you would rather save the babysitting money and put it towards a giant Starbucks drink to make it through the day with your baby by your side, than you have the ability to choose to do that.
We are all about mamas and families in general, and I hope This Little Salon reflects just that.
It is hard to believe that this space was once unused.
That we started with this awkward closet, without a door, to this.

Just the way we dreamed up.
What do you think of an indoor playhouse? Would you ever build one in your home? Would it be for you, or the kids in your life? Yaaaaaa, if I am being honest, I cant decide which one of us gets more use out of it! 😉
To get caught up, check out some of these previous posts about our lower level or This Little Salon: