It is no secret that I love a well curated room. After all, I have a deep love for antiques and a deep affection for repurposing old furniture. Also, the cashiers at the local thrift stores know me by name, so you could say I love a good piece of vintage art and have an overwhelming desire to buy all of the weird and lovely tchotchkes.
However, for a lot of design loving lovelies, who also enjoy a room that looks built over time, they just don't HAVE the time to browse antique markets and estate sales. So, I'm here today to save you some time in your hunt for a space filled with character.
To start off, I found this gorgeous and cozy antique laden room at the Better Homes and Gardens site .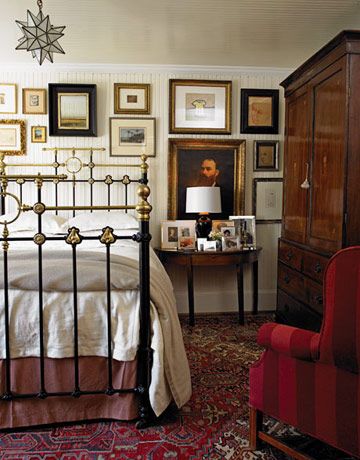 It is a room filled with classic items that are overflowing  with character. A space that was built over time, but one that can be replicated today.
No time to shop till you drop? Well, no worries! I've put together two room designs that emulate the photo above complete with direct links for your shopping convenience! The best part? I thought that to resonate with all of my readers and their different life stages and design allocated bank accounts, a high and a low mood board would meet all of your design needs!
Want to create a lived in room with lots of character but you want to shop new? I've got you covered! Covered in beautiful blankets and gorgeous vintage looking rugs that is!
Take a peek! Can you tell which space below is high priced and which space is low priced ?
1.
2.
Both spaces boast full metal bed frames that lend themselves to classic and farmhouse design.
Both are grounded by comfy cozy textured red woven artistry.
Both have mirrored side tables that help bounce around the colour and warmth of the carpets.
Both have structural and masculine lamps.
Both have beautiful sphere hanging chandeliers that help anchor the space and repeats the masculinity of the iron bed.
And lastly, both are made comfy and cozy by natural textured and luxurious light coloured linens.
Popular fiddle trees add a sense of life to the space along side a natural textured basket used as a makeshift pot.
Which space do you prefer? Which looks like it cost more?? Does it matter? Which space do you like best??
Below each picture you will see the cost breakdown for each space! Click an items description and price to be taken directly to a link to learn more about each piece.
LOW: $2,135.97
Bed: WAYFAIR  Merion Platform Bed ($262.99)
Bedding: CRANE AND CANOPY Vienna Soft White Ruffle Bedding from  ($159.00)
Carpet POTTERY BARN Scout Synthetic Kilm Rum- Warm Multi ($599.00)
Side table: LEONS Hearst Console Table ($549.00)
Lamp: LEONS Lincoln Lamp in Walnut ($129.00)
Chandelier: LAMPS PLUS Katerina ($299.00)
Plant: WAYFAIR Potted Fiddle Leaf Fig Desktop Plant ($131.99)
Basket: CANADIAN TIRE Seagrass Basket  ON CLEARANCE!! ($5.99)
HIGH: $10,951.92
Bed: POTTERY BARN Mendocino Bed ($1,299.00)
Bedding: RESTORATION HARDWARE Linen Frayed Edge Duvet Cover ($311.00)
Carpet: WAYFAIR LA VOILA DECOR Hand Kilm Red Area Rug ($6,599.99)
Side table: WAYFAIR Turnham End Table ($979.99)
Lamp: CB2 Crystal Lamp ($299.00)
Chandelier:LOWES Livex Lighting Westfield 5 Light Chandelier ($622.96)
Plant: WAYFAIR Distinctive Design Fiddle Tree ($799.99)
Basket BOUCLAIR Small Round Willow Basket with Handle ($39.99)
If it was up to you, which space would you want to add to. Can you believe there is a $8,815.95 difference between these two spaces?? Which one would be home to you and why? 1 OR 2???