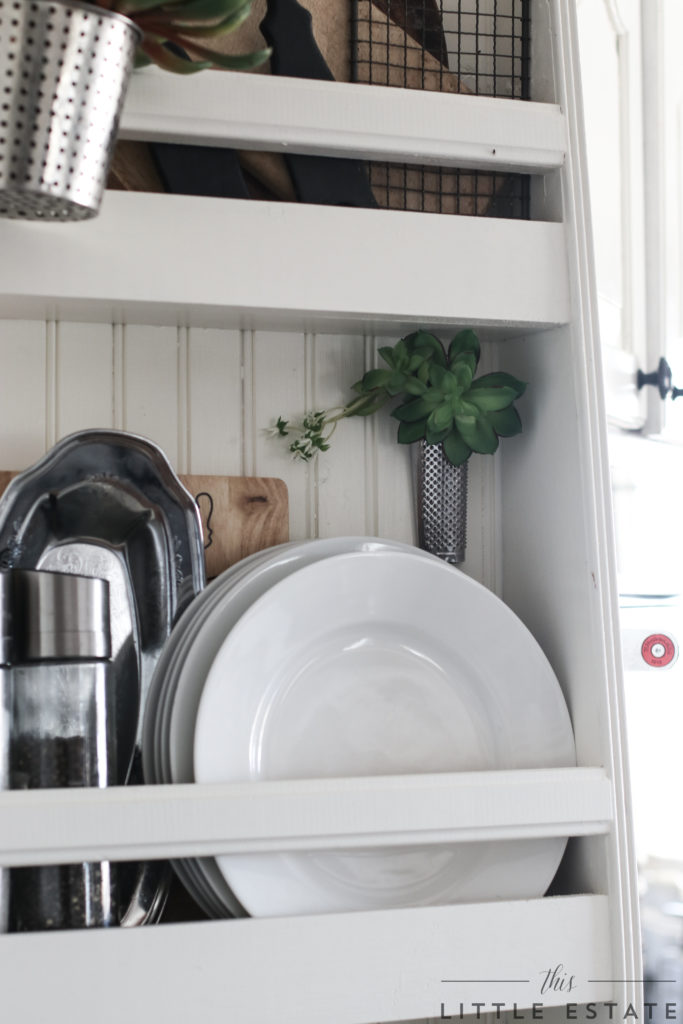 Our kitchen has gone thought some changes this year and I am happy to say, they turned out better than I had hoped. (FYI: Not always the case with DIY renovations) #Keepitreal
You see, we had this really awkward spot in our kitchen that jutted out just a little bit. It use to be a wall with an upper cabinet and a lower cabinet but when we removed it, it stumped us for a little bit on what to replace those cabinets with.
B E F O R E
I thought long and hard about it and lived in our space for a full year before deciding what to do there and Im glad we let time help us decide. You see, in the mean time we added some open shelving to our kitchen but it just wasn't enough storage space!
SEE?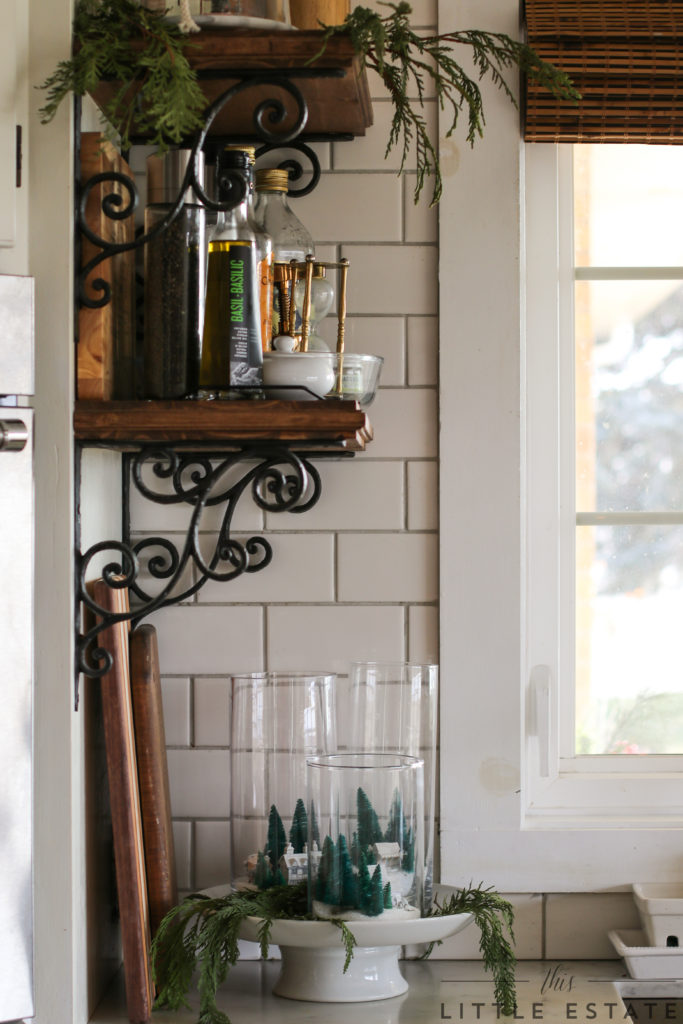 We did make our open shelving deep enough to house dinner plates but the kids were finding it difficult to reach so high to access them. (Especially when it came time to help with dish duty or unloading the dishwasher. Suddenly NO ONE could reach those darn shelves!) HA!
So, we decided to utilize the empty space beside our built in oven for more lateral storage.
With a few pieces of stock yard lumber from Home Hardware, complete with some Metrie toung and groove pine paneling, we made over our little nook by turning it into a lateral plate wall!
I am so smitten with the new look and the addition of so much extra storage!
Lastly, I painted the whole area out in a heavy duty, self levelling cabinet and furniture paint Home Hardware simply colour matched to our existing DIY island made out of kea cabinet doors!
The best thing about this DIY is that the kids can now help with dish duty with no excuses! Also, did I mention they have no more excuses to be balancing peanut butter and jelly sandwiches on their knees in the living room now that they can easily access plates!
Hello! No more sticky messes to clean up!
Heres how we did it!
B U I L D I N G
We measured out our area and decided how deep and tall we wanted our shelves to be. We simply determined this by choosing a plate and a bottle for our desired measurement.
Next, my husband biscuit joined each shelf with wood glue for longevity.
DIY TIP:
If you are a new DIY-er, or don't have access to tools that can help you do this, just use a wood glue to secure and finishing nails. 
While our shelves and frame for them was setting, we added METRIE tounge and groove pine planks from Home Hardware to the wall with finishing nails and our cordless air gun.
Then we painted everything out with Beauti-tone Designer Series Cabinet and Furniture paint.
Lastly, we secured the shelves in place and added some pretty trim to cover any seams.
This afternoon project is one of my favourite custom DIY projects we have ever completed together. It immediately added so much extra storage to our kitchen and made it much more organized!
From a place that was once an eye sore, as an overflowing command centre to a highly functioning corner of our kitchen that is both parts cute and useable. 
There are days when I'd love to start over in this kitchen and have brand new cabinets that don't need tweaked ever so often, not 30 year old painted ones, but there are also more times than not that I am so grateful to have this space, that has so much character and DIY love poured into it.
It's all perspective, isn't it?
  After all, this space has come a long way through the last few years and we did all of it with our four hands.
   S T Y L I N G
I also love these new shelves because they give me a chance to add some styling to our kitchen! You better believe I was layering cutting boards even before the paint dried! Anyone else like that?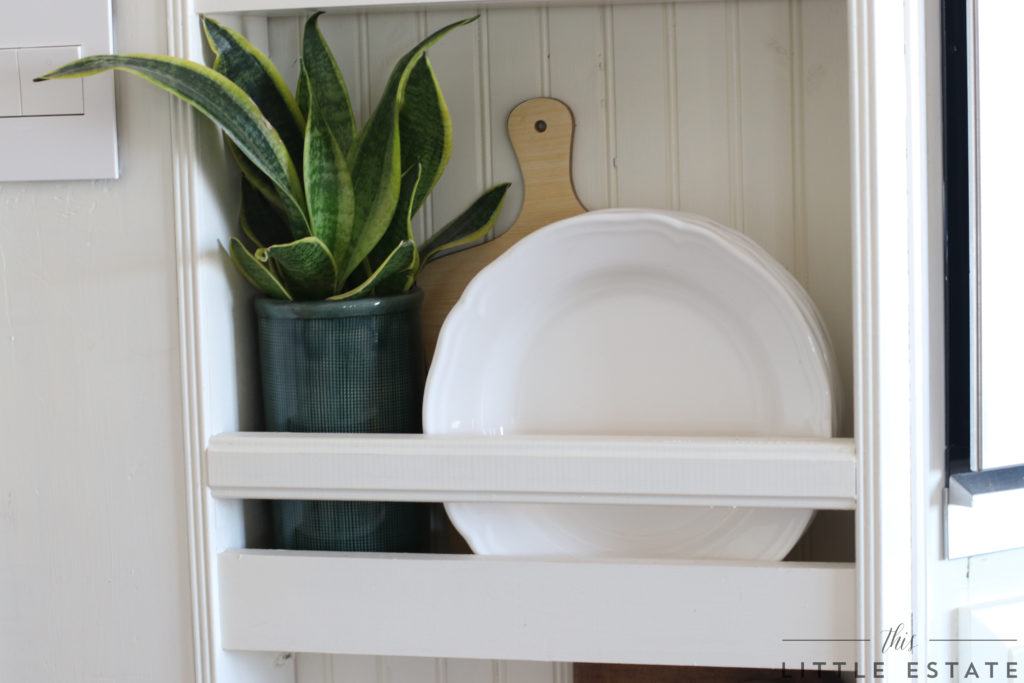 I love a little pop of green amidst my neutral decor, so I filled the empty space between the plates and the shelving above by hanging a sweet little vintage spice grater. I popped a little faux succulent in there and love the addition of a little piece of history into our brand new shelves.
I find ths strainer/deep fryer basket at a vintage shop too, and think it was a dollar well spent! It doubles as another container for a bit of green and can easily be utilized too!
What do you think of our DIY kitchen plate rack? Would you have space for something similar? How about just focusing on the fact that the KIDS can put away the dishes now? Hallelujah! 
TO SEE OUR KITCHEN DRESSED FOR XMAS: SEE HERE!
TO SEE MORE PICTURES OF OUR KITCHEN BEFORE WE GOT OUR HANDS ON IT: SEE HERE!