Well, it is official! Our caravan that we have referred to as #thislittleruralretreat has a name! We were racking our brains for a while on what to name our summer reno project when my husband blurted out "How about This Little Estelle?" and immediately the name stuck!
Little Estelle got a giant exterior makeover in the last few weeks and most recently got completely made over on the interior! We took her on her maiden voyage this past week up to beautiful Sauble beach and we are pretty sure we now have the hang of this whole camping/glamping/tiny living life!
One of the best things we did to our caravan was removing the clunky and heavy bench seating to accommodate a linear bench seat. Minutes before her first ever trip, we came up with the idea to makeover two tables and turn them into one that would fit perfectly in the space.
Then, we dressed the corner up with some pillows we had on hand and a lot of white Beuti-tone paint. This quick project is proof that one doesn't need a giant budget or a perfectly outlined plan when renovating and designing. Sometimes all you need to do is rethink an item! Or in our case two!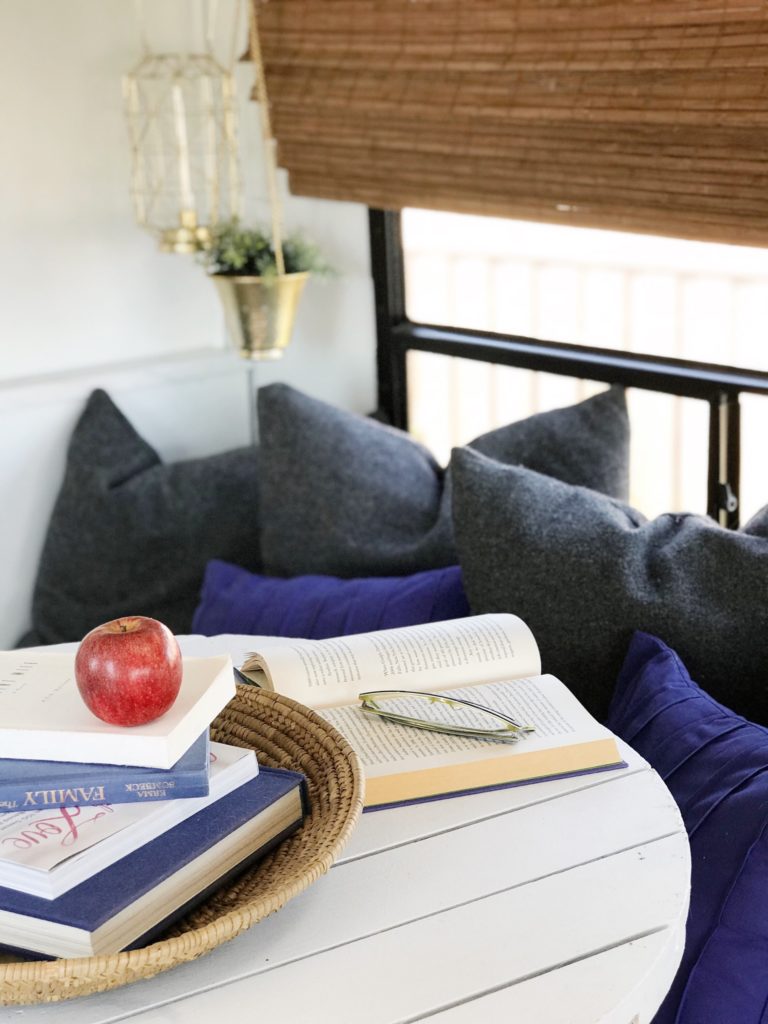 Here is how we turned a bulky corner of This Little Estelle into a functioning resting spot fit for meals or just hanging out.
We started by reimagining this round table we use to utilize at our old house. It was a $10 kijiji find I painted out white and it was too adorable to part with. However, the circumference of the table top wouldn't work in our small caravan, so I racked my brain and did a little deconstructing of another little table.
This outdoor slat table was left in our yard when we bought our fixer upper. I cleaned it up and painted it last year and loved the fact that it could fold down and away for quick storage. But, I think it will work even better now as the new top to our caravan dining table!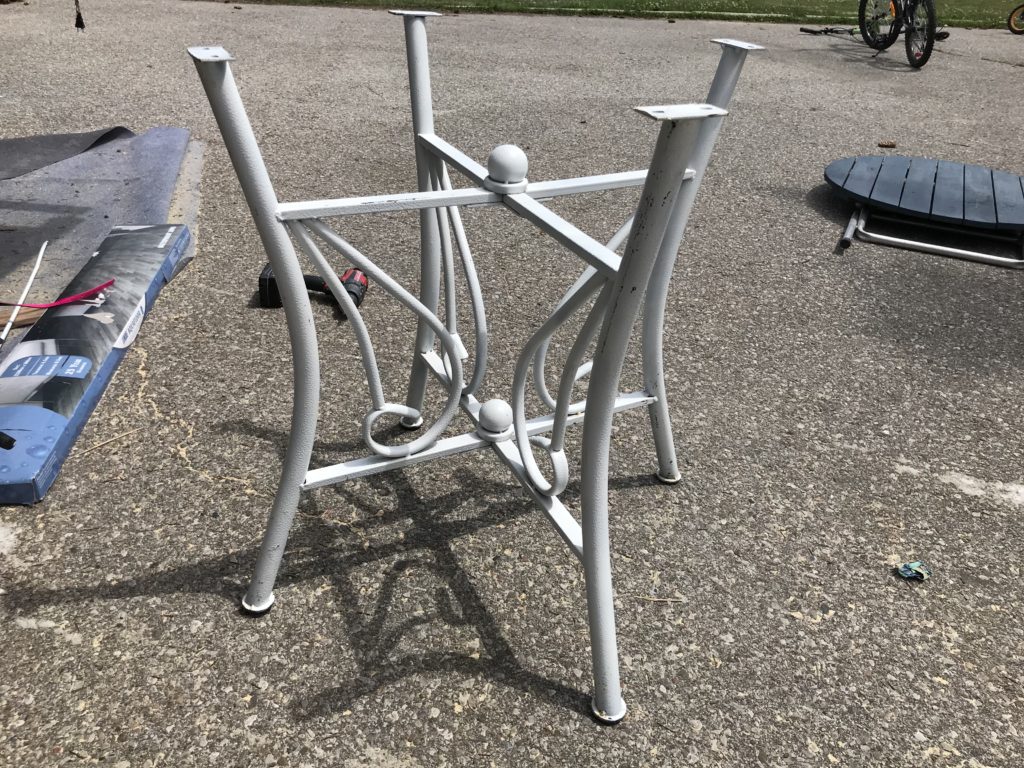 I simply attached the slat top to the underside of my refurbished base with wood screws and offered our twelve-year-old son a couple bucks to paint it all out one solid white colour.
It now is the perfect addition to our space and even traveled easily! We simply stored it upside down while we towed our caravan to it's first destination! What an easy furniture transformation!
This space has come along way in the last couple of weeks! Here is what the dining area looked like before we made the space more livable for us.
I took everything out in a couple hours…
Then played around with some ideas on how to use the space.
Ultimately we decided to build a bench that hides the piping of our trailer but one that lifts in two places for easy access to all the components we might need. (I'll save the nitty gritty of that for another post!)
Then I painted everything out with Beauti-tone's cabinet and furniture paint, changed the floor, added some pretty new elements, and VOILA!
With the addition of our new bench and table the space feels light and bright and far from heavy and stuffy like it use to. Eventually I'd like to make some cushions for this bench area, but for now, these big fluffy pillows work great.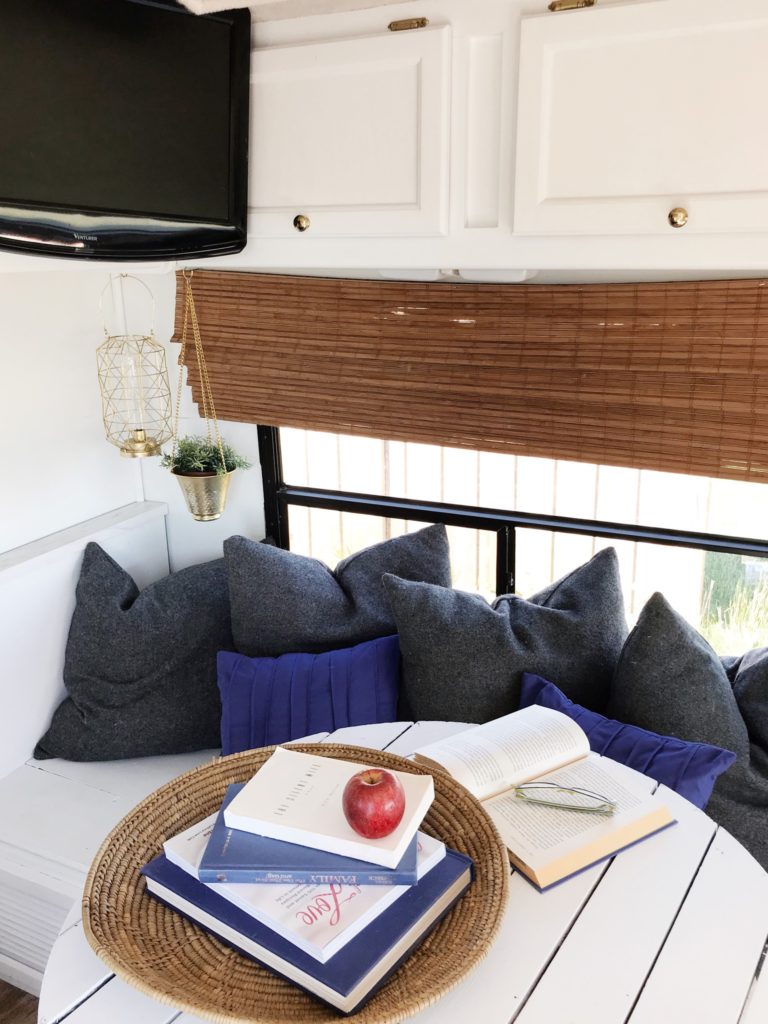 Now that the caravan is 99.9% done, this little nook is about to be where you will find me hiding from the laundry piles and the to do list with a good book. After all, it's summer, I've had a taste of the great wide somewhere and the road is calling. Our next adventure is already in the works! But don't worry, so are a lot of caravan tutorials for everyone who has caught the travel bug too.
Don't worry, I got you.
And I've also got a pillow and a corner with your name on it. 😉
What do you think of this before and after? How about the caravans' new name? Have any thoughts on how to make custom cushions with limited sewing skills? Asking for a friend… 😉