If you have been following along here for more than a few posts then you are well aware of my love for gold.
As promised, I wanted to share with you the curb-side-cast-away that I made over into a shiny beauty.
And ofcource, as always, paint surprises me with its power to completely transform a piece.
Cue "I believe I can fly" by R. Kelly, circa 1997 in the back ground for the next minute or so.
This little piece was discarded on the roadside in our neighborhood one day. It was solid wood, Bombay Company made, had dove tailed drawers and was FREE.
My hoarder instinct demanded that I conjure up all my superhero strength and toss it into the back set of our vehicle.
I obliged The Hoarder within.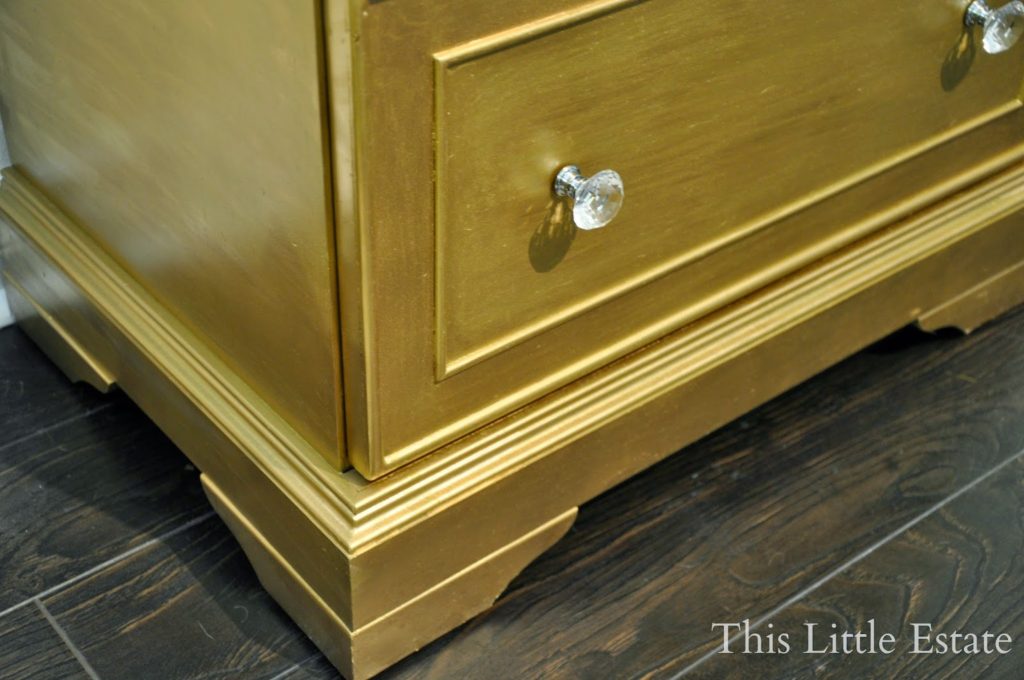 At one point, we thought this piece was going to get a transformation and fit perfectly into our master bathroom, but we all know that day will never come. 😉
Instead, this thing kept begging me to make her over.
After a complete wipe down, and approximately with five month of pondering under my tool belt, I got to work on our back deck, shaking a gold spray paint bottle and hoping for the best.
I sprayed and shook and sprayed some more, and then stood back wondering how I could counteract alllllll the shine that was going on on my castaway-turned-gold-dresser.
You see, it looked crazy bright.
It was a bright gold after my spray painting ways and I wanted it to be a pretty subdued gold, not an in-yo-face kind of gold.
I decided to use some acrylic paint mixed with a glaze to take the sheen and shine away from the dresser; the technique of paint and wiping down, worked wonders for adding depth to the dresser.
I mixed half glaze and half paint and used a cloth to wipe the mixture into the crevices of the piece and over the flat surfaces as well. The only difference is, I wiped more gently on the front drawers and sides. 🙂
When that was all said and done, I replaced the ancient knobs with
some sparkly glass knobs and immediately loved the contrast of the gold drawer
front and the silver pulls.

She was pretty again and deserved a new, good home, where she could shine for all to see.
I moved her down to This Little Salon and replaced the toy box that once stood under the watchful hands of the clock, with her.
(See what I just did right there? See? "Watchful"?? CLOCK. See?)
You must excuse me, I got my mothers good looks and my fathers humor. #interestingcombo #likejimcarrey #lolfordays
She now holds soft toys for babies who come along with their mamas to the salon.
Pretty and practical is a great combination, in my opinion.
I love turning something overseen into something eye catching.
I really do.
Thanks for sticking around this long to see how this little piece ended up.
She has come along way from being on a neighbors curb, to almost becoming a vanity, to finding her destiny as a beautiful side table. She loves playing double duty and completes the gold love over here at This Little Salon.