Being a super woman mama isn't always easy.
Sometimes I find my self wondering if I have fed myself on any particular day even though I know I have spoon fed a few little mouths multiple times a day.
It is easy to over look your self when you are a monster killing, whining fighting, super hero mama.
Mommy brain is a fun one, isn't it??
I still feel like with the birth of each of my darling children they took off with a a big little piece of my memory and my brain power.
Not sure how scientific that is, but frankly, I don't have the brain power some days to be intellectual, so today I don't care.
Today I am talking about one of the simplest things we all do every single day…
No, not sleep, we mamas know better then to expect that.
Today, I am talking about staying hydrated!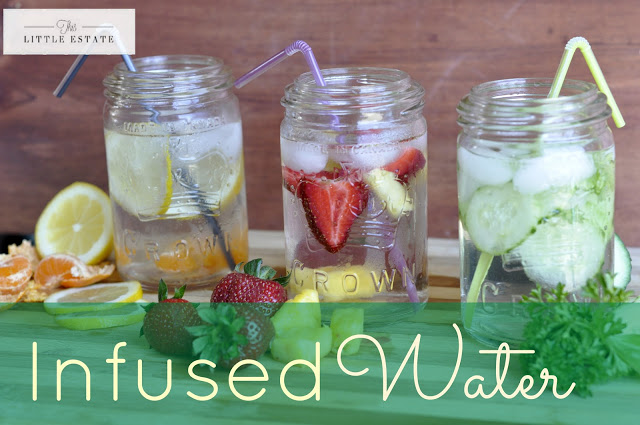 There are days when I forget to eat lunch and don't realize until I am three isles deep in the grocery store and my stomach's rumblings are scaring the shoppers around me.
There are days when I live on coffee and teas and just…need…one…more…to get me through till bed time.
The odd day though, I feel like a regular day Super Woman because I am refreshed and hydrated and keep coming back for more because what I am putting to my lips is just too delicious to stay away from for too long.
Like chocolate.
Like working out???….
I have been stuffing mason jars and water bottles full of fruit and veggies for a few years and love serving "fancy" water at special gatherings to give the event a "spa like feeling" and to give the illusion that I took time and care into making a special drink.
Really though, these infused waters are fool proof!
Easy and delicious are two requirements for anything I share with you here, so I have a few of my favorites to share with you today.

The key to infused water is to make it the night before and to have it waiting and ready for your lips straight from the refrigerator
This of course, will cut down on morning mayhem and will keep your Super Woman body feeling oh-so-good.
My top favorite summer time infused water is one I call "Summer".
It is full of the natural tastes of summer.
You can make yours by adding fresh strawberries and pineapple pieces to your purified water.
It will end up with the perfect amount of sweetness that keeps giving and giving and treating your taste buds. All. Day. Long.
You might even be tricked into thinking that you are sitting on a beach somewhere indulging in calorie heightened sweetness.
But your hips will know otherwise.
Next, I have what I refer to as "Spa Water".
As you know, I am a hair stylist and at one of the well known salons I worked at, we served frozen cucumbers in filtered water.
It didn't matter what kind of hair cut the client received after that, they kept coming back for the lightly flavoured cucumber water with the ever fresh after taste.
This is a must have.
So subtle that it is the best infused water to sip on all day and my personal favorite to indulge in first thing in the morning.
If you want to take it up an extra delicious notch, add some fresh cilantro or some fresh parsley.
The cilantro will give you a hit or the unexpected and will curb your craving for Mexican take out. The parsley will leave your palette cleansed and your breath freshened.
Perfection with every sip.
Lastly, I love the (what I call) "Citrus Punch Water".
This beauty is pleasing to the eyes and is the most flavorful.
A little lemon and a little tangerine and you will be tricked into thinking you are NOT drinking water.
This one has the perfect pairing of sweet and sour too.
You and your kids will be begging for more after each cup full!
This one seems to be the one that we go to most often. A jug of lemon and citrus punch can live in your fridge for a few days as you can add more water to the fruit mixture.
I recommend that if you are drinking your infused water straight from the refrigerator, than your ingredients can last for a few days while being kept chilled.
If you are on the run, I would use your fruits and veggies for one day only.
Discard and start a new or different batch of infused water the following day.
Don't be surprised though when your little ones steal your infused water throughout the day….
…and ask for more…
Mini super heroes need energized and hydrated too, don't ya know.
😉
Happy Friday sweet friends! Have a lovely weekend doing what you do and loving those you love!