When the weather gets hotter (Hello summer!!) the hats, sunscreen and cooler clothing come out to play.
But what do we take along with us on our summer adventures when it comes to staying hydrated in hotter temperatures ??
Personally, I always carry along an insulated thermo flask with water and ice — and when I'm feeling boojee, I get crazy and add lemon to the mix. 😜
But, after I started implementing juicing into my wellness journey this year, I've come to the tested and tried conclusion that fresh squeezed apple juice has WAY many more hydrating qualities than what I ever thought.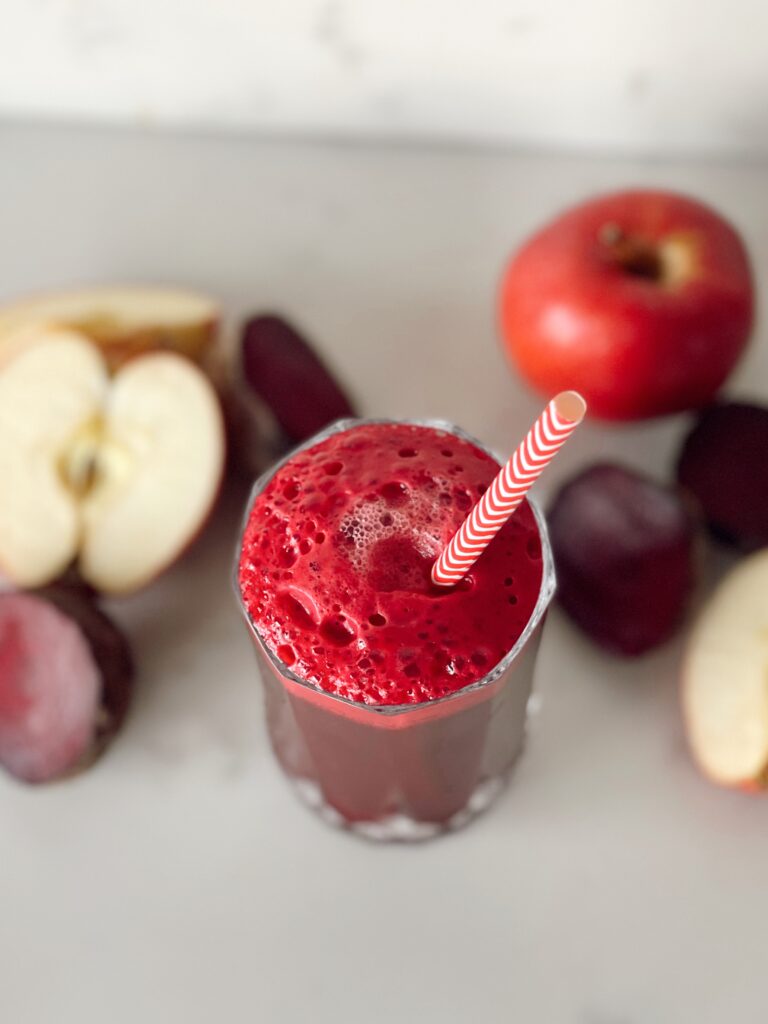 First off, apple juice is 88% water making it an easy piece of produce to begin juicing with while reaping good quantities of juice.
Also, it simply tastes good, so even the pickiest palette will love it's natural sweetness!
This makes it easy to consume — especially for those who are sick and at an increased risk of dehydration. (Think kids who swim all day long in the hot sun and never want to stop unless it's for sugary sweet popsicles. 🙃)
If you're interested in juicing, but don't know where to begin, juicing apples is the easiest place to start!
If you're also wanting amazing nutritional benefits that come along with juicing, consider the recipe I'm about to share in this post.
My apple and beet root juice recipe is all parts pretty, delicious, sweet and hydrating.
Here are some of it's benefits:
Drinking this particular juice helps in increasing the production of red blood cells which further increases the hemoglobin level in the body.
This apple and beet juice also helps in detoxifying the bodies organs which further promotes blood purification which protects the skin and helps fight the free radicals in the body.
These combined plant compounds may also protect your cells from inflammation and oxidative damage. Inflammation and oxidative damage occur when our lifestyle includes: smoking, alcohol consumption, and an inappropriate diet.
But, this juice can help heal and hydrate from the inside out!
For most busy families, beets are a vegetable that is timely to cook and messy to cut and prepare; so juicing is the easiest way to consume the natural benefits of beets.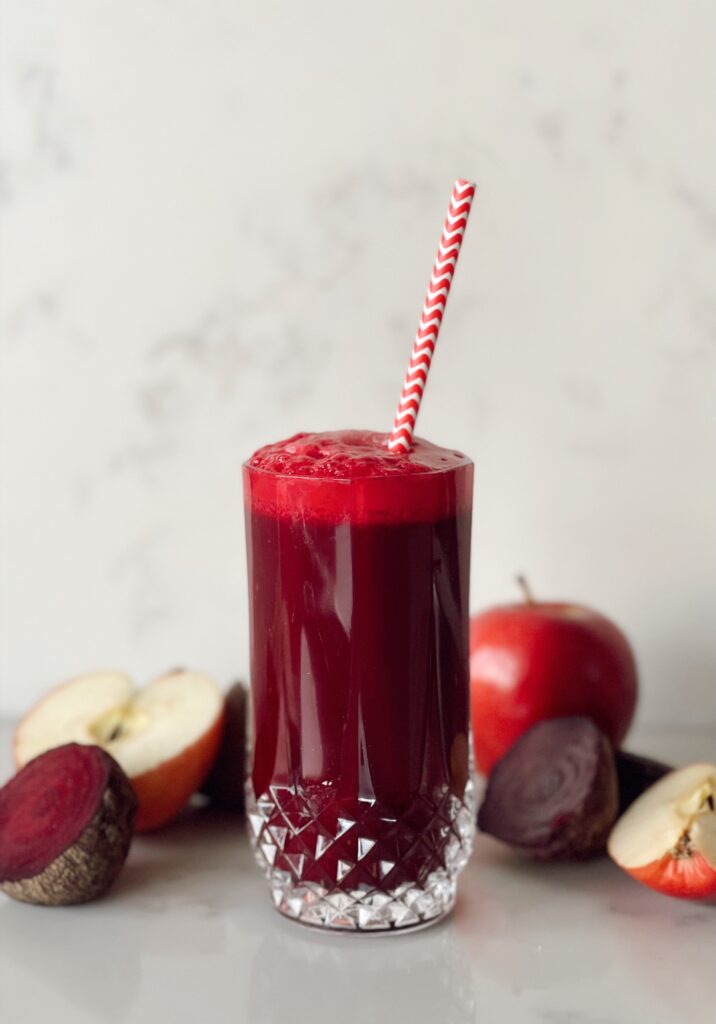 Beets are beautiful in colour and they're purple fibre is also rich in natural chemicals called nitrates. Through a chain reaction, your body changes nitrates into nitric oxide, which helps with blood flow and blood pressure. By consuming beet juice regularity you may even be able to boost your endurance, improve your bodies blood flow, and help lower your blood pressure.
All three things we need to prioritize when the kids are home for the summer, amiright? 😗
This beginner freshly pressed juice is sweet to the palette and will have you coming back for more once you FEEL it's nutrient dense effects.
Here's what you need to make this beauty:
• 2 medium beets
• 2 medium apples (any variety will work!)
• 1 ½ inch piece of fresh ginger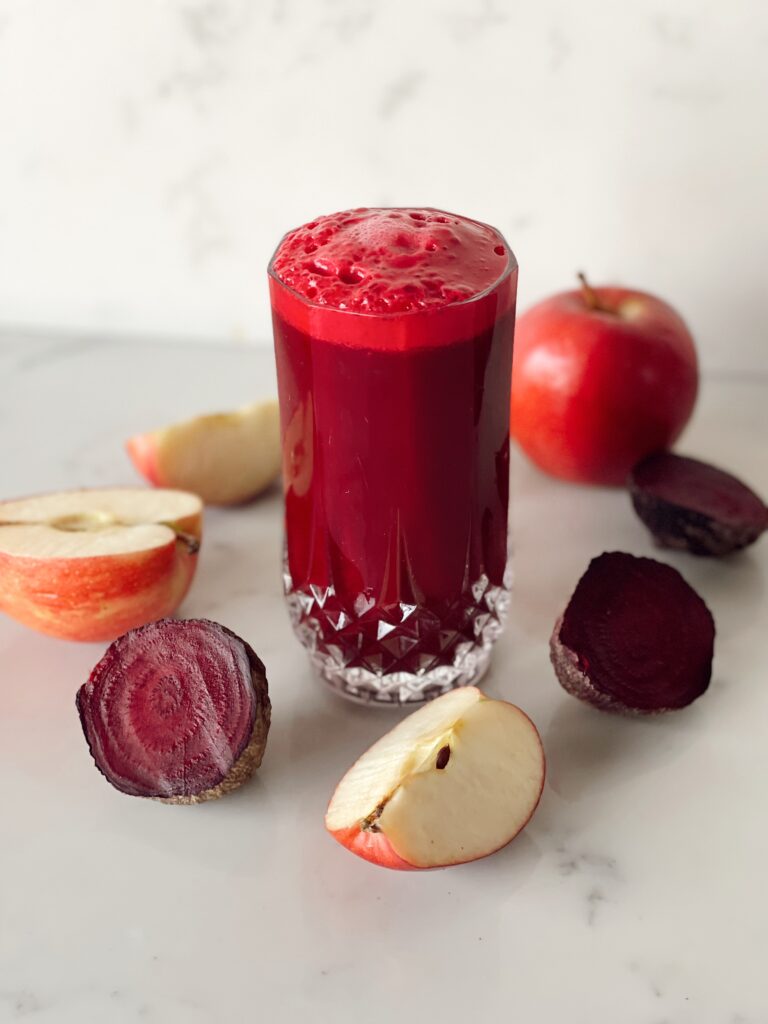 Add all of the ingredients to your juicer, press and enjoy!!
This juice stores well in a glass jar or jug in your fridge for a few days so feel free to double or triple the recipe and save for later.
Are you needing a nutritious pick me up after the long weekend? Maybe you're needing a bit of calm-in-a-glass since the kids have been on summer break? Or maybe you're wanting to simplify the method in which you consume your nutrients? Whatever the case may be, this recipe will help!
Are you interested in more things juicing, wellness and easy nutrition for busy families? Follow along on my socials for other tips HERE .