Happy November!
We have been back to school for two months now and finally life is feeling scheduled, predictable and I'm loving that!!
There's bed times that loosely get followed, after school activities that keep us in evening routines and now, since perfecting this breakfast bar recipe, our mornings will be a little more simplified.
If your home is like ours mornings can feel rushed and busy.
Quick on the go breakfasts are a necessity for our family. They're easy to prepare before hand, each person can eat at their leisure with no additional morning messes and this mama can rest assured that her family is eating more than their Halloween stash for breakfast. 😉
These oatmeal protein banana bars are easy to make and can be easily poured into muffin tins if you'd rather pass them off as "healthy cupcakes" to your kids. 🙃
If you'd like to recreate this recipe exactly, grease a 5 by 9 baking pan and simply pour your mixed batter flat and bake!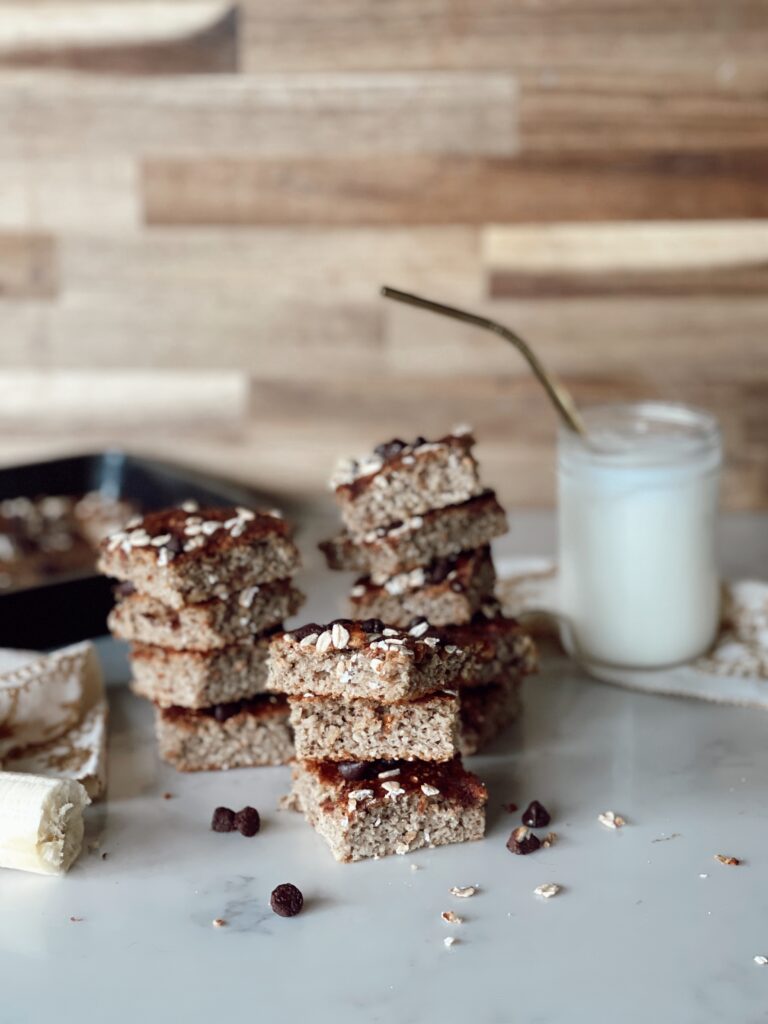 Here's what this recipe requires:
• 2 cups old fashioned oats
• 2 large very ripe bananas
• 2 large eggs
• 1 cup plain nonfat Greek yogurt (I use "SKYER" Icelandic yogurt from Presidents Choice)
• 4 tablespoons of honey
• 1 1/2 teaspoons of baking powder
• 1/2 teaspoon of baking soda
• 1/2 teaspoon of vanilla extract
• 1/8 teaspoon of kosher salt
• Chocolate chips to sprinkle on top (optional)
Here's how to make them:
Starting with your wet ingredients layer all of your ingredients into a blender and blend well. Stop periodically to push down your mixture if it clumps up and doesn't blend smoothly.
Once your mixture is smooth, pour your mixture into a greased bake pan or muffin tins and bake at 350F for 15-20 minutes or until your bars are set all the way through. (Insert a wooden tooth pic into your bars and if it comes out clean your bars are done!)
Cut into squares and store your banana oatmeal bars in a container in the refrigerator.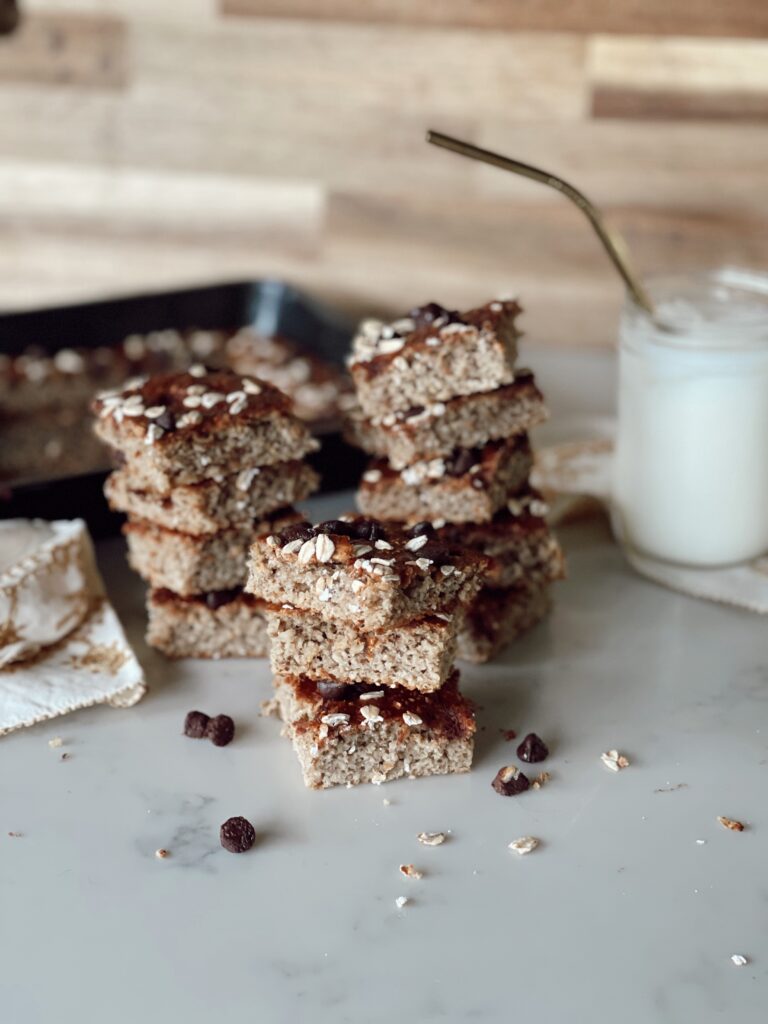 In our home my kids like to add their refrigerated bars to the air fryer for a few minutes until warm and toasty. A layer of Nutella or peanut butter is sometimes added for extra sweetness, but in my opinion the bars don't need anything additional if you're an oatmeal lover like I am.
Let me know if you try this recipe and if you add anything creative to it!
I haven't tried it yet, but I think these would be good with some tart dried cranberries added to the mix or some raisins too.
Also, are your kids sneaking Halloween candy into their morning routines too these days? I can't be alone on this one! 😉