Holiday decorating doesn't have to land you on Santa's naughty list for breaking the bank.
It doesn't have to be expensive and it doesn't need to take you years to save up for the perfect holiday Pinterest look.
There are many ways to accomplish a layered, beautiful Christmas style, that can evolve easily, year after year, by including these money saving shopping tips.
Look for fancy ribbon in humble stores.
Ribbon comes in so many different shapes, sixes and materials. Gone are the days where you only find low quality ribbon at affordable prices. Velvet like ribbon is made out of 100% nylon and can be made and sold at a fraction of the price that it use to be sold for. Check out your local Dollar Tree or dollar store for varying colour selections.
To add some interest and glam to your holiday styling, replace the generic hooking mechanisms on your oranments and try threading a beautful ribbon through your ball ornaments instead.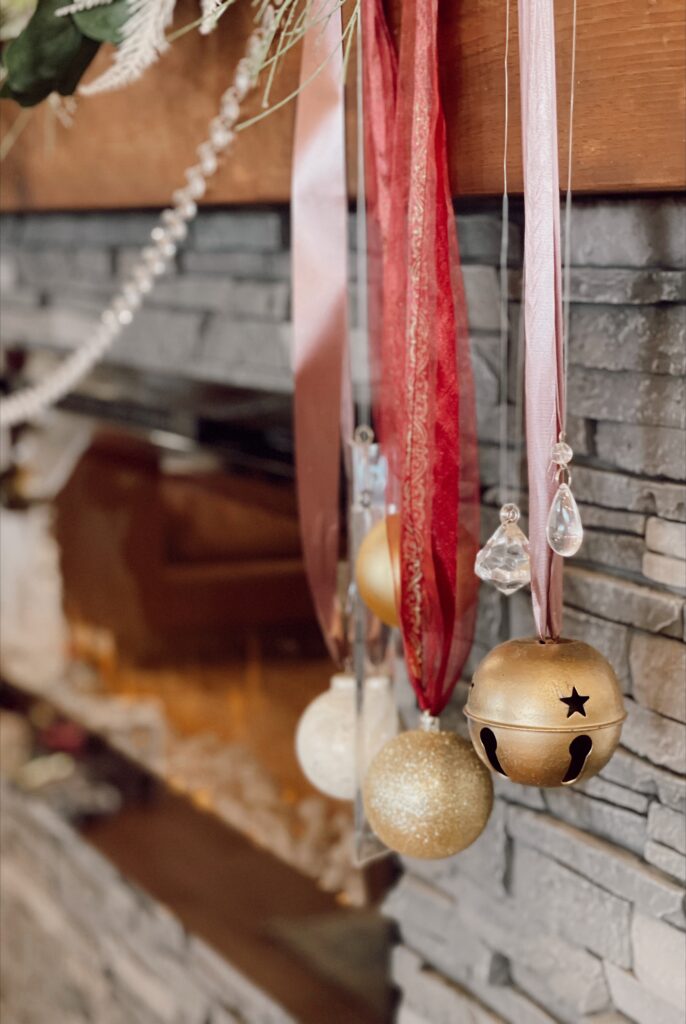 Add them to your mantle with command hooks or tie them directly to your mantle greenery.
DECORE TIP: If you have a rustic wood mantle like we do, tiny wood colour push pins will secure them in place. The push pins will blend nicely and over time will add worn natural character to your mantle.
Shop second hand for overlooked chandelier prisms.
Chandeliers can be found year long in thrift stores, antique markets and in your Grandparent's attics.
They might be removed from their place of honour over the dining room table because they aren't in style any longer or because they are too time consuming to clean when they are installed. (If you know, you know!!)
However, when disassembled, the chandelier prisms, plastic or glass, make the perfect sparkly element to add to your Christmas tree or holiday mantle.
Don't be dismayed if the chandeliers that you come across on your travels are dusty and dirty. A simple bath in hot water and Dawn dish soap followed by a wipe down with a soft cloth, will have your modern day acrylic chandelier jewels sparkling in minutes.
Over the years, I have found long X-prisms, coffin prisms, ball prisms and although my daughters grew out of her nursery chandelier, I saved some of the pretty glass oval prisms to hang on our tree each year.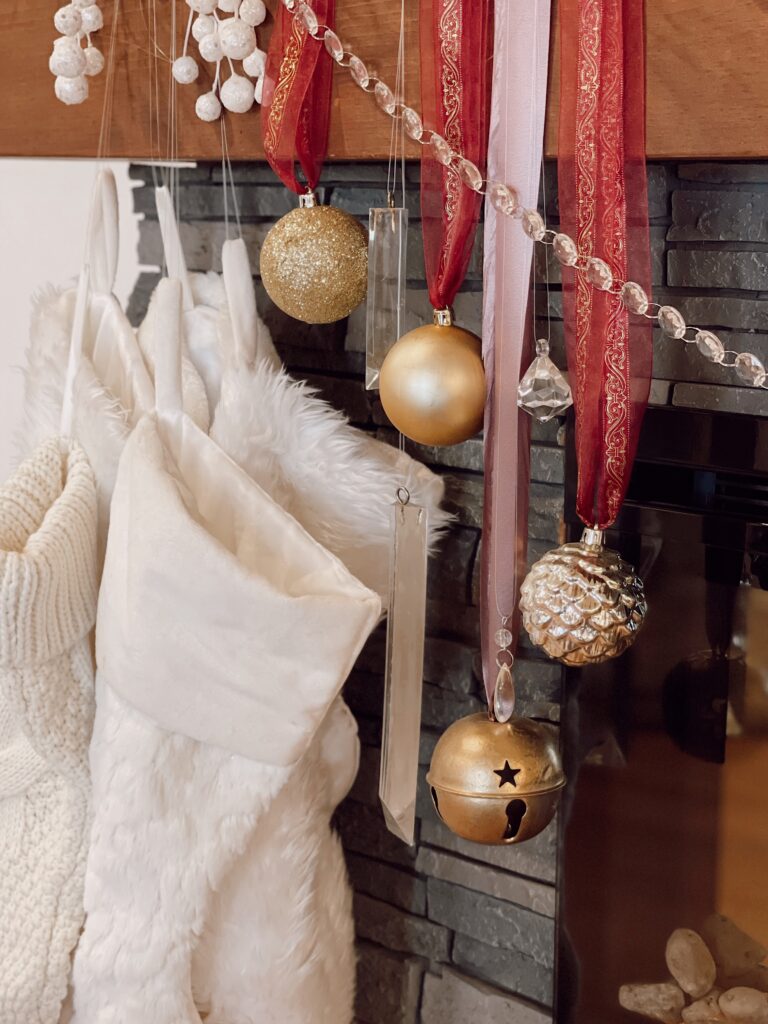 DECOR TIP: This visual below from WRANOVSKY shows all the different prism varieties you can keep on your treasure hunting list.
Hang your Stockings with string.
Don't bother saving up and spending your hard earned cash on holiday stocking holders. They are undoubtedly beautiful and worth the long term investment, yes.
But if you're just starting out decorating your own place for the holidays, or if you've added new family members to your home, (like we have done this year!) purchasing everyone in the house hold their own matching or coinciding stocking holder can be a daunting financial task.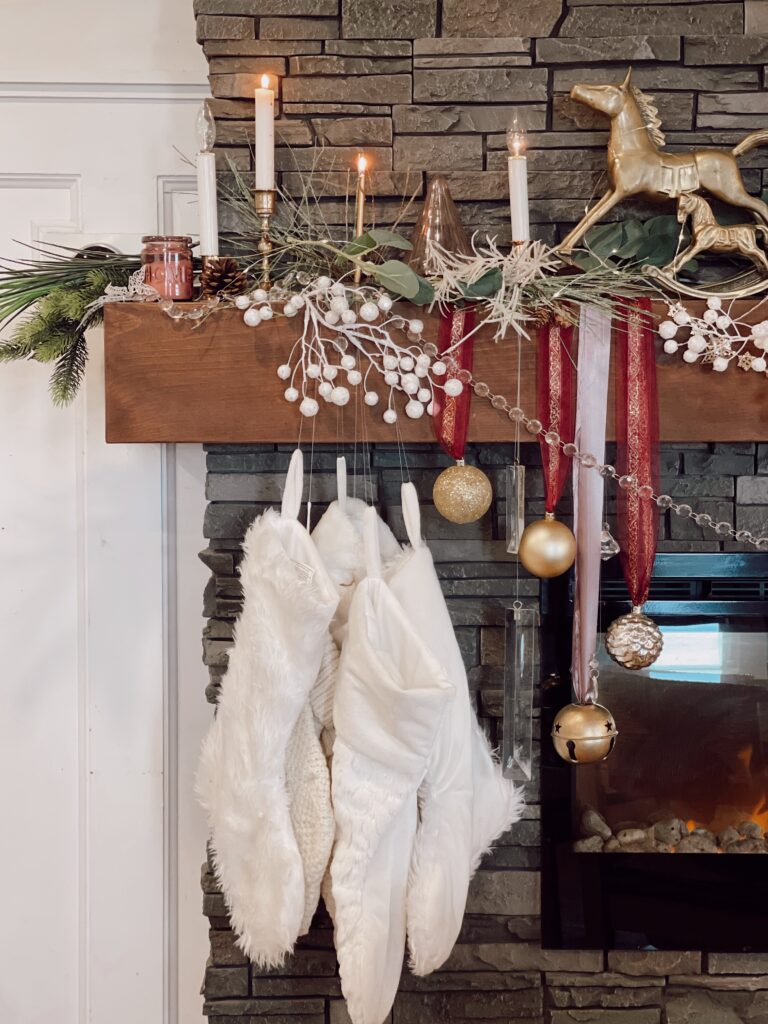 Simply thread some fishing wire through your stockings and attach them to you mantle instead!
Think outside the box, and instead, grab something from your tackle box to really simplify hanging your stockings.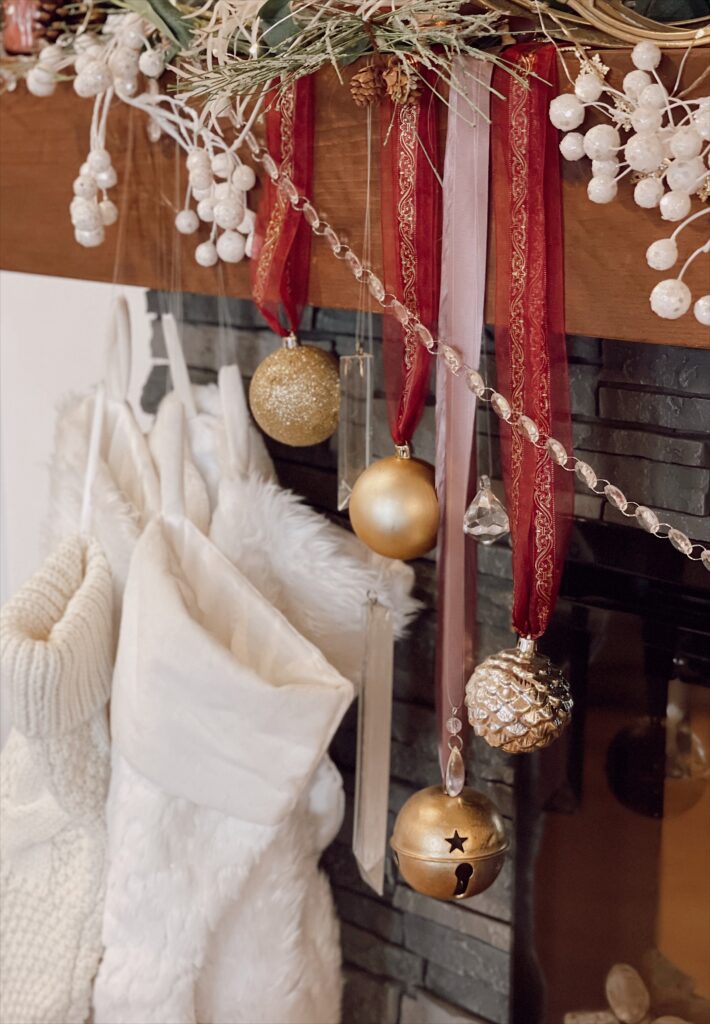 Group them together organically for a cozy laidback look.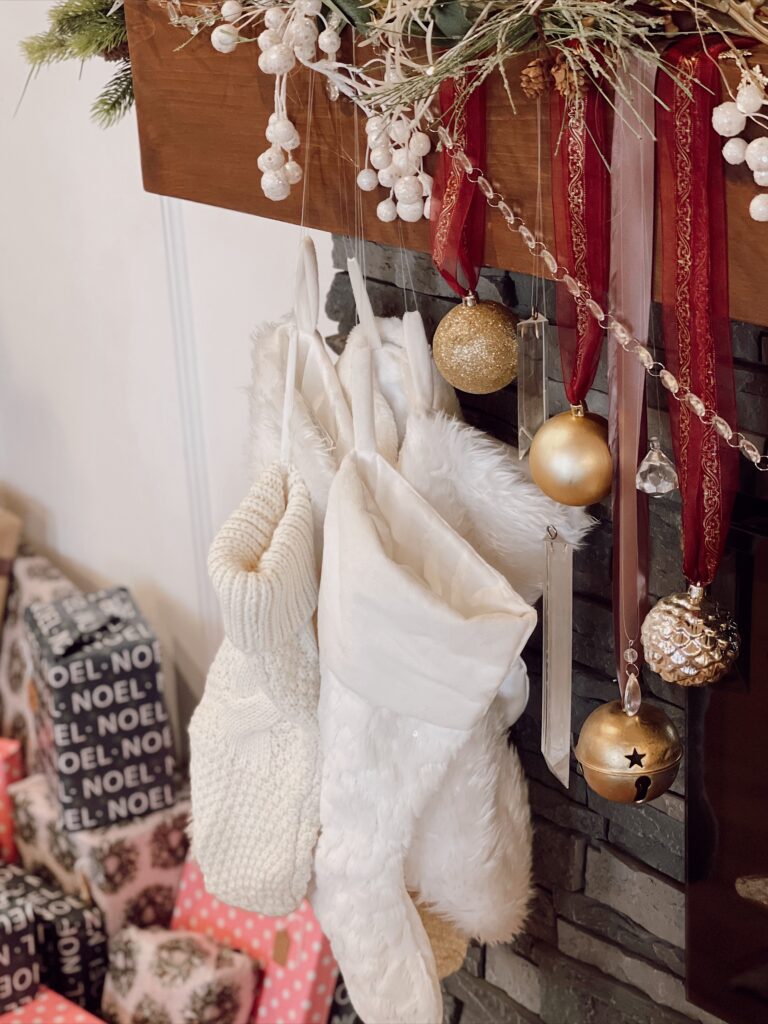 Buy the brass.
Brass items can always be found in second hand shops. They can often be found in candle stick form and in unique ornament shapes.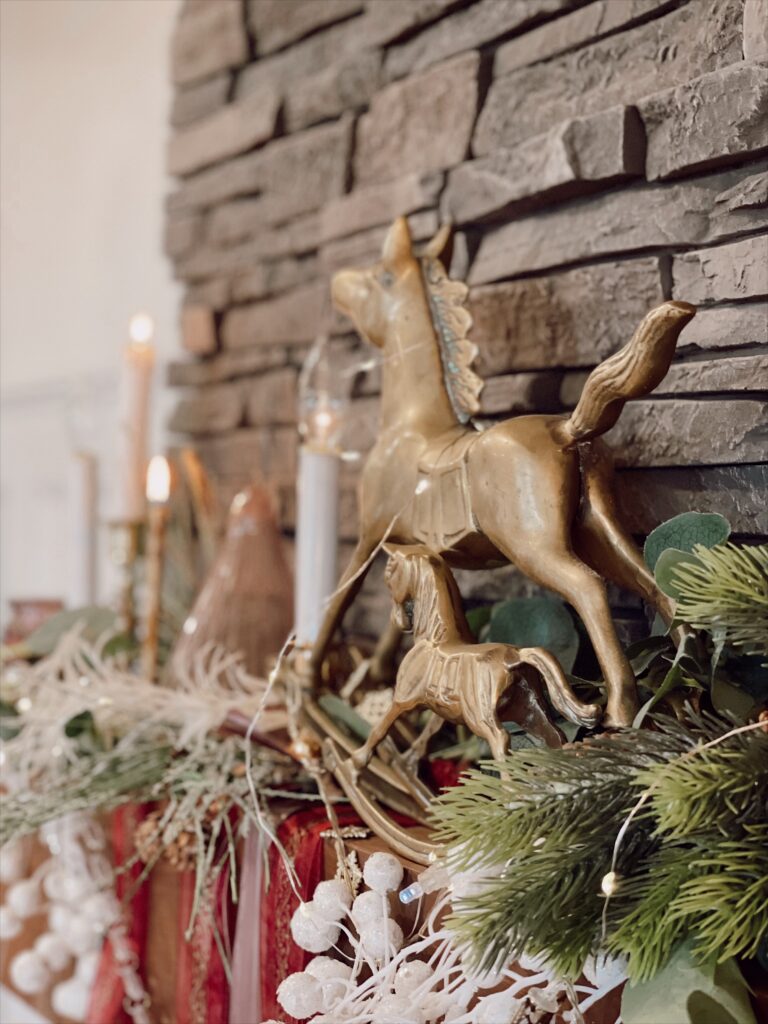 When you are searching for brass remember that a replicated antiquate brass finish of raw brass, or brass plating, has been chemically darkened to simulate aged brass. A true antique brass finish is typically a medium brown with golden undertones, and can vary significantly from one product to another.
Brass became popular in the 1940s to 1960s when Mid-century Modern decor was all the rage. Brass was a popular finish in Mid-century Modern design since its golden hue added warmth to the style's futuristic aesthetic.
However, with time, cherished brass items have been passed on and are now plentiful in second hand shops and can be purchased at a fraction of what they would have been purchased for originally.
Brass candlesticks can be found in varying heights all year round and make the perfect collection on any holiday mantle, styled down the center of a holiday table scape or sprinkled around your home in small unexpected groupings.
DECOR TIP: If your candles sticks tend to slant off center when placed inside of your brass candlesticks, carefully drip some of the hot wax from your candle into the spot where the candlestick will rest and quickly and firmly press your candle in to position for a secure and centered result.
Lose long garland and layer sprigs instead.
Luscious garland is gorgeous and comes in so many different faux varieties these days. But they also can range in cost and some are sold for hundreds of dollars.
If you're trying to decorate a larger linear space, consider untilizing sprigs of greenery instead.
You can use any old garland as your base and tuck little pieces of fresh or fancy sprigs into your garland to add visual interest and variety.
I have mixed in eucaplyptus sprigs, glitzy white sprigs, faux pine sprigs and sparkly spruce sprigs into my garlands in the past.
Building your garland in this manner allows you the opportunity to change your decor along with yearly trends. Without totally replacing all of your Christmas decor yearly!
To really stretch out your sprigs, purchase them from the dollar store, from Michaels with a coupon, or on clearance at the end of the season. Easily wield a pair of snips, also known as shears that can cut through metal, or use heavy duty scissors to get the job done. Separate the sprigs into smaller, approximatley, six inch pieces, for optimal coverage.
TIP: This also helps distribute the weight of your sprigs if you are attaching them to garland taht will rest lighty above doorways or on top of mirrors for interest.
Embrace lighter lighting options.
Twinkle lights or fairy lights are the perfect addtion to any mantle and do not require extension cords or hanging wires to outlets.
Traditional strings of Christmas lights can be a tripping hazard and require securing on your mantle to stay in place.
Twinkle lights, on the other hand, are battery operated, can be bought in a three pack at Costco, or in larger groupings on Amazon with tiny round battery options, and at most, typically only need two AA batteries to operate.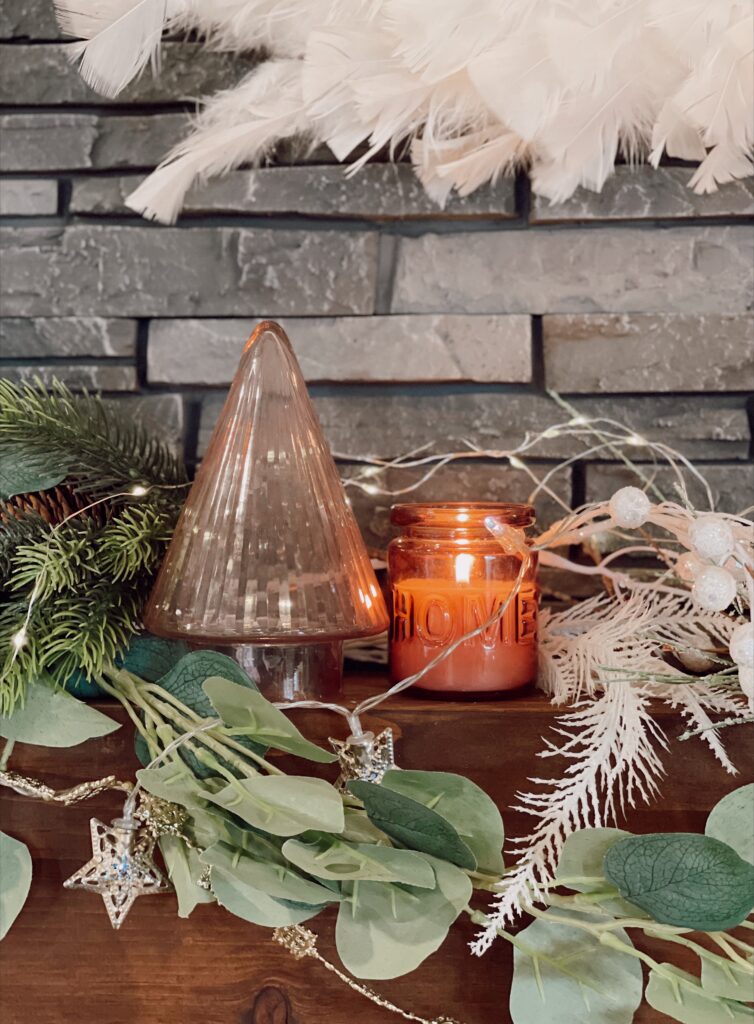 Personally, when I remove my Christmas decor in early January, I purposefully leave out my twinkle lights to create a beautiful ambiance throughout the early dark days of a new year.
DECOR TIP: If you are passionate about your carbon footprint consider investing in nickel-iron batteries which last for decades and possibly never deteriorate. (They were developed by Thomas Edison and are often referred to as Edison Cells. They are difficult to make but they are still in production.)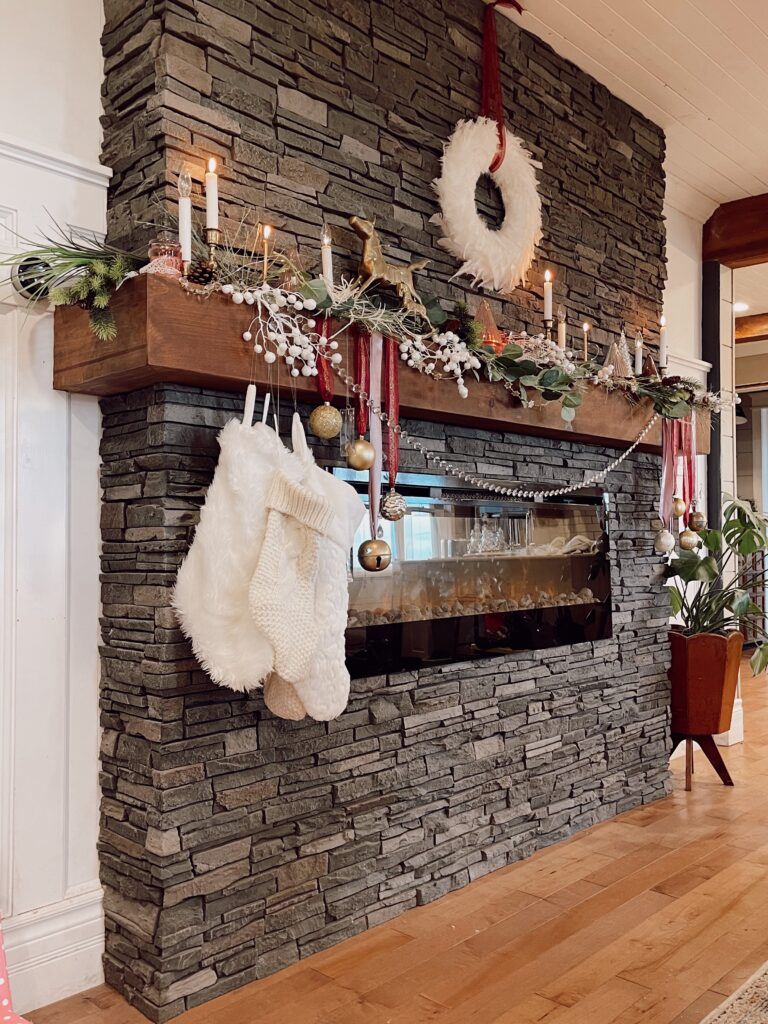 And there you have it!
These are my six fool proof money saving ideas to assist with your mantle decorating!
If you're easily overwhelmed by the Christmas season's consumerism (the excess of what a person actually needs) these tips will help you cut out the clutter and over all spending.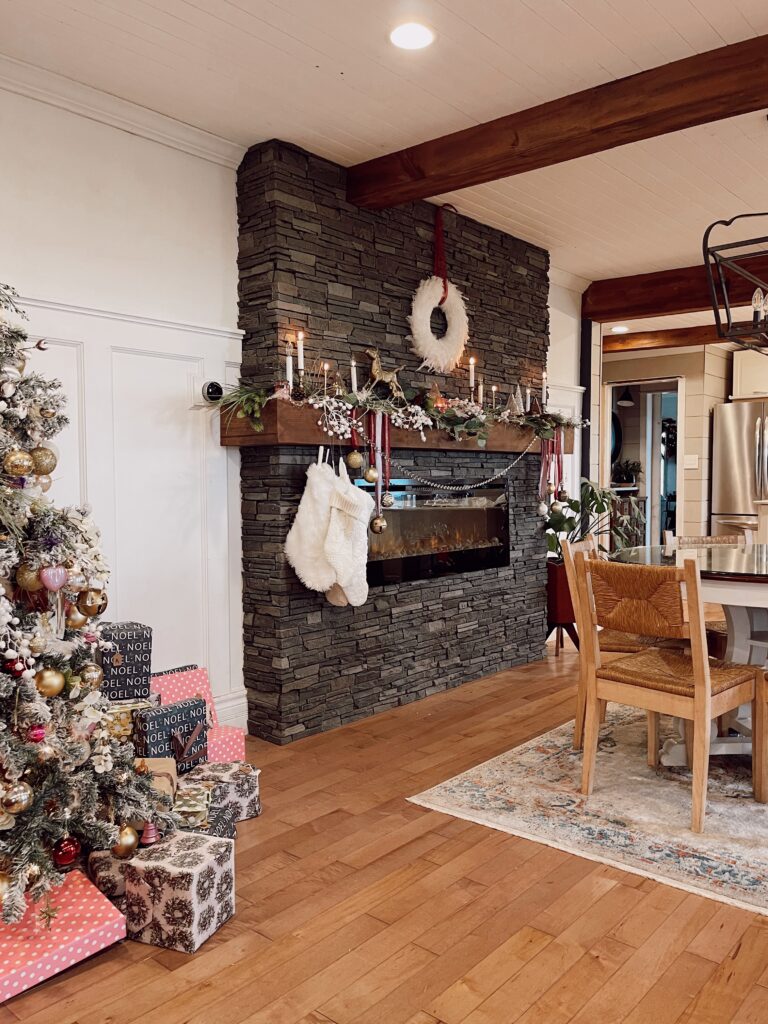 By remaining mindful to recycle, reduse and reuse, during busy, buyer-focused holidays, you can be confident that you're making positive changes to our environment, that will part year round.
Ones that will definitely land you on Santa's good list too.
How do you decorate your holiday mantle? Do you layer in items like I do or do you embrace a more simplified look?