As soon as the new year was upon us this week, resolutions for health and wellness were thrown out and into the universe. Driven and inspired people everywhere, wished to make better choices, to eat healthier meals and to take charge of their wellbeing and lifestyles!
If you are one of those people who made health and wellness focused resolutions this year, GO YOU!!!!!!
This recipe I whipped up this week, will help you and yours meet all of those healthy lifestyle goals!
Introducing gluten free, dairy free and oh-so-EASY to make butternut squash soup — with a twist! A twist that includes lots of hidden greens AND some savory toppings to ensure you're not missing any bite when you slurp down this detox goodness!
With a final drizzle of spicy sriracha sauce or a sprinkling of chili flakes, this soup has it all. So you can reach your goals of adding healthy changes into your life style – RIGHT NOW!!
To make this sweet and savory Butternut squash and spinach soup you will need:
2 / 20 ounce packages of pre cut butternut squash OR two average size butternut squash
2 white onion
6 cups of baby spinach
3 cloves of garlic
7 cups of water
1 tablespoon of salt
2 tablespoons of honey
TO MAKE SOUP TOPPING YOU WILL NEED:
1 portobello mushroom
1 package of white mushrooms
1 white onion
2 tbs of butter
TO MAKE SOUP:
Simply fill a stock pot with all of your ingredients, cover and cook on high for approximately 20 minutes or until squash is tender.
Emulsify with a hand processor until the soup is smooth. Watch out, soup will be hot!
TO MAKE SOUP TOPPING:
Chop portobello mushroom and package of white mushrooms
Dice one white onion
Combine ingredients in a pan and sautè with 2 tbs of butter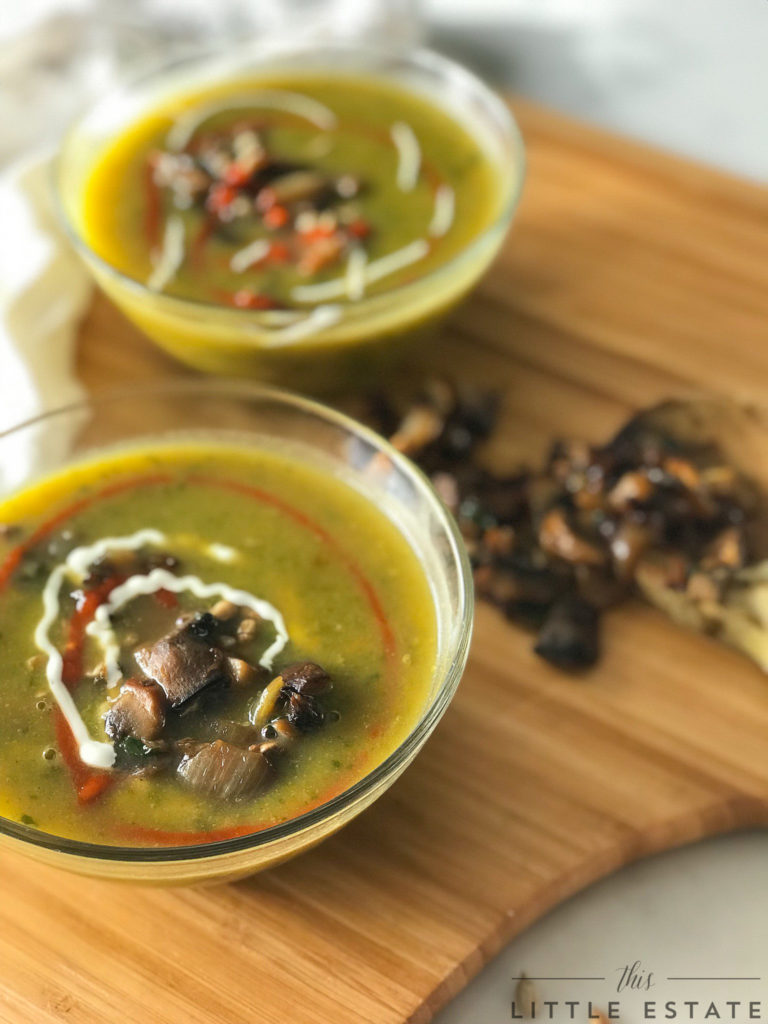 Serve your soup with the mushroom and onion topping/garnish for a delicious and nutritious meal.
NUTRITION TIP: Butternut squash has significant amounts of potassium, important for bone health, and vitamin B6, essential for the proper functioning of both the nervous and immune systems.

NUTRITION TIP: Spinach is low in fat and even lower in cholesterol, spinach is high in niacin and zinc, as well as protein, fiber, vitamins A, C, E and K, thiamin, vitamin B6, folate, calcium, iron, magnesium, phosphorus, potassium, copper, and manganese. ("FOOD FACTS")
NUTRITION TIP: Many mushrooms are also good sources of selenium, an antioxidant mineral, as well as copper, niacin, potassium and phosphorous.
This soup is exactly what you need to start the year off with a nutritious bang!
We love being a part of your home goals and hope to inspire some of your health goals with more of our plant based recipes in 2018! Subscribe here and follow us on INSTAGRAM to see weekly recipes in our stories, BEFORE they hit our website!!
Are you into healthy detoxing foods this time of year too? If so, try this one now OR pin it for later and we hope these archived recipes will inspire your year long health goals!