We hope you are all enjoying the holidays with your families and friends! We hosted a dinner at our house yesterday where we balanced plates on our knees and sat cross-legged on the living room floor together beside the pets. It was a lovely time and we had no plate casualties! Phewph!
Friends of ours, the Simm family, no doubt hosted over the holidays too. After all, they have a brand new living and dining room to break in! Did you see it in the 2017 Hello Holiday yet?
Here is a peek at how we helped them makeover and decorate for the holidays. The tablescape ideas are so sparkly and pretty that I'm hoping to implement a similar look for our annual New Years Party!
We flipped their dining room and living room to create more flow in their main floor living areas. Also, the swap allowed them to get a nice big Leons dining room table, fit for many guests! No living room floor sitting needed. 😉
Here are a couple of angles of what the space looked like when we showed up on their doorstep earlier this year with a truck load of METRIE interior finishings and a surprise makeover from Leons Furniture!!!
And here is what their space looks like NOW – all dressed up for family festivity and fun!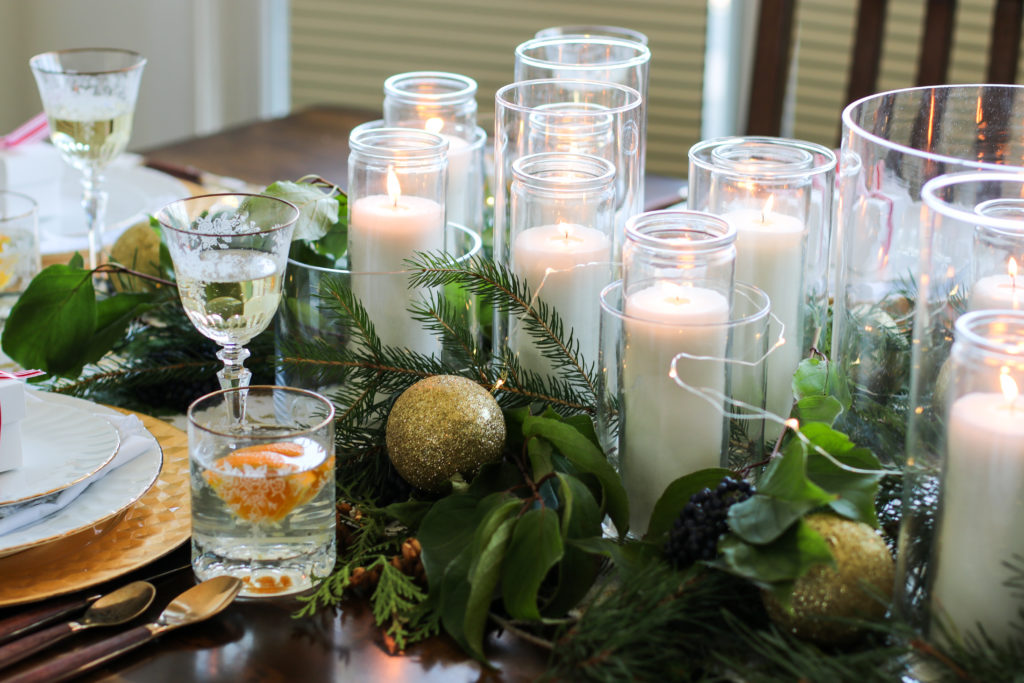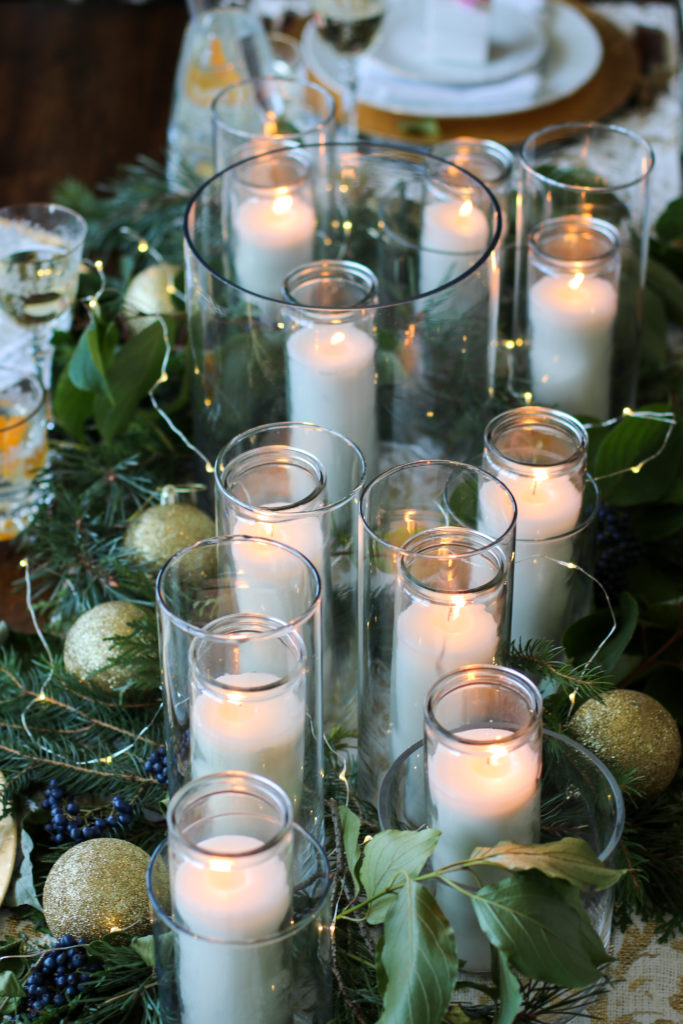 Their tablescape design is both parts pretty and classic and can be used for many different holidays and gatherings.
TO REPLICATE : Simply corral thrift store hurricane vases of varying heights and fill them with glass coated dollar store candles! Finish off the look with forged greenery from the woods and a string of battery operated sparkly lights!
I opted to pair this table with a long bench to optimize seating and to allow the families two young girls to access the table easily.
Every place setting item was collected from shops and antique markets and the best gift of all was when the dish ware, unknown to me, matched perfectly with the set of inherited dishes the client received from her grandmother! Meant to be indeed!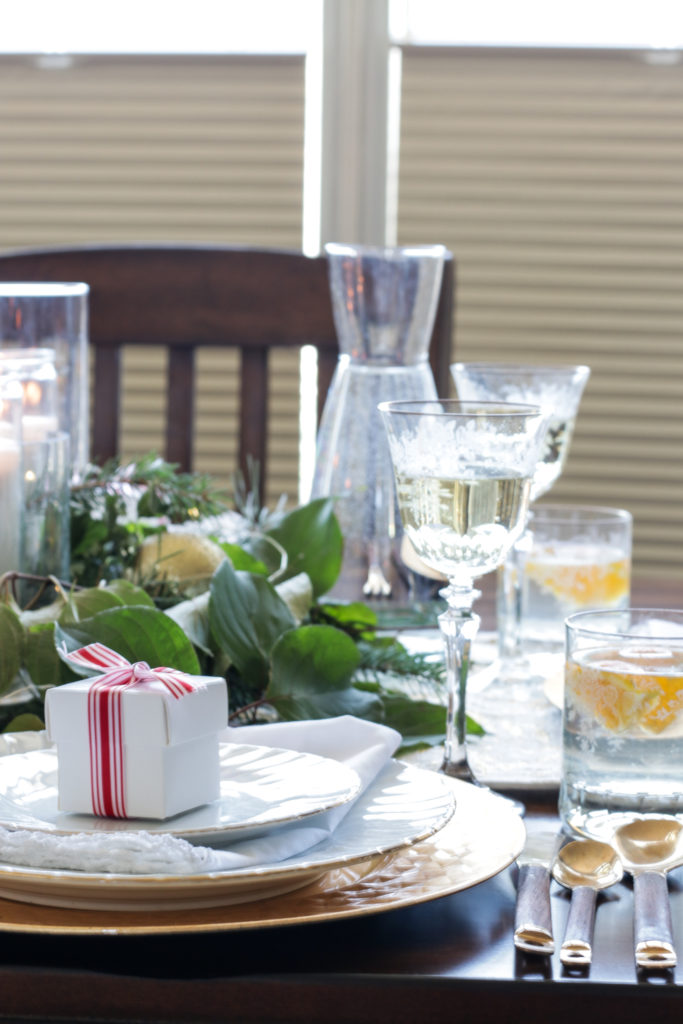 To finish off this festive space, I added a slim tree, more lights and pops of red and white against the panelled METRIE wall my husband and I created.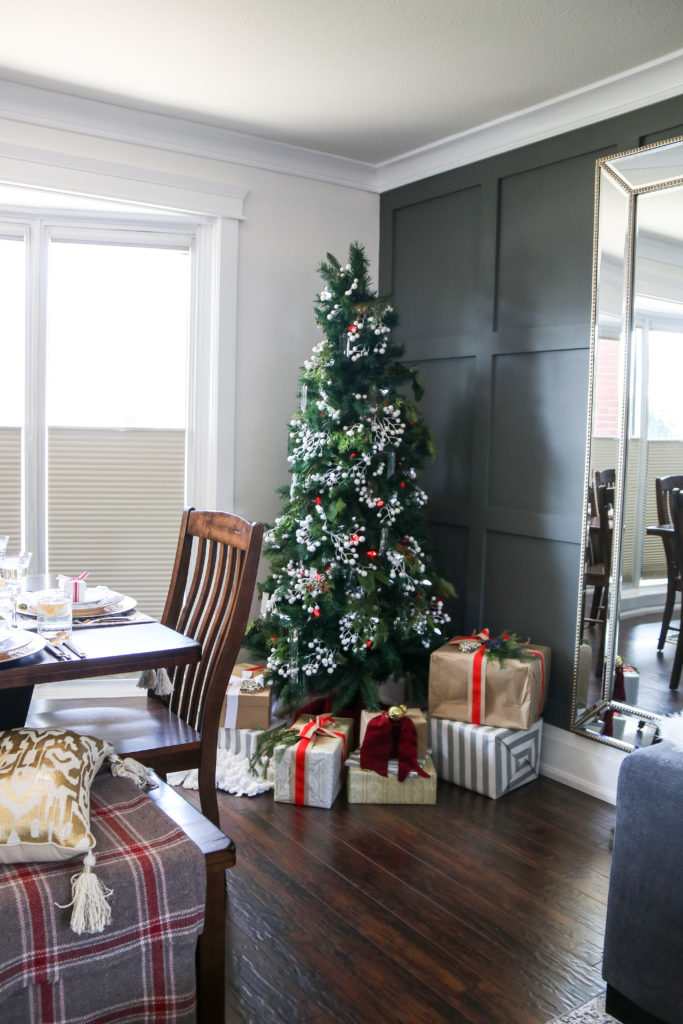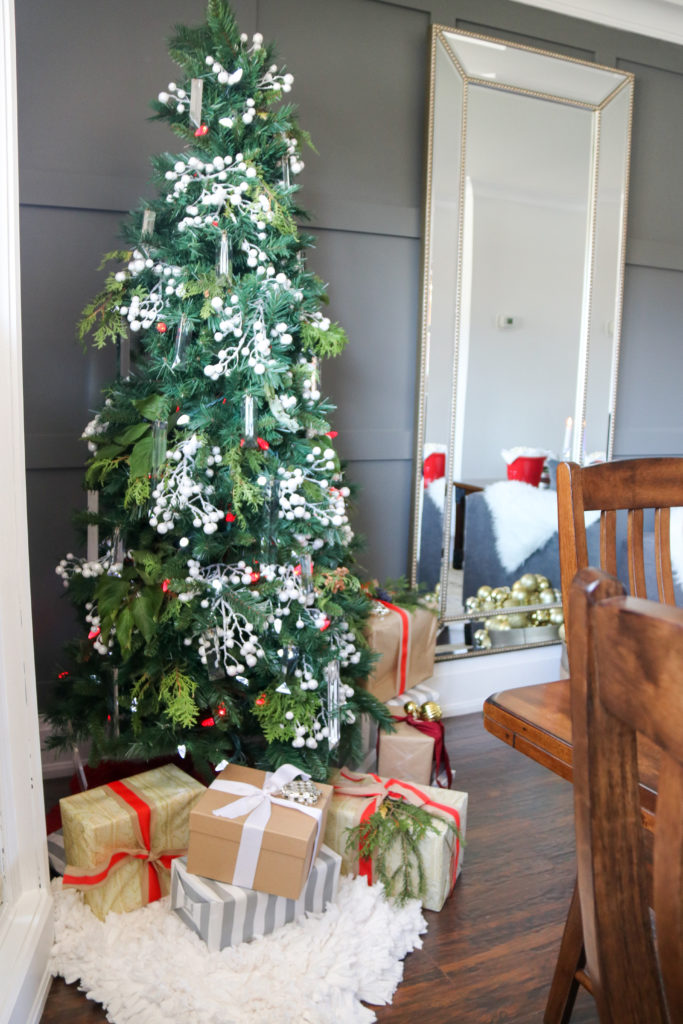 There were probably lots of gifts under the Simm families' tree this year, but after corresponding via email a few times with the family, I feel safe to say that this room makeover from Leons was the biggest gift they received all year!
I hear, the whole family and neighbourhood is still smitten with the space. A true gift that keeps on giving, don't ya think?
(See this previous post to see the other side of this main floor makeover.)
It's hard to believe that in five weeks, my husband and I turned this space from this:
Into this:
And from this:
To this:
AND from this:
TO THIS!
We too asked for a room makeover for Christmas in the form of a 1950's bathroom upgrade but, I was told by Santa that that couldn't fit in my stocking this year. SO, here's hoping we get as lucky as the Simms and enter a contest for a room makeover somewhere! 😉
If you could change over any room in YOUR house, which one would it be and why? Follow along with our hashtags #TLEBuildanddesign #Theporchproject to see what projects we are going to tackle for others next! We cant wait to get our hands dirty in 2018!