We have never had so much positive feedback on a recipe than with this deliciousness I'm sharing with you guys here today! Not only has this humble and healthy creamy white bean soup turned into a weekly family favorite here, but you guys are saying that ever since I shared this recipe on my Instagram story, that you can't get enough of it either!
So without further ado, here is my gluten free, dairy free, vegan, creamy white bean soup, which is, quite frankly, a rip off, and a healthier version, of my Polish grandma in law's meat and dairy filled recipe.
What you will need to make your own pot of Creamy White Bean Soup:
1 white chopped onion
Hilalayan salt
2 TSP of EVOO
10 cups of filtered water
4 chopped and peeled white potatoes
4 peeled and chopped carrots
7  cups of rough cut baby spinach
2 cans of white butter beans or white kidney beans drained and rinsed
2 minced garlic cloves
2 TBS marjoram
4 bay leaves
2TBS  vegeta soup mix
1TBS of thyme
1 TBS of peppercorn
2 TBS liquid smoke (optional)
1 cup of fresh dill, chopped (optional)
TO MAKE:
Saute your chopped onion in your EVOO and himalayan salt on medium heat until cooked through, add your ten cups of filtered water and turn your stove top to high heat. Add in your potatoes, carrots and spinach and spices. Cook covered on high heat until veggies are tender (Approximately 10-15 min)
Remove from heat and carefully remove bay leaves. Carefully set aside four cups of the soup to blend OR carefully use an immersion hand blender until soup consistency is creamy, not choppy.
HAND BLENDER TIP: Focus your blender on one side of the pot instead of stirring. When your immersion blender is in use, make sure to keep it immersed in your soup and never pull it up and out of your mixture while it is in use, this will cause unneeded splashing!
Lastly, add chopped fresh dill to your soup for a fresh spring flavour.
Garnish with fresh ground pepper and more Himalayan salt as needed.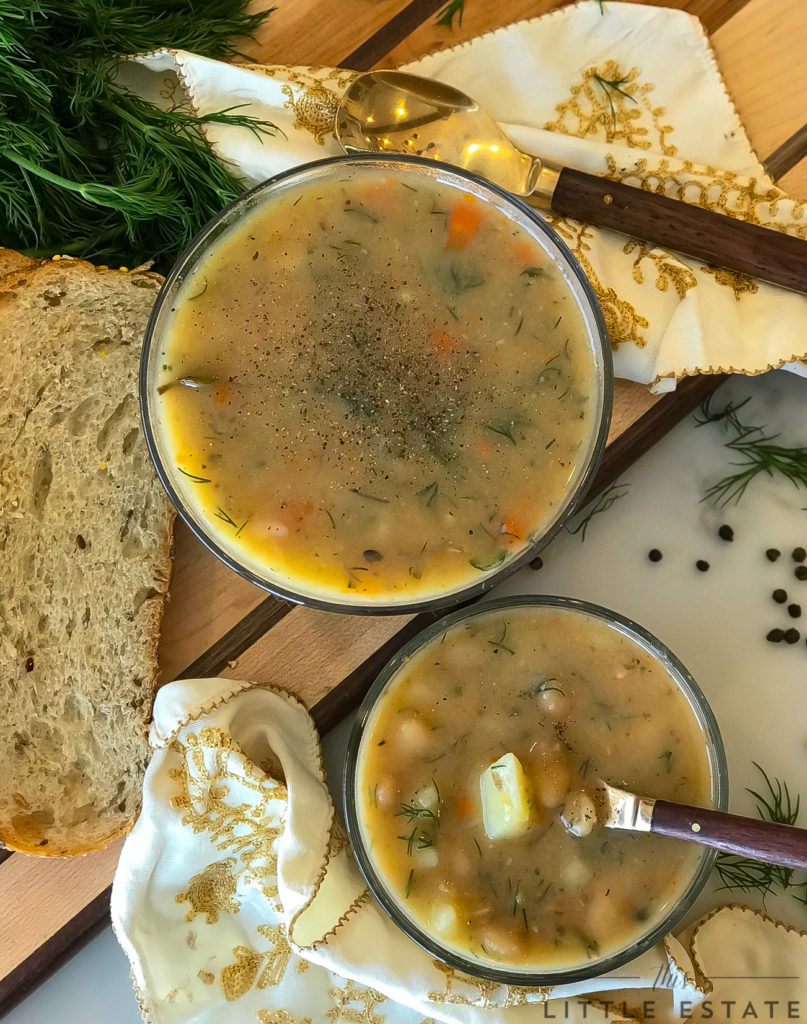 This creamy white bean soup will have you coming back for more. It's hearty enough to be the main focus for a winter meal and yet, it is literally just FULL of vegetables! Sound too good to be true??! IT IS!
I promise this recipe will be a favourite at your house too. It also freezes well and I have tried it a couple of times in my trusted crockpot, cooked on low for 8 hours. Perfection!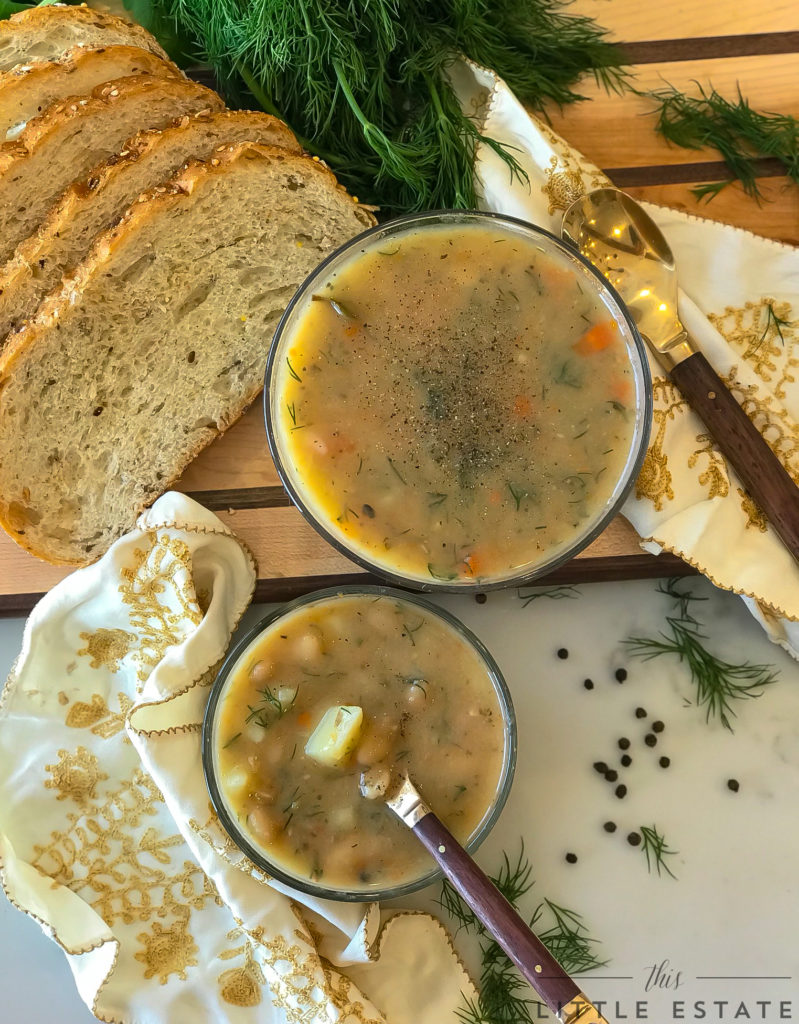 Let us know if you try this recipe or any of our recipes found in our "HOME COOKING" page here on the blog!
Are you guys into soup this time of year when the weather is freezing and the days are long? Have any bean recipes you want to share with me?! Send me a message with YOUR families fav soups, I might just make it and review it here! XO
LOVING SOUP THIS TIME OF YEAR?? TRY THIS ONE TOO!!