Much to my dismay, we didn't find out the gender of our third baby before his whirlwind arrival. You can imagine our need/want for an additional bedroom then when our youngest babe came out a rough and tumble boy and we couldn't imagine a long term living arrangement with his closest in age timid and quiet sister. His older brother will always be  six years his senior which wouldn't make them the easiest room mates, but will be great for having a body guard one day.
Our immediate need for a third bedroom was one we wouldn't be able to ignore forever. However, we ended up doing what most families do in these types of living predicaments, we made it work. At first we weighed our options and decided to bunk the youngest two up together for the first three years of their lives. It turned out to be a problem free living situation for a while. But once we found our fixer upper with its four bedrooms, we knew it's layout would be perfect for us all for the long haul.
We loved that our new home had four humble sized bedrooms and we were confident we could make them work for our needs, despite their compact sizes.
Since moving in we have completed two of the four bedrooms. Last year at this time we  made over our master bedroom and most recently we tackled our daughter's bedroom.
Heres a quick look at our master bedroom before some much needed elbow grease…
….and after some trim, paint and creative design for optimizing our tight space. 
  AND to refresh your memory and to remind MYSELF that our sons room DOES have potential, here is a glimpse at our daughters room that we finished this summer…
With some hand painted florals we turned her space into a girly little escape. One that was greatly earned after sharing a space with an infant who woke up multiple times a night to demand cuddles. 😉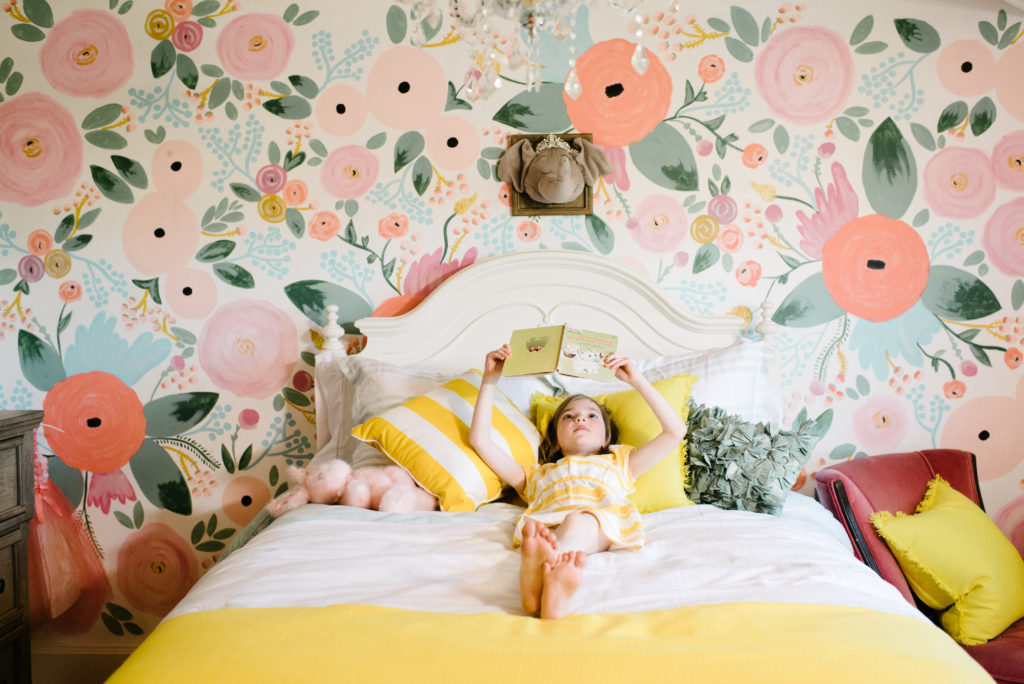 So we recently decided the upcoming highly anticipated One Room Challenge hosted by Calling it Home  was a great opportunity to create a new space for our youngest little guy. In hopes that he sleeps in his own room for just one entire evening, and because its about time he was given something he doesn't have to share with his older siblings. 😉
Because he is a kid who is always on the go, easily excited and has a hard time settling at night, we want to create a space for him that is visually calming and restful. Also, he needs a place to smash his trains and cars together in peace, amiright??
We cant wait to show you what we have up our sleeve, the process along the way while breaking down our makeover journey in six posts over a six week time frame!
Here is what his room looked like when we bought our fixer upper..
And HERE is our plan for the space….
Presentation – Untitled Design by Bethany
What do you think? Think we can pull off another bedroom makeover on a very tight timeline? Truthfully, Im nervous! We want to change so much about this space! Check back here every Thursday to get the inside scoop on our little mans room makeover every week. I'm sure it will be a challenge for us to give the space the character it deserves, but I'm positive we will have fun getting our hands dirty along the way.
Are you guys following along with the One Room Challenge participants? Any rooms makeovers you're dying to see come together? I cant wait to stalk all the design inspiration on Calling it Home.