If you've been keeping up with our summer renovation projects then you know that our camper make over has been a major focus for us. The unseasonably welcome fall heat we have been experiencing has totally convinced me that if subsequent years follow suit, we are going to have lots of happy camping days ahead! Yippee! Bring on open skies and s'mores for breakfast, lunch and dinner!
If you are new here, we lovingly refer to our trailer as #TheCamperCottage and spent countless hours sprucing her up and making her pretty this summer.
It took a little elbow grease and a lot of paint but now we have a comfortable little escape ready to hit the road at a moments notice. Which is great, since we are the last minute planning types that never really strategize anything. Can you tell we're a pair of creatives? 😉
In our last post update about our pop up, I shared the trailers kitchen remodel and budget breakdown. If you missed it, you can catch up here: The Camper Cottage: (Part 3) THE KITCHEN
The kitchen changes were made to obviously aesthetically enhance our trailer, but the changes also allowed us to have a space that functions well for our families needs.
The reupholstered seating in the trailer is another element that visually impacts the space. I went back and forth on what kind of fabric to use, knowing it would definitely be an impactful decision, and in the end chose a black and white buffalo check print that feels both rustic and classic in style.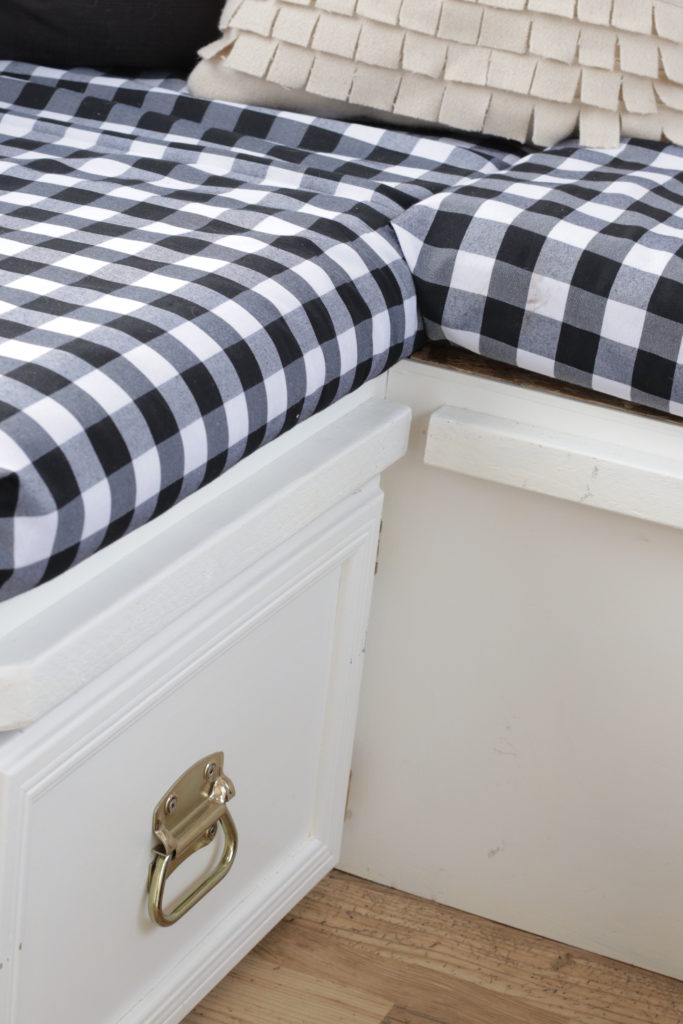 With a lot of help from my crafty Mama, who I like to refer to as "The Original Pinterest", the cushions all got a new covering in the form of black and white checks.
Once the flooring was replaced and the kitchen and hard elements were refinished, I turned my attention to rethinking the sleeping arrangements within the trailer. I started by giving the beds and canvas a good scrub down and then chose all white bedding to carry on the overall brightness of the makeover. We chose bedding that could easily be bleached, but we also mused that white bedding would allow us to easily spy any little neighbourly bugs that might want to check out our new digs when they see us rolling into their forest home. 😉
With the camper cottage completely finished, we now have a tiny escape that has undoubtedly brought us closer together.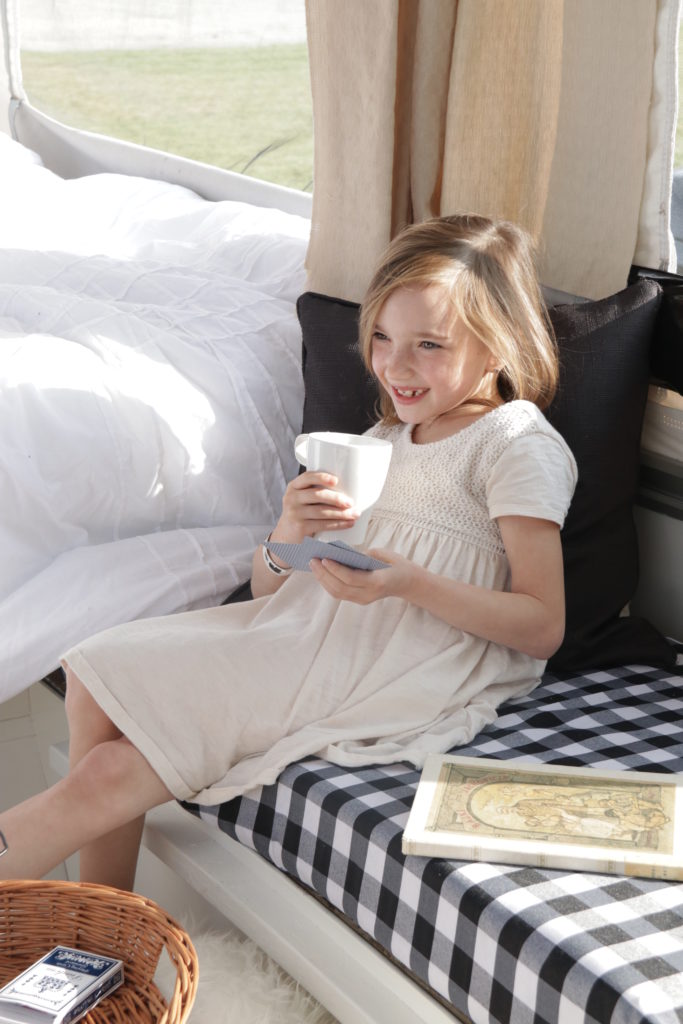 The Cottage Camper has turned into our little vacation home and has been the place where time seemingly stands still. Where the wifi doesn't connect, but we do.
This tiny home on wheels can be towed anywhere and can be set up in mere minutes, leaving us lots of time to focus on the things that truly matter.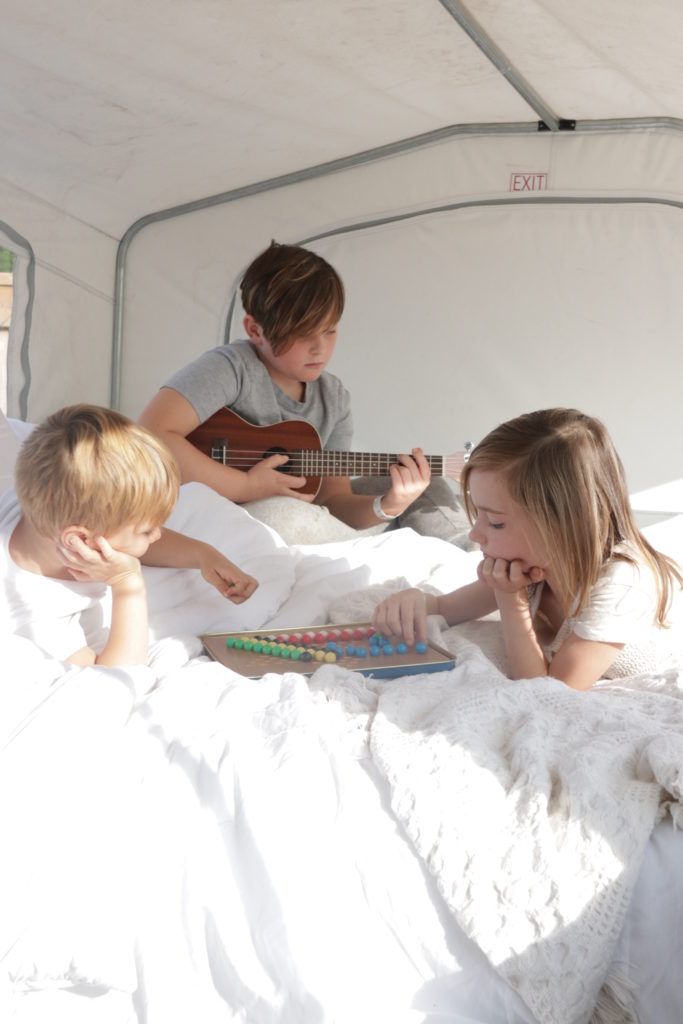 Now that we are enjoying this space, its hard for us to remember what it use to look like. 
So, here's a before shot of the trailer to refresh all of our memories. 
The space now seems to have doubled in size, doesn't it?? This is the same view of the trailer and I love how different it looks! In the end, we ditched the dining table and got rid of all of the back cushions on the banquette. This freed up so much space for us, allowing all of us to be in the trailer at one time without feeling squished.
A fabulous example that sometimes in design, less is more.
The old dining area now functions as a small seating area or a spot where we can sit and tie our shoes. It is also the perfect spot for extra luggage or items you wouldnt want placed on the floor.
The secondary table and chair area for dining also got a change. 
The way this space use to function didn't work for us. We ditched the rickety folding table for an ottoman with storage that also doubles as a coffee table. We reason that alfresco is our favourite way to dine, but if the elements won't allow that, we can always pull out a small folding wooden table we have stored away.
We moved out pieces that didn't work for us and moved in a few things that feel like home. 
With some creative thinking and problem solving, this space completely transformed over the summer.
Was it a lot of work? YES.
Was it totally worth it? YES.
Now we have a "new" space that is begging to be filled up with memories that will last a lifetime.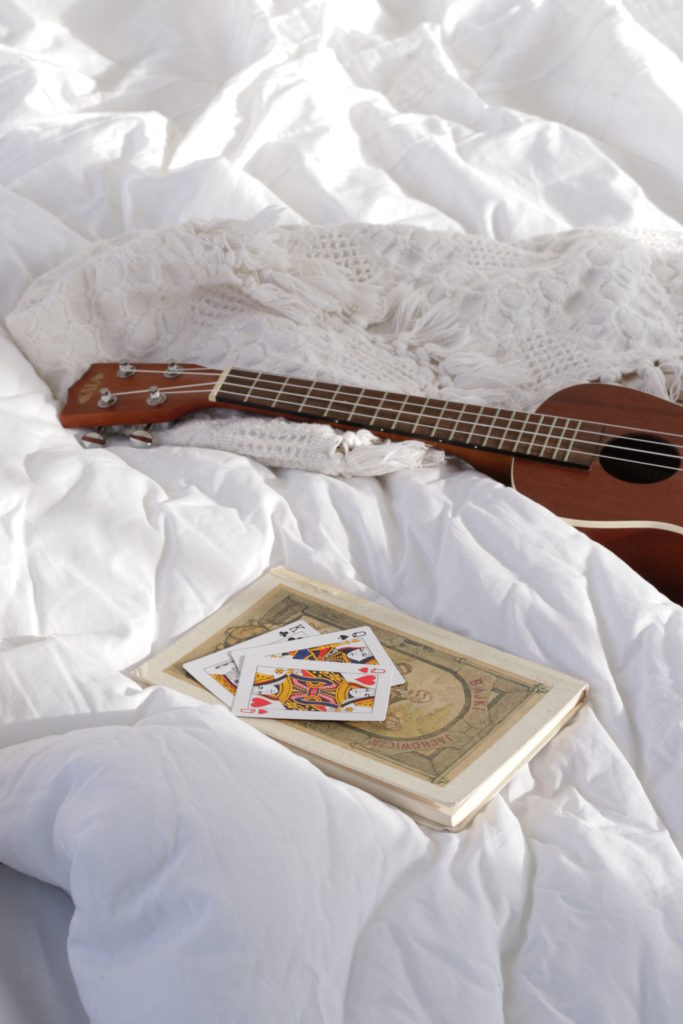 Have you ever renovated a small space? Perhaps one on wheels?? We would love to hear if you have, and we'd love to see pictures too! Send us your renovated camper pictures for a chance to be featured on our blog! You can reach us with any questions and or feedback at thislittleestate@hotmail.ca Can't wait to see what you have been up to!
SUBSCRIBE TO KEEP UP WITH OUR RENOVATIONS! YOU WONT WANT TO MISS OUR COMPLETE #TheCamperCottage BUDGET BREAKDOWN, COMING SOON!!!
NEW HERE?? CATCH UP ON PAST CAMPER RENOVATION POSTS!
The Camper Cottage (Introducing the trailer)
The Camper Cottage (What to consider before you buy a trailer!)
The Camper Cottage (Part 1: How to renovate a trailer)
The Camper Cottage (Part 2: A childhood club house)
The Camper Cottage (Part 3: The Kitchen Renovation)