I asked and you guys answered! I polled you over in my stories on Instagram (Not there yet? Come say hi! HERE!!) and approximately 80% of you wanted the details on my vegan mac and cheese recipe! For the percentage of you that voted otherwise (for my garlic hummus recipe) , don't be dismayed, this recipe is a MUST have, or as I always say, a must SAVE! AND, I will share the hummus recipe on my IG soon!
Introducing ooey-gooey DELICIOUS cashew cheese sauce! The crowning glory of any hot and hearty vegan mac and cheese meal!
We get a lot of questions from readers about our families lifestyle and eating habits lately, the truth is, as our family has grown and our children have gotten older, our eating habits have also evolved and changed to be more plant based. This means trying our hands in our test kitchen in order to turn classics like cheesy macaroni and cheese into kid approved  gluten free/dairy free/meat free meals.
Does this sound impossible?? I thought so too, but NOPE! It's totally doable!
Introducing creamy cashew Cheese!
Not only is this recipe extremely easy to make, it's also so creamy your tastebuds will be convinced you are devouring a cream sauce. We must interject that cashew cheese does not actually taste like cheese. It does however, have the creamiest texture that one might be missing in a dairy free diet. For us, it hit the spot and took our pasta dish to levels of creaminess we didn't think possible from nuts.
Our KIDS can can make this sauce it in mere minutes, which makes this also a top meal choice for parents and kids alike!
Here's how to get prepped:
Soak 2 cups of cashews in cold water for a couple hours
Drain
TO MAKE THE SAUCE:
Blend all ingredients in food processor, (or in your Vitamix blender like we did).
DIRECTIONS:
In a blender blend up 2 cups of your roasted soaked cashews for 3-5 minutes, until smooth.
ADD:
2 cloves of garlic
1 1/4 cup of water
1/4 lemon juice
1/4 cup of nutritional yeast
1/2 teaspoon of onion salt (optional, add to taste)
THAT'S IT! 
Pour your creamy cashew sauce onto drained rice noodle based macaroni (or your favourite pasta) and warm up for several moments on your stove top. THEN SERVE AND ENJOY!
When we have our blender out in the kitchen, I also like to whip up vegan parmesan that we sprinkle on top of pasta dishes, salads, toast and butter, you name it!
TO MAKE VEGAN PARMESAN:
Blend 1 cup of dry roasted cashews
4 teaspoons of garlic powder
2 tablespoons of parsley
1 teaspoon of ground black pepper
1 teaspoon of onion salt (or to taste)
4 teaspoon of nutritional yeast
Once made, store in an airtight container in the refrigerator.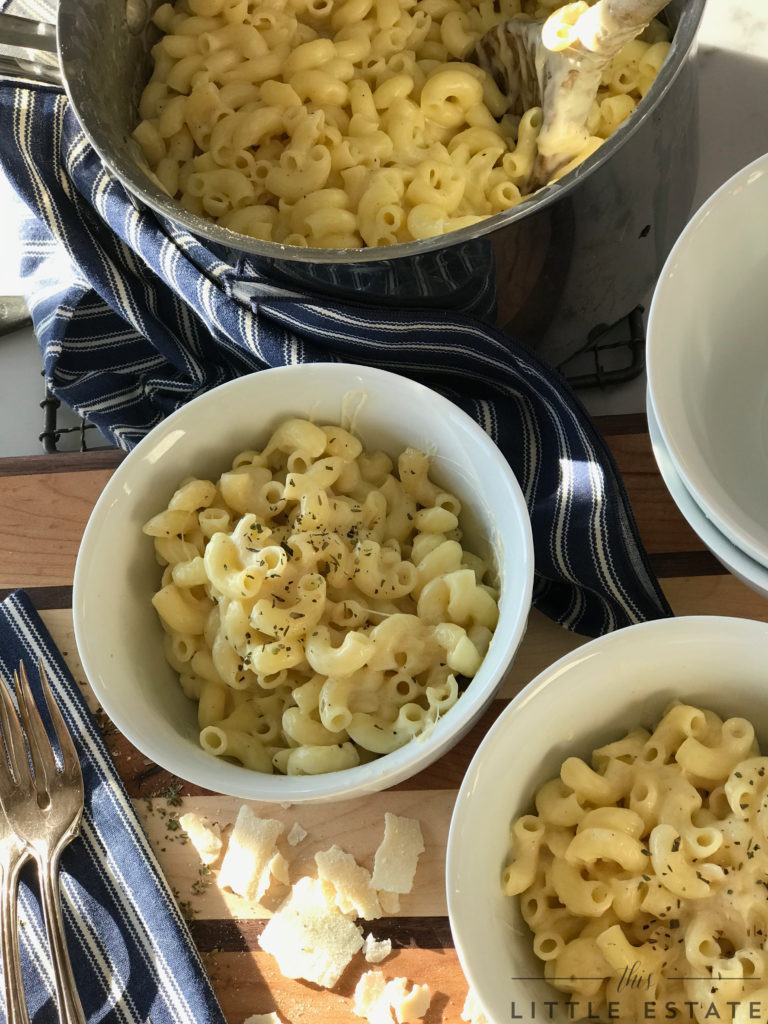 Most recently our whole family has embraced a vegetarian diet with some of us taking on more of a vegan lifestyle. With the kids discovering what they like eating and what they don't, we have been active in the kitchen more than usual mixing up lots of concoctions like this one!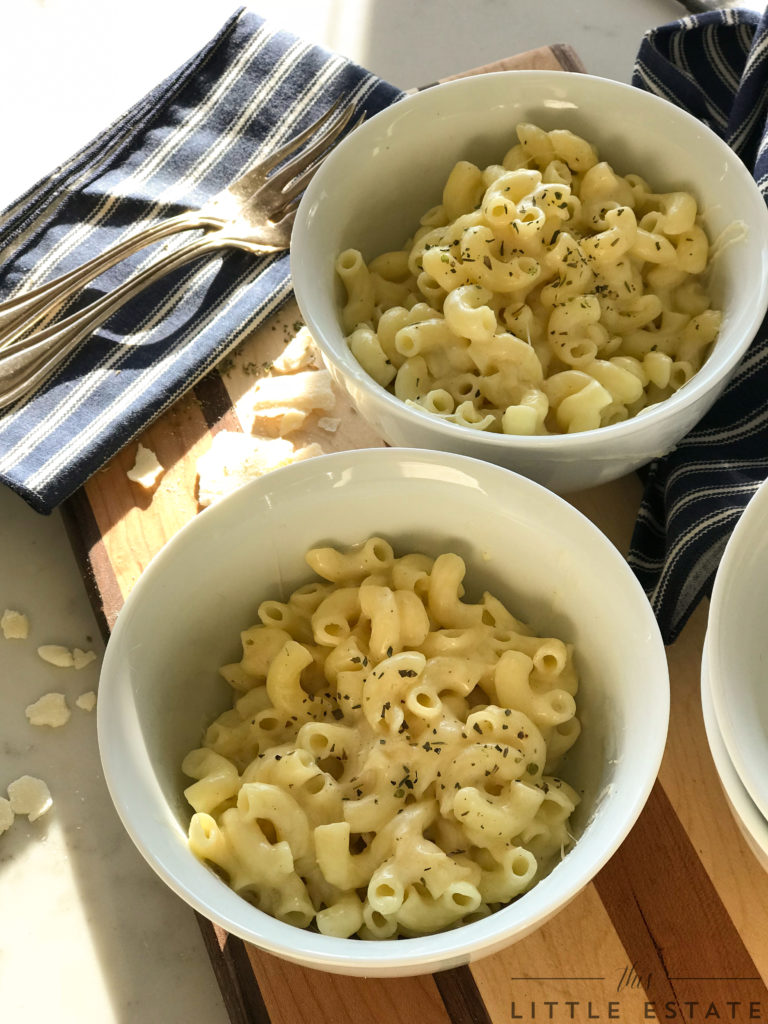 As the kids grow older and more interested in WHERE their food is coming from, we have made a conscious effort to get THEM more involved in the cooking processes. Our oldest has taken a specific liking to cooking and has aced a few meals recently that we will make a priority to share here soon. They are definitely sharing worthy!
Speaking of sharing, you may want to double this recipe as it typically disappears super fast in our house. 😉
Happy cooking Lovelies! Tag us in your food photos if you make one of our recipes! We get a real kick out of knowing we might inspire a family dinner!