Every summer my husband and I travel to a new province. We live in beautiful and green Canada after all and the hunt for new places that show off Canada's vast and stunning landscapes is at the top of our annual summer bucket lists.
This year we traveled to Quebec City to walk wide eyed up and down the steep slopes of the old city while soaking in the untouched European culture. The city visually boasted its century old stone buildings and painted a kaleidoscope of glorious colorful buildings against humble cobblestone laneways. We were in awe of the history laden streets and the mountain views in the distance.
With each year and every summer escape, whether it has been to St Johns Newfoundland, Vancouver BC, or Jasper Alberta, we make it a point to get lost in the mountains. There are so many reasons we're so engrossed with the mountains, so we made plans to travel an hour out of the city to the charming city of Charlevoix, nestled in the mountains and seemingly a gem amidst the green hills that it is surrounded by.
We were not disappointed.
 In the last few year the renowned
Groupe Germain Hotels
proudly announced the addition of
Le Germain Charlevoix Hotel & Spa
into their family and described the region of Charlevoix as a:
"jewel in the region: a peaceful haven, nestled between the river and majestic mountains."
They described it perfectly. 
We made our way to
Le Germain Charlevoix Hotel & Spa
not only because it would guarantee us a stay nestled within our beloved mountains but because it is found in, Baie-Saint-Paul, a town brimming with history.
The hotel and spa is built on an estate formerly belonging to the Petites Franciscaines de Marie, who, since 1891, actively contributed to the site's agricultural and community roles. For nearly 80 years they tilled the soil and fed their congregation, as well as patients of the Hospice Sainte-Anne right from the grounds of the hotel and spa.
Their main farm building was even one of Canada's biggest wooden agricultural structures until an accident sadly caused it to burn down in 2007. Wishing to preserve the memory of this unique place for the townspeople, and all Charlevoisiens,
Le Germain Charlevoix Hotel & Spa
was constructed in the footprint of the religious congregation's former farm.
The location was originally referred to as
La Ferme
, but was happily renamed when the St Germaine group partnered with it.
Despite the new name, today's experience at Le Germain Charlevoix Hotel & Spa still draws it's inspiration from farm living while even boasting different pavilions named after various farm buildings, and of course, the hotel is surrounded by fields where sheep, cows, pigs and chickens feel right at home.
At this calming oasis, even time itself seems to enjoy a break, making one immediately feel connected with nature in all of its forms.
Charlevoix is a destination appreciated for its winter ski hills but is equally as thrilling in the summer, in our opinion. With a community situated along the St Laurence River, there are water sports galore to enjoy and even great whales to observe, or if you're like us, a private tour along a quiet white sand beach to an abandoned ship is an amazing experience too!
We love discovering cities that echo our own, ones that showcase local art and who have unexpected museums on their towns streets. It's no wonder so many artist have found everlasting inspiration amidst the cities glorious landscapes.
Baie-Saint-Paul is one of Quebecs oldest municipals boasting century old homes and spectacular architecture in the form of gorgeous stone built churches and streets lined with charming boutiques and countless art galleries. After all, Baie-Saint-Paul was also a favourite for Canadas Group of Seven painters and most recently was the birthplace of the amazing Cirque du Soleil. Clearly it is a city brimming with culture!
With a city bursting with so much to see and do, we knew our bodies and eyes would need a rest. The accommodations at
St Germaine Hotel and Spa
were literally what my dreams are made of.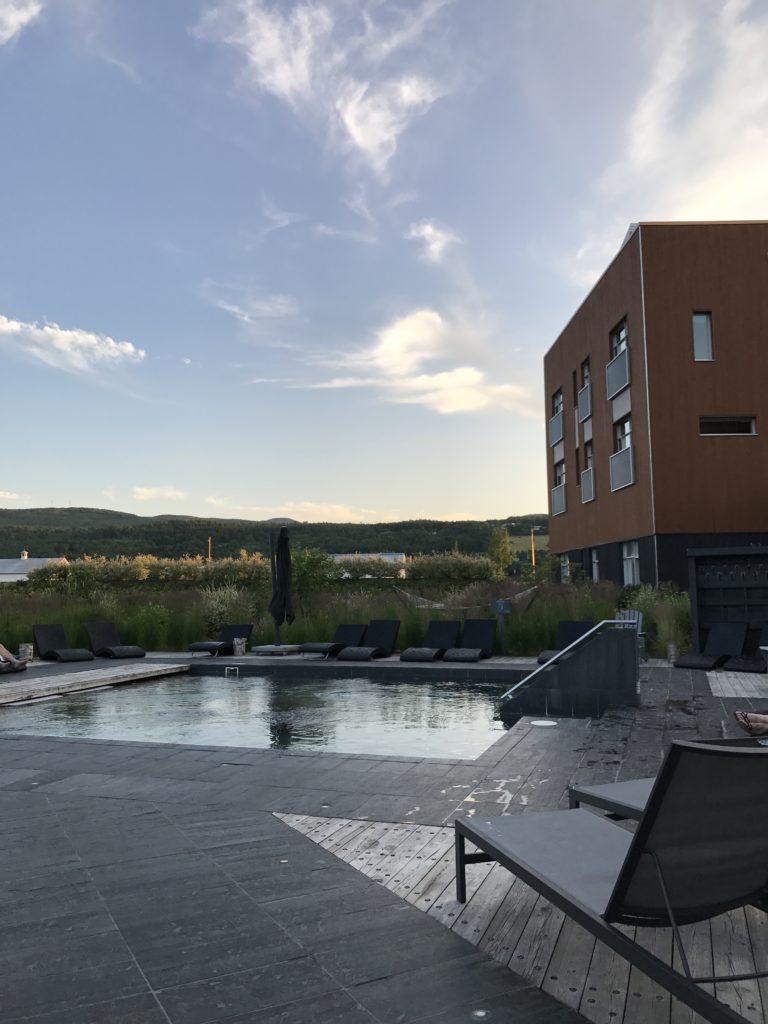 Except with dreams, they take a little while to develop and with the St Germaine, I knew from the
moment
we arrived, when we spotted a perfect visually appealing juxtaposition of  mid century modern exteriors, against lush green mountains and rural farm fields in the distance — that this place was suddenly and obviously what
actual
 travel dreams are made of.
The sun was low in the sky on the day we arrived, casting the most stunning shadows off of the buildings, while the mountain air was still and clear and the soft cooing of sheeps echoed softly in the distance.
Literal dreams, my friends.
 If the buildings and the perimeters weren't adorable enough, the interior and especially our bedroom was the perfect mix of "modern meets farmhouse". Which made total sense considering locations landscape and our rooms view of picturesque fields for miles and miles.
For us, when we travel, we dare to believe that an overnight can have all of the comforts of home. Our space at
Le Germain Chalrleviox
exceeded our expectations. From the stunning landscape and modern exteriors to the current and comfortable farmhouse interiors.
 From the interior finishings of shiplap wrapped walls with a four poster modern bed clad in locally crafted luxurious bedding, to the exposed ceiling and the claw foot tub tucked away in the corner with a view of the mountains, every detail was darling. Little touches like a private toilet room, fluffy robes, natural and organic bath products also made it easy to feel immediately comfortable.
The under the bed storage to corral luggage ensured a tidy room, and the innovative and energy efficient light switches, controlled by a key card when you enter and exit the room, took the guess work out of living in the space and created a visually appealing space at all times. Each interior element was carefully curated which I admire greatly when travelling.
 The open concept bathroom and bedroom was an enjoyable suite not only because it was picturesque but because every element was clearly carefully considered even in the salle de bains. 😉
And did I mention the picturesque farmland views seen DIRECTLY  from the bed?
They were perfect.
After our day at the spa, a dinner at the on site farm to table restaurant was a must.
When every last morsel of goodness was devoured, we sat beneath the open sky, wine in hand, in front of a crackling fire, along side other patrons who meandered down, like we did, to the candid group of those who sang along to classic radio hits and vintage billboard hits. A night to be remembered for us, but a typical weekly occurrence at
St Germaine Charlevoix. 
 The evening was a magical experience, magnified by the farms unpolluted black sky filled with thousands of twinkling constellations.
To say the least, despite the permanent grin we left with, it was hard to pack up and bid
Le Germain Charlexaiv
auroevoir.
On the bright side, we plan to return, with our kids in tow, to stay in the classic and casual
DORMITORY
bunk rooms with adequate individual sleeping space for everyone.
With an activities centre stocked full of board games, a large selection of sporting goods and a scheduled itinerary that includes family yoga and kite lessons we almost were sad we left the kids behind this time. But, I'm bound and determined to visit 
Le Germain Charlevoix
again, AND we might even bring the furry gang too as
 the dog is even invited and encouraged to be included!
We cant wait to return, as we are already planning to take the direct train route from Quebec City right up to
Le Germaine Charlevoix's
front door. Because every little inch of Quebecs people and places have officially stolen our hearts. Family French lessons are sounding like a new bucket list addition.
 Have you been to Quebec? Where did you stay?? I would love to learn about all of the travel destinations that make others smile and feel at home. Shouldn't we all share the love of places that seem built to bring happiness? Darling destinations are our favourite.