Recently my DIY friends have been announcing their 2019 Spring One Room Challenge projects and it has made me so excited for them and also gives me major FOMO. 😉
This is the first time in a long time we won't be joining in on the ORC challenge of redoing a space from start to finish in six weeks. In the past we have transformed a mud room/laundry room, our son's bedroom, a pretty pink powder room and we almost finished a basement gym space while transforming two other spaces in conjunction with others. Long story short, that space ended up being one that didnt quite get transformed because it was discovered that its ceiling was mice infested and needed A LOT more attnetion than little ole me could handle. I still would love to show you how that space ended up, so expect a recap one day!
OUR COMPLETED ONE ROOM CHALLENGE PROJECTS:
For now though, I'd love to share with you a quick tutorial on how we refinished a table that ended up in our last one room challenge space!
The pretty pink powder room that we remodeled is found attached to my studio. It has gotten a lot of use recently with all of the workshops we have hosted and one of the main questions we get asked is: "WHERE on earth did you find that interesting table?!"
To make a long story short, we rescued her, gave her a little makeover and had a brand new looking table in less than six hours.
Here is what I would tell you if you showed up today, in my studio and asked me the same question.
IF YOU JUST CAN'T WAIT TO SEE THE AFTER PICS, SCROLL PAST THIS NEXT PART. BUT, IF YOU WANT TO SEE A TABLE GET MADEOVER, KEEP READING. 😉
This table is something I had only thought up in my decor dreams! I didn't even know something like this existed, but I mustered up something very similar in my imagination.
I had been looking for something to replace the two doored, slightly curved, white dresser I had in the space but couldn't find what I was looking for.
I wanted something unique, with the same curve shaped top, for easy manoeuvrability, and I wanted the base of it to be open without covering up the gorgeous METRIE trim we would install. I thought, I'd never be able to find what I was looking for, and then, as if lightning struck, I went to my local Habitat for Humanity store in Guelph, Ontario, and found the prettiest, most ornate table EVER — and it suited all of my wish list!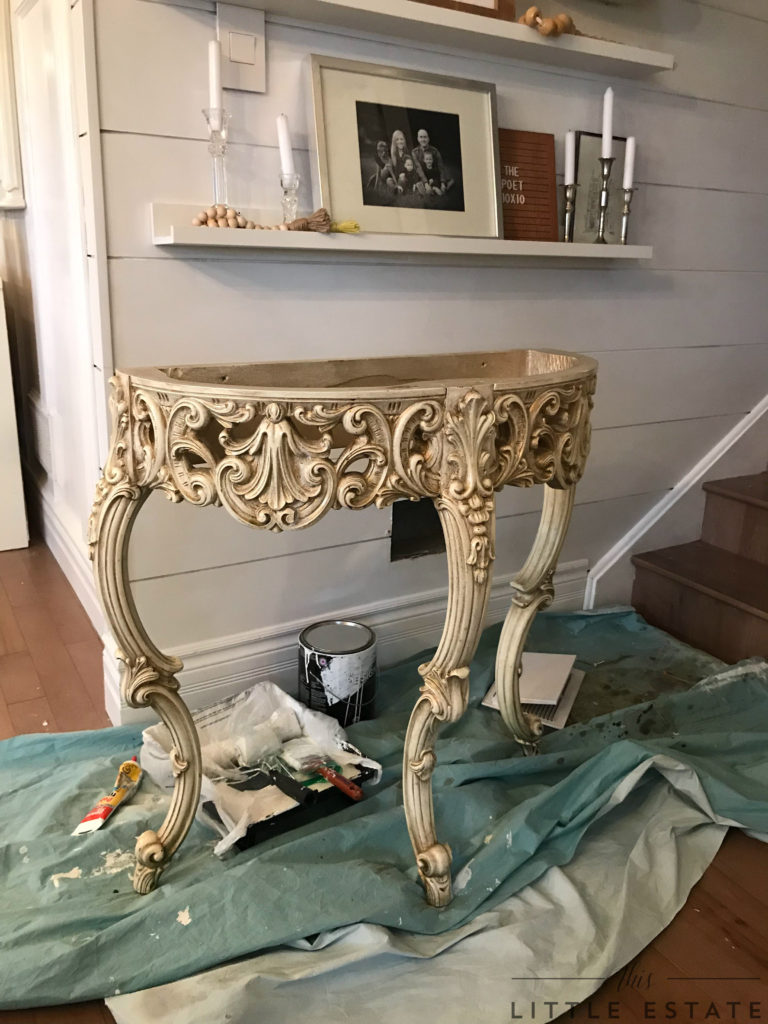 The swirled marble top with pink and blush veining was the icing on the cake! It was made for this room!
However, being an avid thrift shopper and antique junkie, I knew that the size of this piece had to fit perfectly or else the purchase would be a waste. SO, I took the risk of leaving it behind, to measure my space and said farewell with it's first snapped self-portrait to grace my mobile.
Let's leave this as a love story instead of a suspense novel, shall we? 😉 In the end, the beloved table was still in the store Monday morning after the Re-store had been closed over the weekend. I went first thing at 9am to claim it as my one and only and took it home immediately to refurbish. YESSSSS!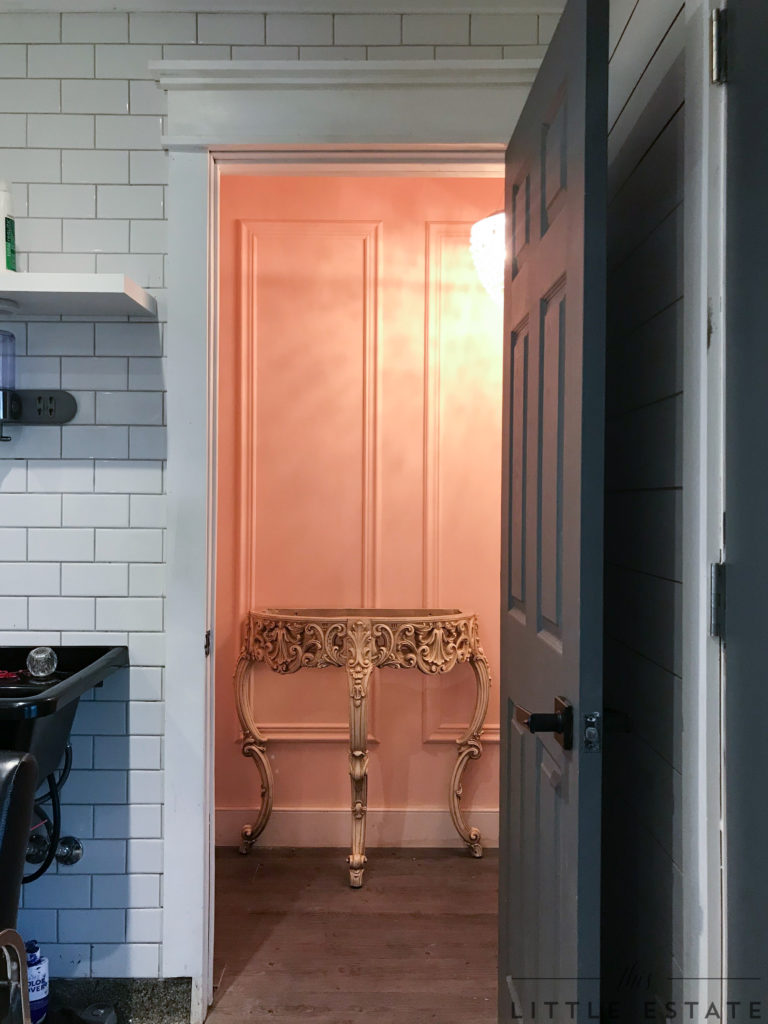 I washed her down, filled her cracks with wood filler and sprayed her out a glossy black by Beauti-Tone. (You can source HERE)  The tables base is glossy and bold now, and stands out against the matte soft coloured walls. Isn't it crazy that we can create texture or downplay it  with PAINT?
The glossy legs now read almost reflective, don't you think?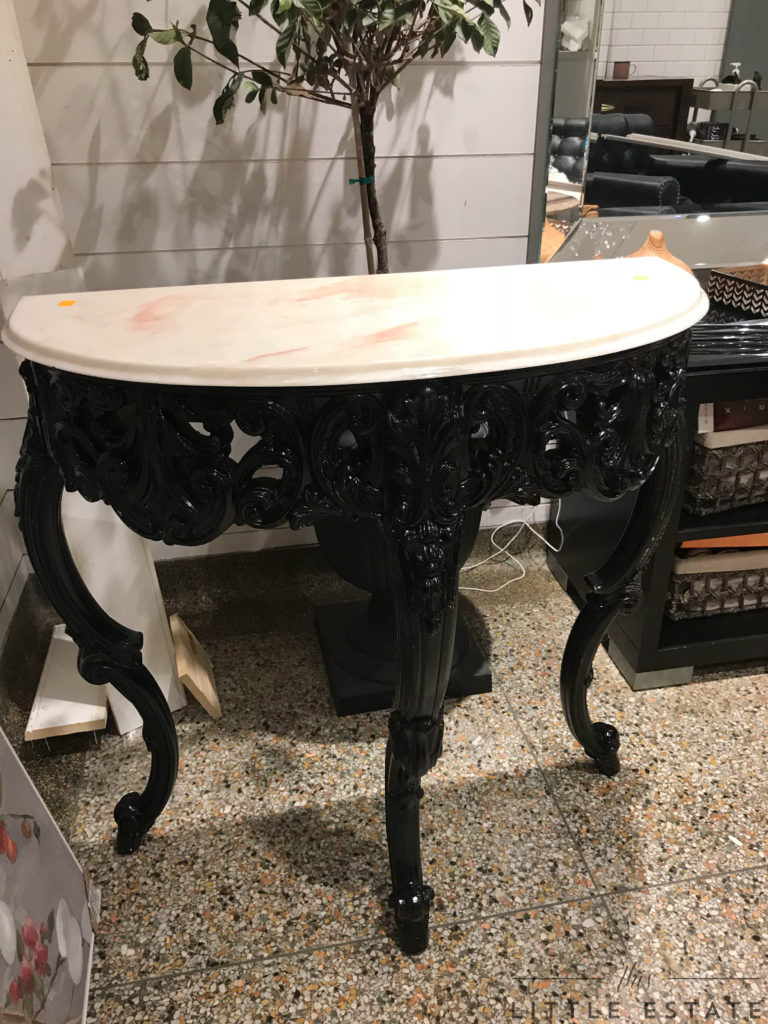 Lucky for me, this thrifted and upcycled table was also the perfect fit for our petite powder room.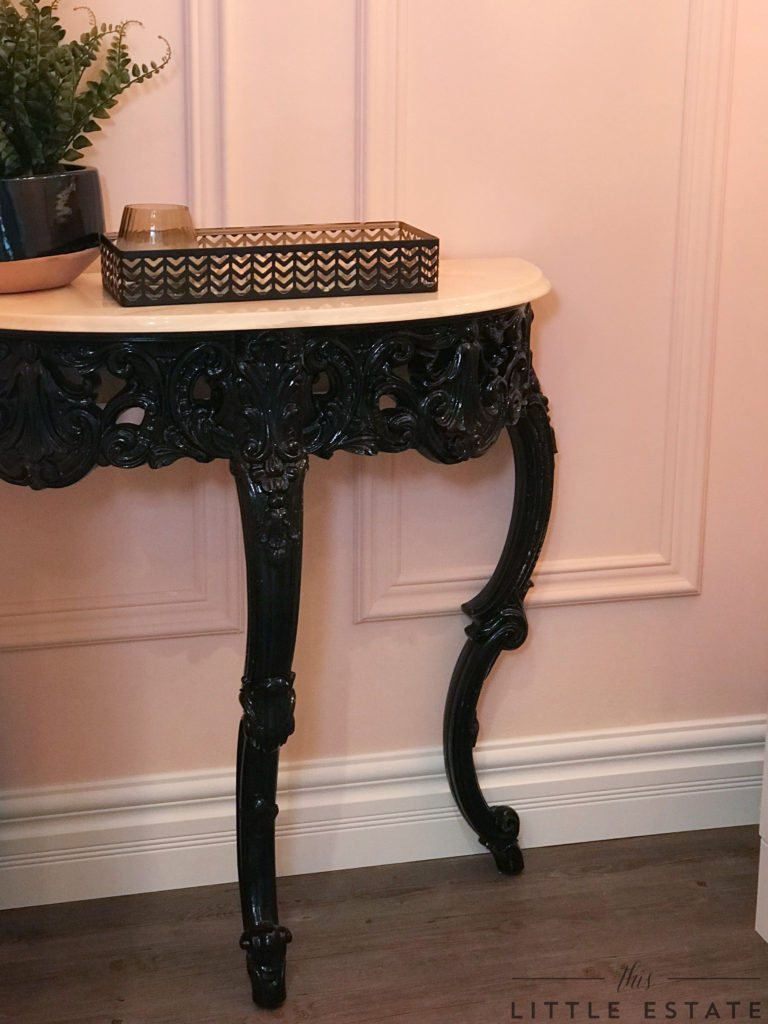 After attaching the pink swirled marble to the top of my Re-Store treasure, I styled her simply with some dark and textured elements.
I know it to be true, but the power of paint, still makes me stop and stare.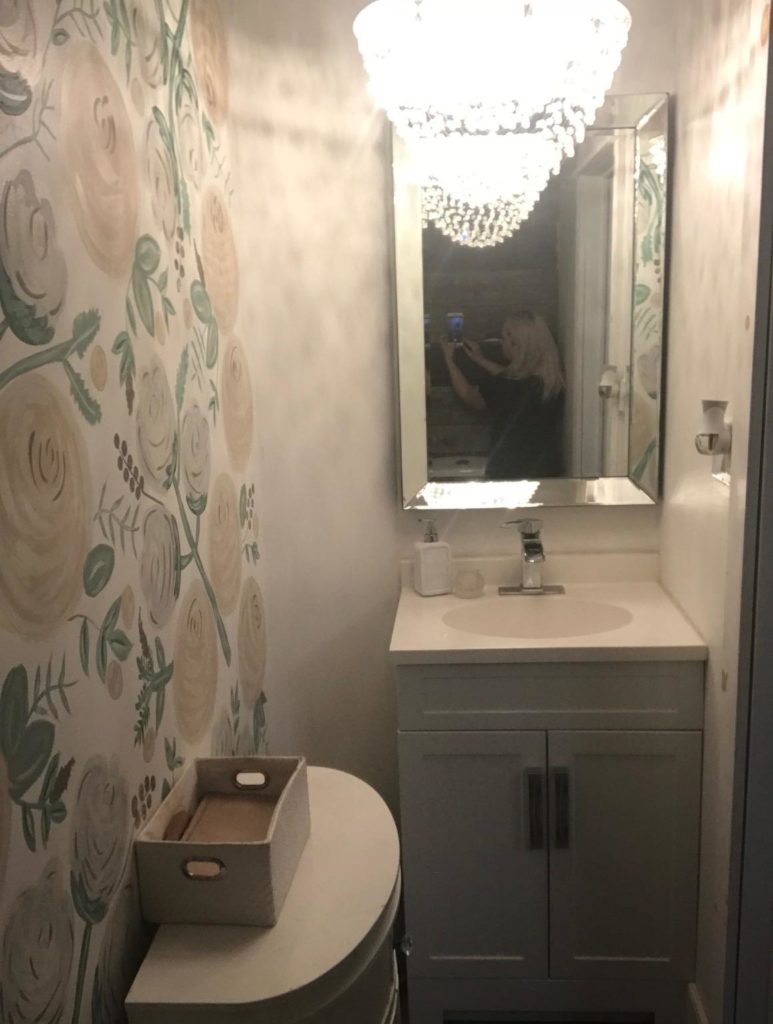 Have you ever spray painted a table before? I'm happy to announce that six months later and there isn't a scratch of ding off of this refurbished piece. What do you think of the finished result?