The first quote that ever resonated with me was one by Elsie de Wolfe: "I am going to make all things beautiful and that will be my life." — I was six years old. Ever since I've tried to embrace the fact that my hands are always drawn to messes, my eyes are never resting -always searching for inspiration- and the fact that my mind will always filled up to overflowing with ideas.
I thought I was an odd little duck growing up in my humble home town, but the more seasoned I become, the more I spread my wings, I realize there are a plethora of others who feel like that quote was meant just for them too.
Recently I got the chance to work with a handful of creatives who live by the same motto of changing things from good to better and making it their livelihood. From film makers, producers, creative directors, actresses, stylists, designers, accessory creators to art teachers and entrepreneurs, we got our hands messy to create some pretty for you!
You have heard me share bits of information about our surprise collaboration with the design darling Autumn Hachey to create #ParentProjectReno and you've seen sneak peeks of our daughters bedroom makeover and our backyard patio renoavation. BUT YOU HAVEN'T SEEN THE FINISHED PRODUCT — UNTIL NOOOOWWWWW!!!! All three projects have been six months in the making and TODAY I get to finally share their reveal with you here!! Best of all, all of those projects will be getting into the hands and homes across Canada!
Along with some of the most incredible creatives I've worked with thus far, we have created Hello Sunshine: A Guide To Your Bright And Happy Home and we are so excited to share the final results with YOU!
If you're like me and you'll be stocking up on some sparkling beverages to ring in Canadas 150th Birthday this weekend, then you will most likely be visiting your local LCBO. If you're there, take a peek at the Summer 2017 edition of the always inspiring FOOD&DRINK magazine to see combined with it a copy of our most recent Hello Sunshine magazine! Not only will you find amazing summer drink and food ideas there too but you'll also see our room reveals and ones created from my friends. It is filled cover to cover with design ideas for every room in your home along with outdoor living ideas, cause Hello Sunshine and hellooooooo summer!!! Finally! You can also pick up a copy in any Leons location across Canada!!!
I can't wait to soak in the summer sunshine and all of the creative ideas in that magazine and I ABSOLUTELY cannot wait to see if you can get your hands on a copy too!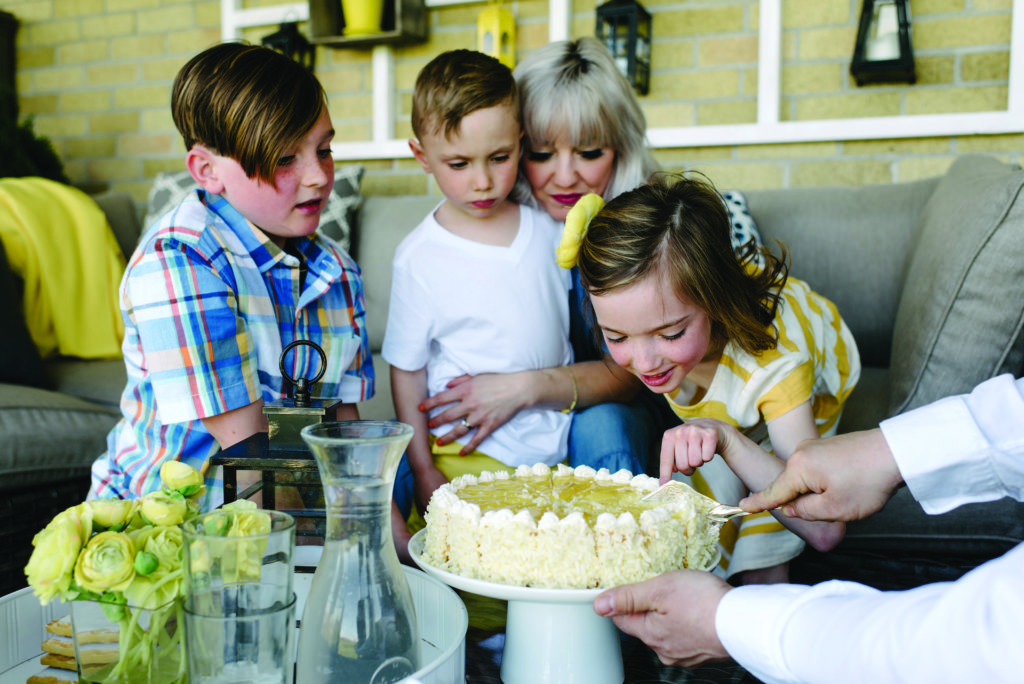 After all, I know if you've been hanging around this DIY blog for any length of time that you are like my friends and I — you want to make it your life mission to make everything around you beautiful too.
We love pretty room reveals but we also aim to keep things real. Together with Leon's Furniture and Wild and Light we are taking you behind the scenes of the making of this magazine. We want to show you how these pretty room reveals evolve after the camera is packed away and how they can stand up to real life! After all, who wants a space that cant last through pillow fights, blanket forts and beloved summer break when the messes are plentiful and the living is easy?
See the web series trailer HERE.

See the whole magazine HERE in digital format first!
We hope the magazine and web series inspires you through our family friendly stories, our easy and doable DIY's, our house and home hacks and our real life before and afters. Do you ever daydream about having your own room before and after pictures? Say, a space that is completely made over to suit your changing needs? Well, that could be in YOUR future!!!
When you head over to check out the digital publication of Hello Sunshine, you can also enter for your chance to win $3,000 towards a room makeover designed by one of the Leons Hello Yellow Bloggers. You can enter by visiting www.leons.ca/hellosunshine, clicking to the back cover of the magazine, and entering via our web form! Amazing right?? I'm crossing my fingers that one of my readers wins!!! Make sure to mention my name when asked how you heard about the contest! I would just be so incredibly excited for you!
Have you seen the magazine yet? What was your favourite room reveal and why? I think I know which space a certain little girl approves of. 😉