Once upon a time I fell in love with my crock pot slowcooker and all seemed right with the world.
We were happy and in love and our relationship was perfect in every way. We both would give and take appropriately and we were mindful to keep our expectations reasonable for eachother and above all we had an undeniable bond.
I knew that if my family wanted a nice moist roast or a lovely soup, all I had to do was give my beloved crockpot the ingredients and it would in turn love us back by connecting flavors together and serving up hot and delicious meals.
Everything was right in the world, until, one fateful day, I discovered that my crock pot was actually not living up to its full potential. Potentially, it was ripping us off from Italian cuisine and when I found out, I was not very pleased.
You see, I discovered that other ordinary crockpots were creating complicated Italian meals with minimal work and maximum flavor.
But, mine was not.
My lasagna loving heart could not believe it.
How could I have been so blind???
I was certain, after hearing about this crock pot recipe that every full fledged Italian everywhere was disgusted with the thought of giving a crock pot the complicated responsibility of cooking up Sunday dinner. I know I was at first too, but along with being astounded and perplexed I was also very very INTERESTED.
If all these other crockpots and slowcookers could create delectable Sunday dinners then I was certain mine could learn to as well. I knew our relationship would grow stronger because of it, but I still was not convinced.
As with any good relationship, I realized I had to trust my beloved crockpot and give it opportunities to prove its depth and care for us. So, as any devils advocate would do, I set out to prove that a classic, beloved Italian dish could in fact, not be cooked correctly in a crock pot and that all the braggers and doers were in fact fibbing.
BUT, I turned out to be more then pleasantly surprised.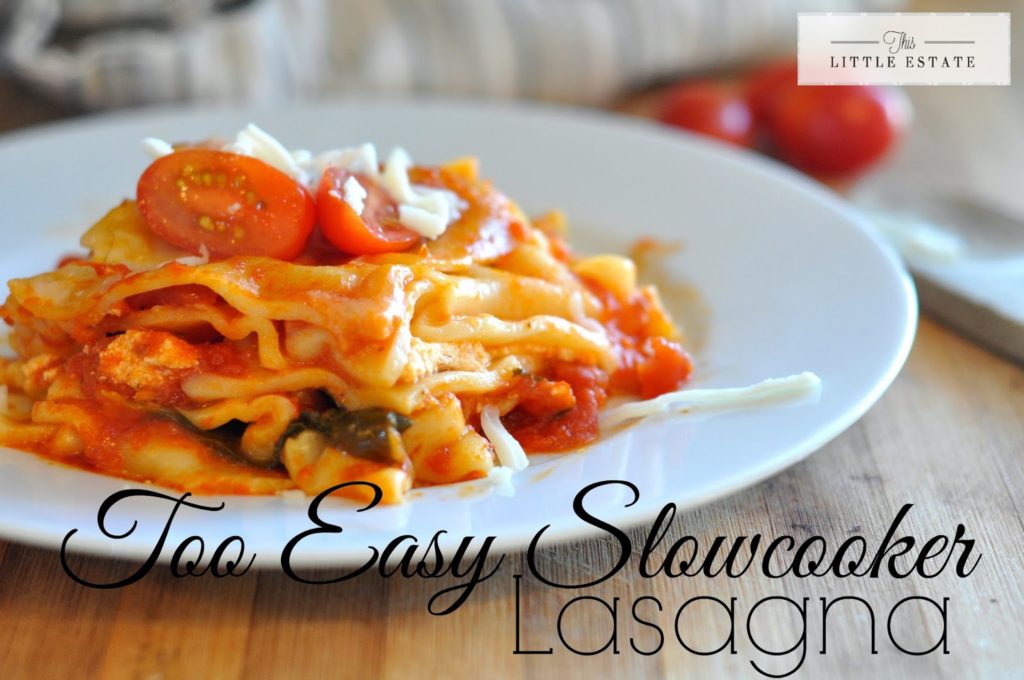 Here is the quick story on how my bond with my crock pot grew deeper and stronger and overflowing with trust by combining a few ingredients and walking away for four+ hours.
First gather your ingredients. You will need ready to cook lasagna noodles, tomato sauce, one egg, ricotta cheese, a clove of garlic and approximately five cups of baby spinach.
I used these delicious brands:
To make your easy slow cooker lasagna, do this:
Pour pasta sauce on the bottom of your slow cooker
Place ready to cook lasagna noodles on top. Break accordingly so they make a good fit.
Pour more sauce on
Layer noodles
Mix one egg in with your ricotta cheese and add a clove of smashed garlic to your
mixture and spread on top


Pour more sauce on
Layer noodle
Pour more sauce on and add your five cups of baby spinach


Layer noodle
Pour more sauce on
Layer noodle and add sauce and mozzarella cheese on top to finish it off.



It will look like this when it is done.


Keep covered and cook on high for four hours.
When a knife can easily cut through your lasagna uncover and cook on high for one more hour (If you prefer your lasagna more al dente then cook for less time. Slow cookers vary in strength.
All your excess moisture will evaportate during that last hour of cooking. Also, your home is going to smell divine.
Serve your lasagna but first make sure to give your reliable crock pot a big fat smooch.
If you're Italian, or wish to be, try giving it a big smooch on either side of its adorable little self and remember not to tell Nona how it was cooked so effortlessly.
Sit back and enjoy a million compliments from your family and friends and pretend you slaved for hours over a hot stove.
Just don't tell your beloved slowcooker that you didn't give it full credit.
Happy Cooking!