This spring weather had been totally confused.
Sometimes the weather feels like it's time to dust off the barbecue and other days it's blustering outside and you end up dreaming about hot baths and hotter soups.
My dreams definitely came true recently when I finally tweaked and created a vegan broth for our fav ramen soups.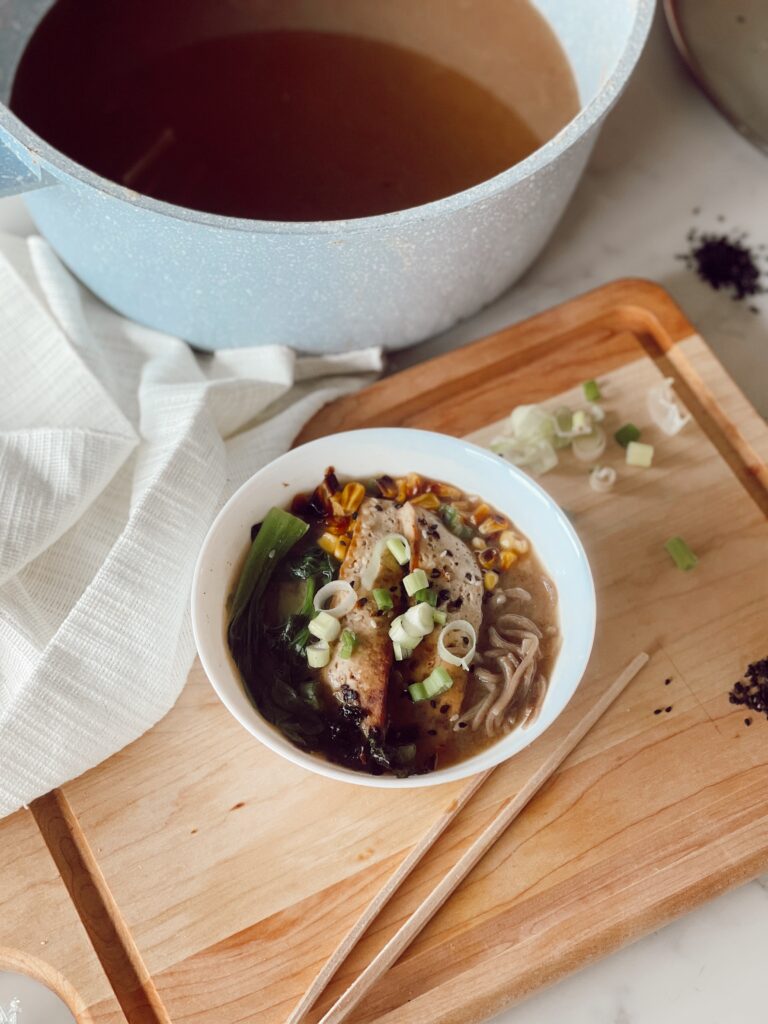 Up until this point, the bases I've created have been out of a box or a can and they've been ended up being completely mediocre no matter how I spice them up.
This time, I made one completely from scratch and it was too good not to document!
I picked up most of my ingredients from our local Asian supermarket and loved how authentic they helped make this completely vegan breath taste!
Here's the ingredients you will need to recreate your own piping hot bowl of beautiful and delicious ramen soup.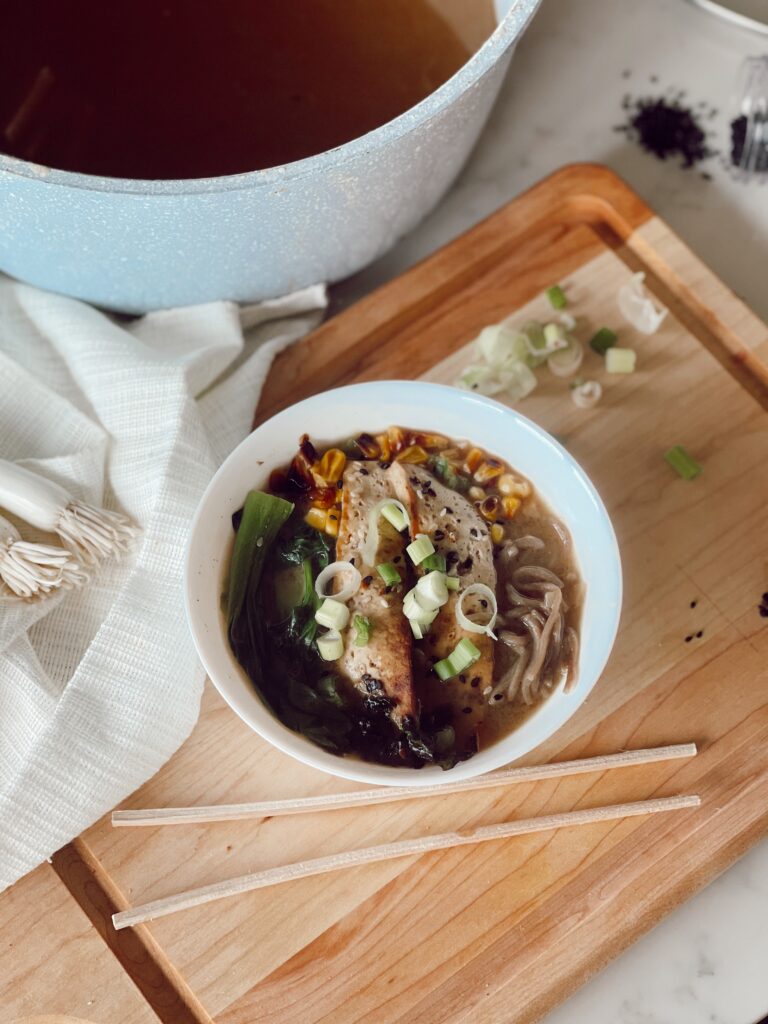 INGREDIENTS:
• 1 tablespoon of grape seed
• 6 cloves garlic, roughly chopped
• A 3-inch piece ginger, peeled and chopped
• 4 shallots coarsely chopped
• 6 cups vegetable stock (or 6 cups of water flavoured to taste with Vegeta)
• 2 tablespoons of soy sauce
• 2 large shiitake mushrooms roughly chopped
• 2 tablespoon of red miso paste (or to taste)
• 1 tablespoon of sesame oil
• 1 tablespoon of chilli oil
• Ramen noodles and toppings of your choice.
• We used sesame crusted tofu, charred corn, sautéed bockchoy, strips of dried nori and topped it all with sliced green onions.
HOW TO MAKE:
In a hot sauce pan add your grape seed oil, garlic, ginger and shallots. Once they're browned slightly add in your soya sauce, shiitake mushrooms, veggie broth and let simmer on medium heat for ten minutes.
After that, add in your red miso paste, chilli oil and your sesame oil and cover and simmer for a half hour. (Longer cooking time the better though!)
Add more soya sauce and miso to taste and enjoy with your favourite ramen noodles or soba noodles.
You can strain out the broth to remove mushrooms and spices or you can serve as is. I prefer to leave the spices and mushrooms in the broth.
Lastly, layer in your favourite toppings and enjoy!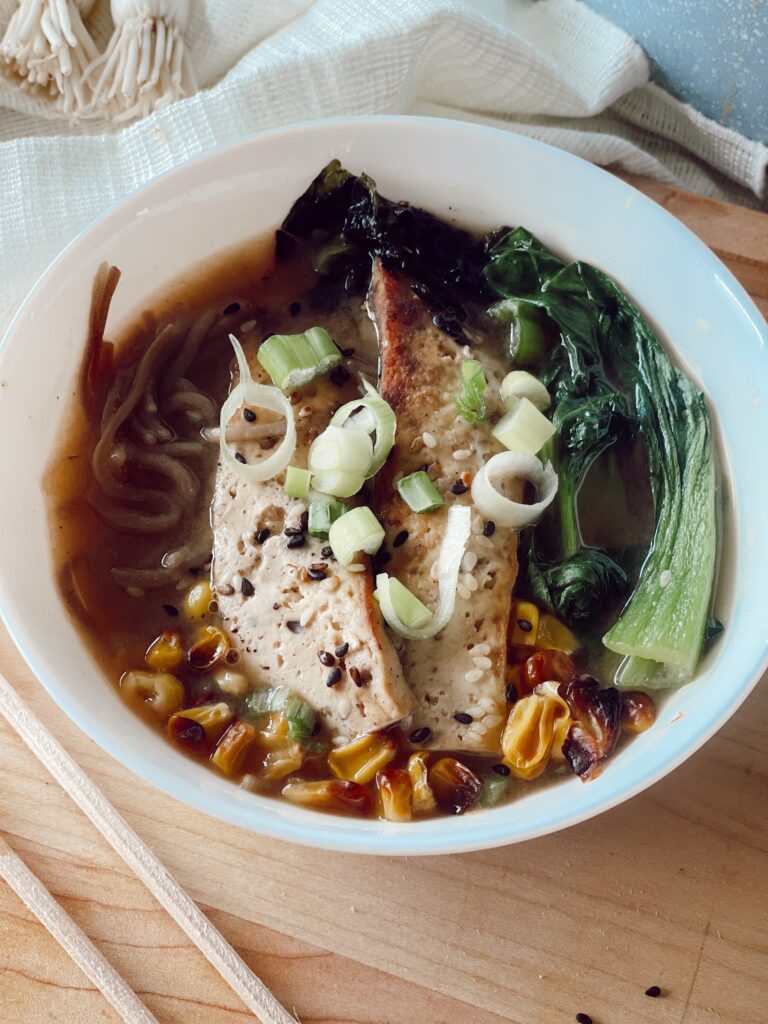 To recreate our (pictured) sesame crusted tofu slice a firm block of tofu and lay length wise in a low dish or container. Next add equal parts soya sauce, chilli oil and sesame oil and brush on both sides of your tofu. Top with a generous dusting of white and black sesame seeds and let it all marinate in the fridge for an hour prior to frying.
Simply fry and flip in a hot pan until the sides are slightly seared. Add them to your soup with your other ingredients and try to say you don't like tofu cooked this way! It's the best!
Do you love a good bowl of soup on a cold day? Is ramen something you crave too? Let me know if you try this recipe and if you add or change anything!