I've never met anyone who doesn't love a good potato recipe.
If you found yourself stumbling upon this recipe looking for a new way to enjoy potatoes, you're probably in agreement that potatoes are delicious!
In my opinion they should be in their own special food group!! 😆😉
If you're always looking for a new and improved potato recipe, well, look no further!
I am sharing my go to Greek potato recipe today with you in hopes of helping out with your summer meal preparations.
This recipe is bright tasting with the perfect balance of lemon tartness evened out by garlicky goodness!
The perfect side for any summer BBQ!
It's easy to make, takes approximately 50 minutes in the oven or cooks perfectly in the slow cooker on low for 4 hours.
(Leaving more time for hanging by the grill making up whatever sides you think would pair well with this.)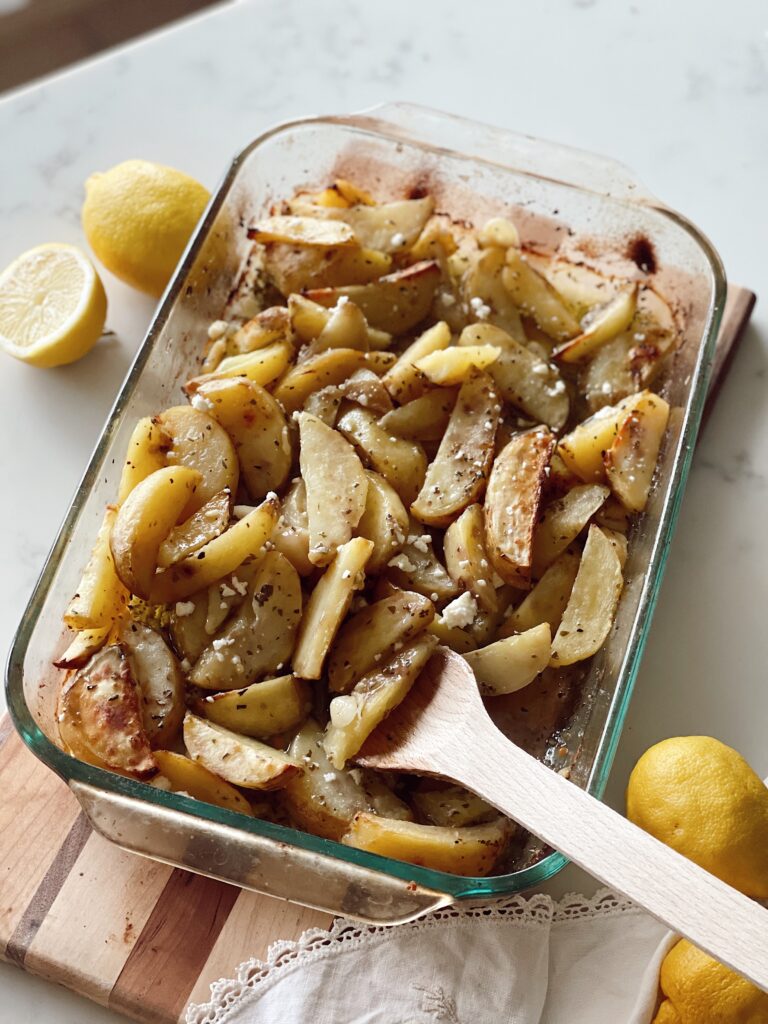 INGREDIENTS:
Approximately 7 medium sized Yukon Gold potatoes, peeled and quartered into fingerlings
1 1/2 cups of veggie broth (I made mine by seasoning filtered water with VEGETTA seasoning mix to taste (approximately 1 tablespoon))
1/2 cup of Extra Virgin Olive Oil
1/3 cup of freshly squeezed lemon juice, (concentrate will do in a pinch).
6 garlic cloves, crushed or creamed (pressed and blended smoothly with the edge of your knife until garlic cloves become creamy in texture).
1 tablespoon of dried oregano
1 tablespoon of dried parsley
2 teaspoons of crushed salt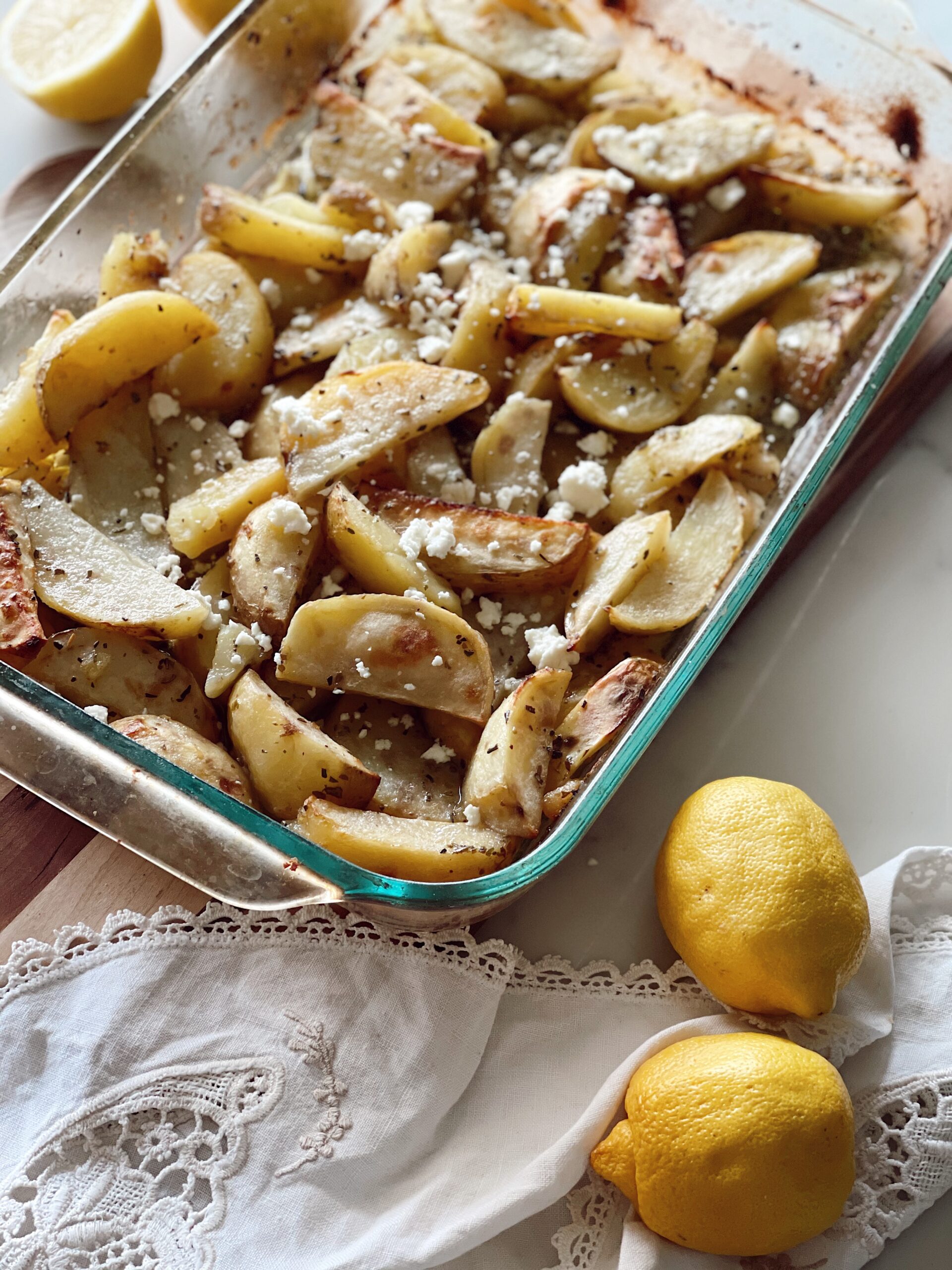 DIRECTIONS:
I tried to make this recipe as easy as possible for you — with minimal supervision.
Here's how to replicate,
Apart from the peeled and sliced potatoes, add all of your spices and juices into a 9 by 16 baking pan (or any bake proof dish you'll use to bake your potatoes in!) and whisk all of the ingredients together until frothy.
Add your potatoes to the dressing and spices and mix until fully coated.
Spread the mixture and the potatoes evenly in your baking dish.
Cover tightly with a lid or aluminum foil.
Bake for 30 minutes at 350F.
After 30 minutes, remove from your oven and stir, making sure to cover all potatoes thoroughly with your liquid mixture.
Return to your oven uncovered for 30 minutes or until golden (depending on your oven you might want to turn your oven to "broil" for the last thirty or fifteen minutes of cooking time.)
Remove from heat when your potatoes start browning on their edges and when they can be penetrated by the poke of a fork.
Once cooked through to your liking, pull out your pan on to a heat safe surface and sprinkle with crumbled feta.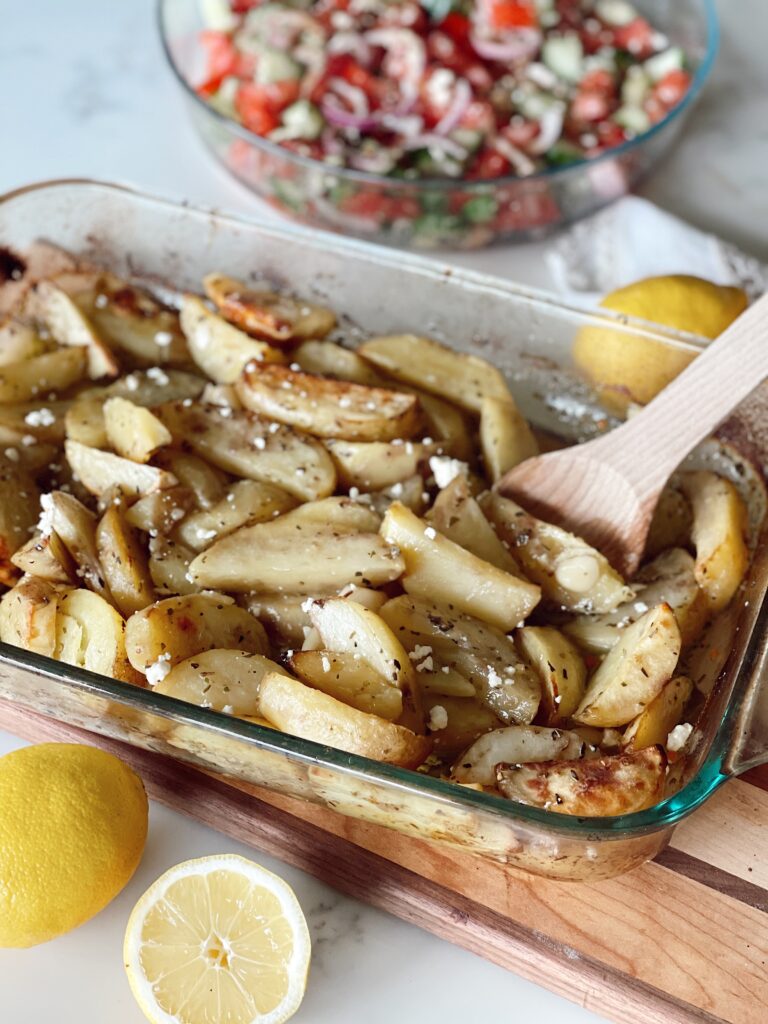 Then, DIG IN!!
I've shared this recipe a few times in varying forms on my Instagram, BUT this version is my favourite AND my families. ❤️ ☺️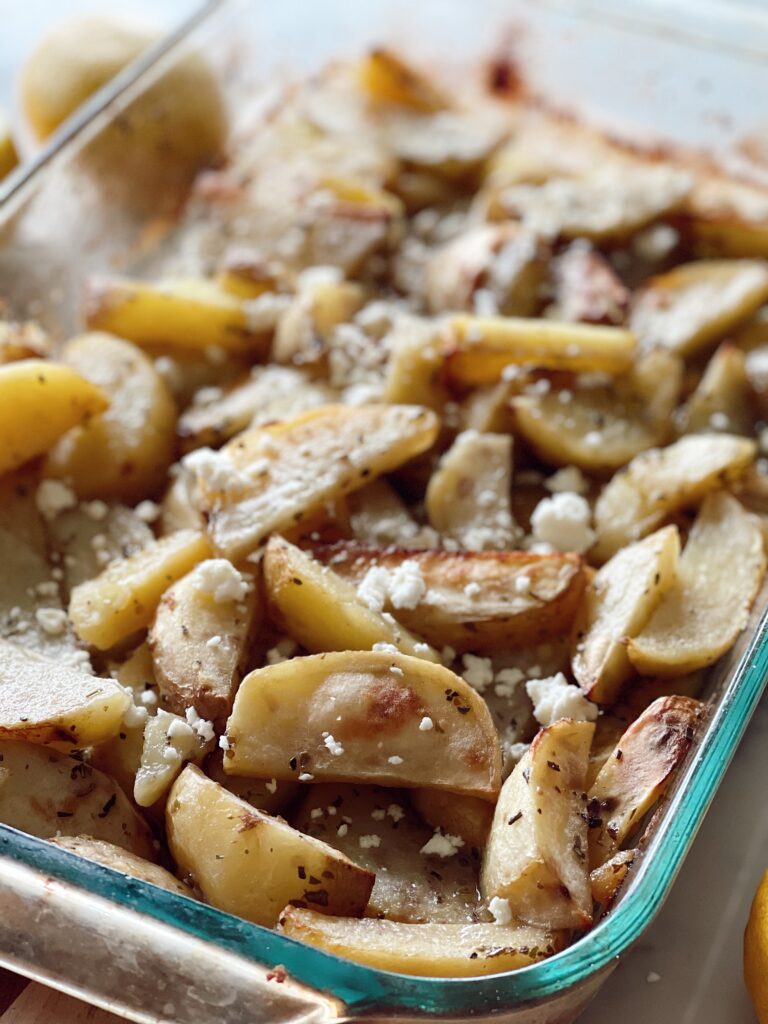 I hope you love it as much as we all do!
What would you serve this delicious side with??