If this week had to be referred to by a name it would most definitely be called: Demo Week.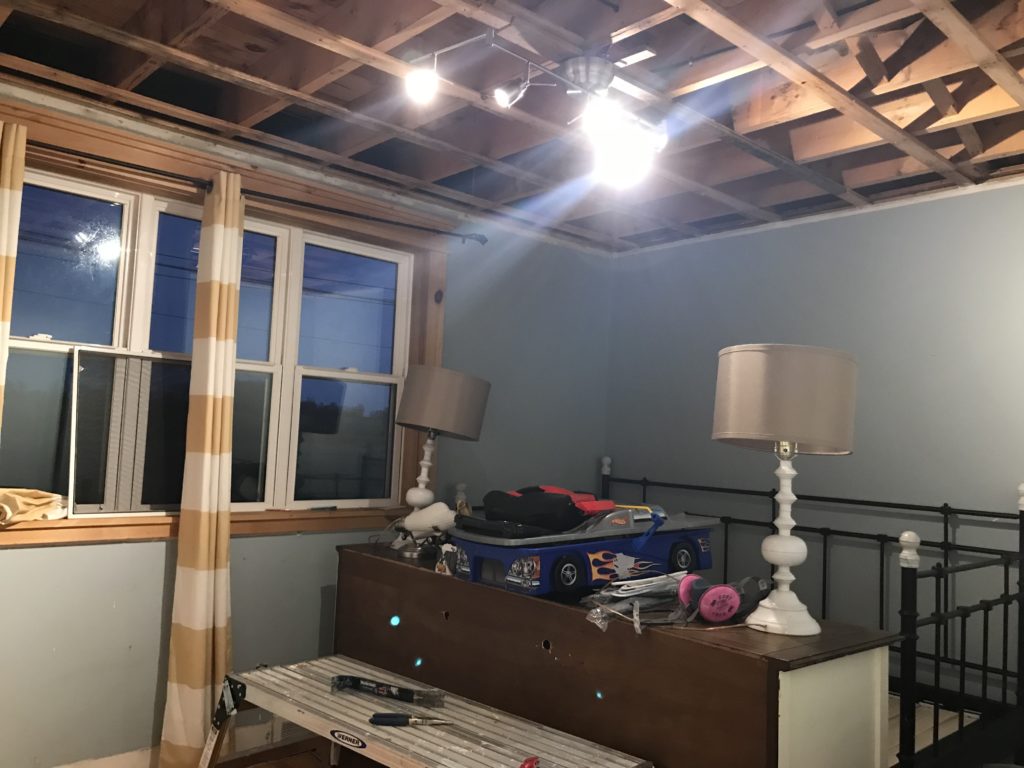 I can't say "demo week" or "demo day" without thinking of Chip Gaines from Fixer Upper, you too? He is renowned for getting excited about ripping down walls and slamming through all of the things. While some have said his wife Joanna is their spirit animal, I may have to differ. 😉
This week, we tore apart our son's bedroom for the One Room Challenge and it was a dusty, messy, dirty job. We started by ripping down the out dated dropped ceiling, and finished with the baseboards and trim work.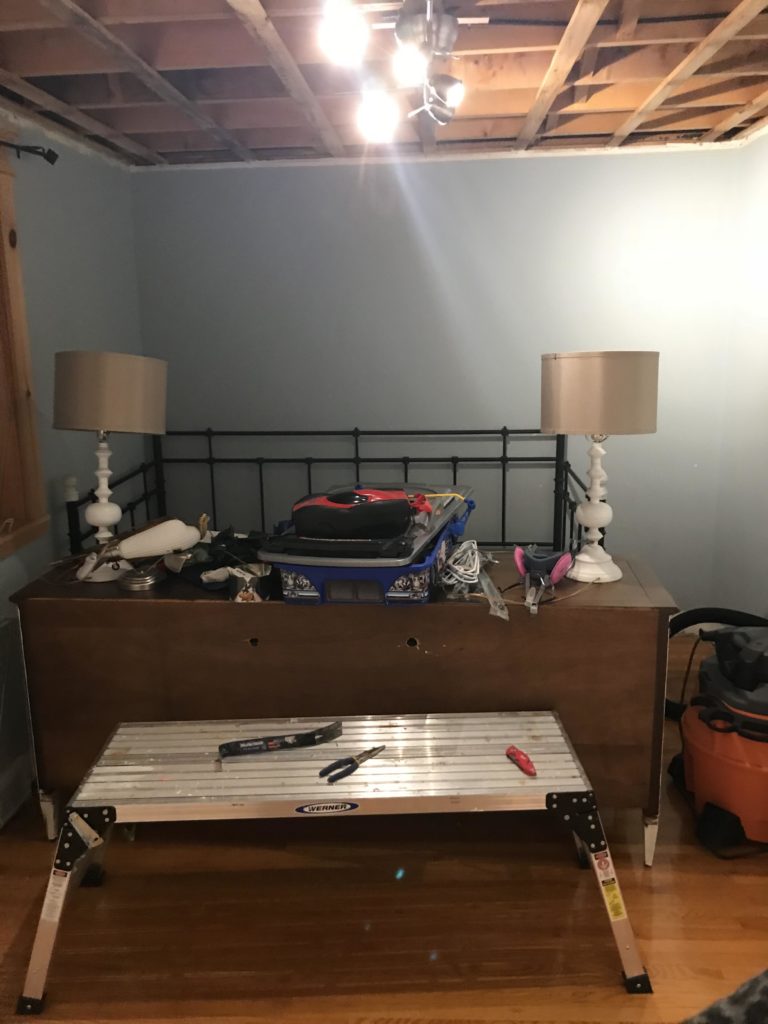 I then went ahead and painted out the wood closets with a white primer to prep it  for it's upcoming makeover! HINT: IT WILL LOOK SIMILAR TO THIS CLOSET HACK 
When we bought our house we replaced the room's old window with an updated draft free one. Then, we added some trim to create a custom yet simple farmhouse look around the window.
If you forget what it use to look like, here is the BEFORE:
And here is our three week progress photo:
As you can see from the original picture, I did remove the original wall mura. It was admittedly rather cool in its vintage design, but in the end boasted mold spores beneath it's surface. 🙁 It had to go!
After that, I gave the room a quick update by painting the whole space a light blue in an attempt to give it some cheap and fast personality. But, hold on to your horses, because these walls are about to get a MAJOR redo! Stay tuned!
We've been making progress in other ways too! I picked out the closet door color this week and can't wait to show it to you. If you're in to Instagram, I've shared some sneak peeks in my IG Story for any inquiring minds! I may just be trying to bright the outdoors in in the form of paint color!!! Any guesses what I will chose?? FOLLOW ALONG IN IG HERE!
The ceilings will also get a major facelift. They are about to go from bare and boring to textured and timeless!
Here our current ceilings are, in all their naked glory just waiting to get dressed up and beautified!
In the past we have created different ceiling details and incorporated different designs into our spaces. Most recently we finished our daughters ceiling that looked identical to this bare beauty. Here is hers at this stage in the reno game….
And here is a teeny tiny peek at what it ended up looking like….
We have never been ones to shy away from a good ceiling makeover, including wallpapering one together and still remaining married. 😉
One day I'll pull together a post on that one, and we will share the whole ceiling reveal in our daughters room!
For now though, heres where our ceiling obsession was birthed….
Check out that drippy droppy plaster ceiling?
Its as if this ceiling looked at all the other popcorn ceilings and decided, "Nope, Im gonna one up them!" and man, that ceiling tried. 😉
I ended up scraping it all down with a baby attached to me in a sling, and hubby and I put together this cute patterned ceiling. 
What a difference ceiling details make! Sometime it is a surface that is overlooked, but not around here. We have a handful of never seen before DIY ceiling makeovers to share with you guys in the near future. Gosh, there isnt enough time in the day!
But, in the mean time, what would you do to a ceiling? Would you add nice modern sleek drywall, or farmhouse textured planking, or something with a complex or substantial pattern? I'd love to know what you would do to a blank slate in your space.