I love to make meals that my whole family will enjoy, and I am always trying to find ways to cook healthier and to make simple substitutions that wont impact the traditional taste of a family favourite.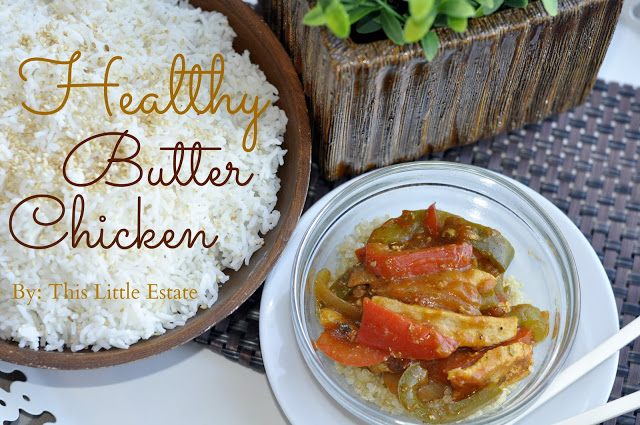 Around here, we love flavourful dishes. Luckily, we have been letting our kids try all sorts of foods, and Indian food is a family favourite.
What can I say, my kids LOVE meat, and their carnivorous appetites are always encouraging my vegetarian ways to make more dishes that combine
their
choices. Chicken and fish are meat proteins we eat a lot of around here and the kids will eat about
anything
you combine chicken in.
So, after a lot of trial and error making lower fat choices, I think I finally nailed an Indian meal the kids will eat, and one that is still enjoyable for the adults.
For "Healthy Butter Chicken" you will need:
Approximately 4 chicken breasts
3 peppers (any colour) sliced
1 white onion sliced
2 garlic cloves, crushed
1/2 teaspoon chili powder
2 teaspoons of garam masala
1 teaspoon ground coriander
1 teaspoon ground cumin
1/2 cup of plain Greek yogurt
2 teaspoons of coconut oil
1 teaspoon of ground cardamon
1/2 teaspoon of cinnamon
3/4 cup of milk
small can of tomato puree
2 tablespoons of wholewheat flour
(NOTE: This recipe will make four hearty servings. If you don't have these spices, or have never heard of them, don't be scared to try them out!! I found it easy to go to places that sell spices in bulk, -like The Bulk Barn- and buy smaller quantities we will be sure to use. Buying from bulk stores will help you save waste and money, while trying out new spices can be adventurous for the whole family! My children loved to have a "list" of items they needed to find, and enjoyed smelling the new scents and making an adventure out of the entire process!)
First:
Mix together your ground coriander (cilantro), ground cumin, chili, garam masala, ginger, garlic and Greek yogurt in a bowl and coat the chicken. Cover and refrigerate for a few hours.
Second:
Heat coconut oil in a frying pan and add 1/2 teaspoon of cinnamon and cardamon. Add your coated chilled chicken and cook, stirring for approximately five minutes, or until it is almost cooked through and browned.
Thirdly:
Add sliced peppers and onion and milk and mix again.
Lastly:
In a separate small bowl mix 2 tablespoons of whole wheat flour gradually into 4 tablespoons of water until you develop a creamy thickening paste. Mix it with your tomato puree and add it all together in your frying pan. Let everything simmer together.
Top on Basmati rice or Quinoa like the adults in our family do. Sit down and Enjoy!!
We are still working on the kids enjoying cooked peppers, but with a a few changes, we have made it with sliced carrots and broccoli in place of the peppers and they have gobbled it up.
Have fun with this recipe.
You might want to substitute the meat for tofu, or the milk for soy. We do that around here too. Healthy cooking is always a process of removing and adding ingredients until it suits your families tastes and lifestyle. I hope you enjoy the process and the finished healthier product!