She was sleek and white and looked nice and glossy with her glass top gleaming. But she needed something more.
I have a love for textured items: baskets, wicker, burlap, grain sacks, you name it, I
hoard it
collect it.
This gleaming top needed a bit of an edge and I had just the idea in mind to utilize the yards of burlap I had for rainy day projects. Too bad for me, on rainy days my kids still demand bike rides while wearing ducky rain coats, which is pretty darn cute, so projects can't guarantee being completed when the weather doesn't cooperate.
I wanted to make the table unique to my family and thought scripting the year of my families beginning and the place where my husband and I met and the place where we now live on to the table top.
I pulled out my rainy-day-burlap and went to work.
First, I traced my piece of glass on to the burlap and cut to size.
I took into account that burlap tends to fray along cut edges so left a one inch overhang to fold back and secure with a hot glue gun.
Then the fun began.
After contemplating painting the letters on with a paint pen, I decided to go the easy and more economical route and stencil the letters with a large sharpie marker.
So simple and I love the unique touch.
I printed out a crown to add a regal touch to the whole family name thing.
I cut its perimeter with a handy-dandy exacto knife and stenciled it on to the burlap above our family surname.
And here is the finished product with the glass back in place.
The finished product says:
THE GIERS
LONDON – GUELPH
EST: 2005
My husband and I met and started dating in London, Ontario in the spring of 2004. We were married and started our new life together in Guelph, Ontario in 2005. 🙂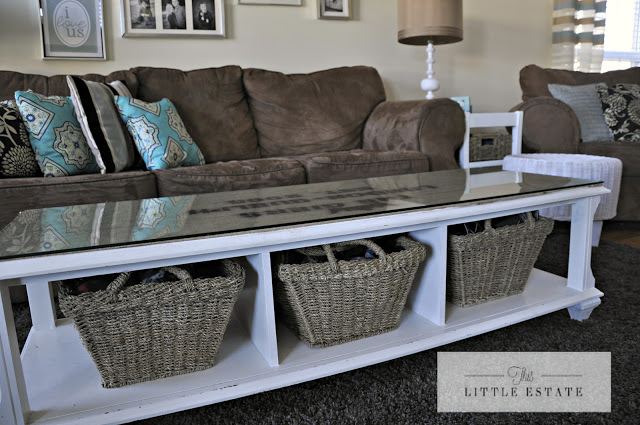 I think it adds the perfect amount of texture to an area that needed some visual interest.

Because it is smack dab in the middle of our living room it almost always is a conversation starter. Everyone wants to know how we made it, or if we custom ordered it and what exactly does it all mean.
And now you can do this yourself!
I think it would look great on a dining room table too if you happen to have a glass top or want to invest in one to protect your tables finish.
Here is a close up…

And again…
That little extra effort made a big impact.

Because I like a good before and after comparison…
Before: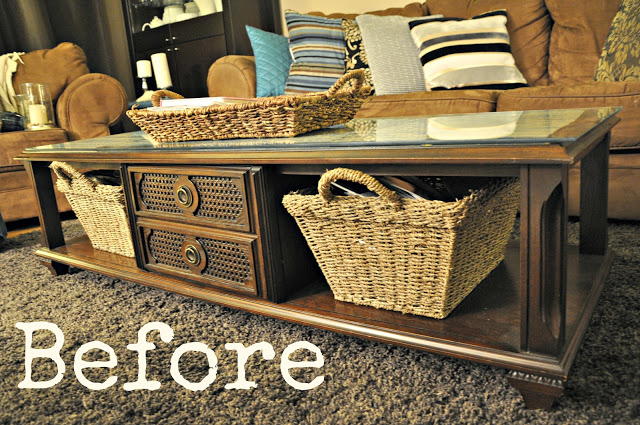 And after: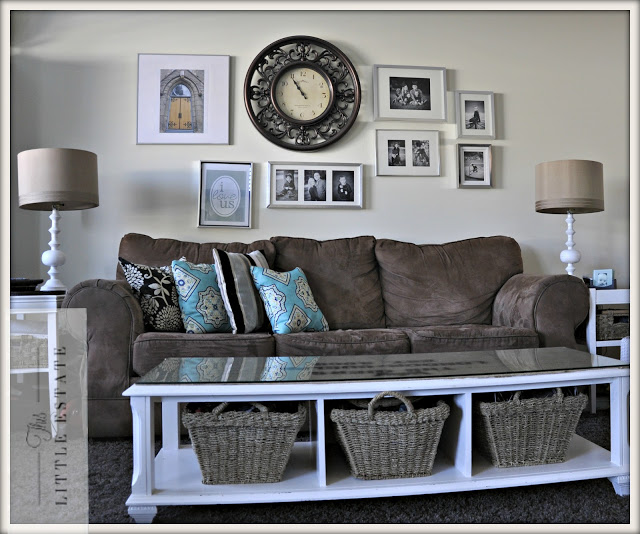 Thank you for reading about our ever changing coffee table upgrade! I think it proves that a little paint and ingenuity can go a long way in making a piece special and specific to ones family.
Do you change the coffee table at your place as often as we do around here? Do you play musical coffee tables too? And what about the constant coffee table debate, do you prefer a harder surface like a coffee table to rest your drink on while you're relaxing or do you like a cushy-squishy ottoman for your tired feet?
Regardless, I hope you get to put your feet up for a minute or two today!
I am sharing this post and getting inspired at: