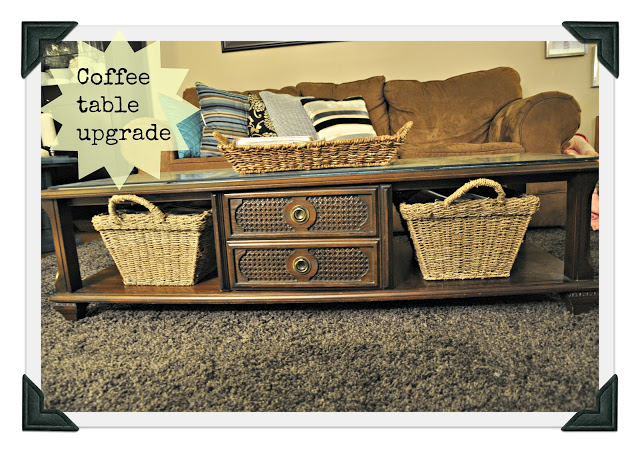 I found this little beauty in the back room of my local Re store almost a year ago today. Waiting. Just. For. ME.
It was almost our sons birthday and we were buying him a beautiful vintage piano in hopes of him starting lessons when he turned the big FIVE. In three sleeps he turns the big SIX. Which means this piece has evolved over a whole year.
Because the coffee table was an after thought, it hitched a ride in the UHaul truck with the pretty piano.
My sister snapped this picture of me directing our Dad and our men…
I don't know if I was drawn to this vintage coffee table because it was solid wood, or because it was exactly like one my Grandma had when I was a child, or because it was hiding in the back room and hadn't made its debut on to the selling floor and I wanted to be the first to snatch it up.
Regardless, I happily drove my treasures home.

I may have promised my husband that I wouldn't buy another piece of furniture until Christmas if he let me have this $20.00 all-wood coffee table with the gleaming glass top. He didn`t seem to notice my crossed fingers.
He begrudgingly agreed and I got to work right away giving my little old coffee table an update.
I loved the long shape of it but knew it needed to be lighter and brighter to break up our dark chocolate seating and dark rug.
What to do, what to do….
Once my wheels get spinning they have a hard time stopping. I decided to update my vintage side tables at the same time to give the room some uniformity. Classic white seemed like just the thing to add the brightness I was looking for. I applied one coat on the side tables and coffee table after a light sanding and quick wash.

Aahhhhh, that is better.
The side tables were black before they turned light-bright-white.
I have had them for years and loved the fact that I can change the space on their shelves with baskets of my choosing. They are both the same size and general shape but one has curved edges and one has square edges. I didn't want them too matchy-matchy and think they are the perfect size for our sofas and heavy duty solid wood that can endure pillow fights and super hero take offs.
After a few more coats of white, with light sanding in between each coat, I sealed the tables with a durable polyurethane.
This last step ensures a beautiful long lasting finish that can stand up against grubby-chubby hand prints!
I loved the way it turned out!
I left the middle door off so I could have three baskets for storage. It means a quick clean up of toys when we have a visitor. Once they are full of odds and ends and need to be returned to their proper home in our house I can quickly carry them from room to room shoving them into closets putting toys away properly. 🙂 When something serves double duty like that I swoon.
The finished product still has its vintage vibe but with a little aesthetic update. Cant go wrong with white paint!
It was great but my wheels just kept spinning.
It wasn't finished yet.
Next up the final product. The new and improved and slightly rustic-chic coffee table.
Here is a sneak peak…