What if I told you there is a place, seemingly untouched by the trappings of busy city living, but only a short drive from bustling towns, a place, composed of rolling hills and lush greenery, miles of neat rows, vineyards, all unique in their style but sharing the commonality that they compose the left hidden secret that is Twenty Valley.
This weekend we packed the family up, and enjoyed the short 4o minute drive to Twenty Valley; Niagara's Wine Country. Situated with the mighty Niagara Escarpment behind it and the amazing Lake Ontario at the front of it. Niagara's Twenty Valley comprises of Beamsville, Vineland, and Jordan in the Town of Lincoln and extends from Grimsby to the City of St. Catharines. This beautiful stretch of countryside, is seemingly hidden from the rest of the world, an undiscovered gem of a place filled with artisanal experiences and maintained by hard working and the down-to-earth-variety-of-folks like local winemakers, growers, chefs, small business owners and everyone in-between who supports their passion for the region.
The drive through the Twenty Valley Route, with its rolling serene landscape was one of those Sunday morning kind of drives, the type you don't want to end! Stay for the day and enjoy the area's picturesque shops and boutiques or stay for the night like we did. Whatever you choose, it won't be long enough like we found!
We started off our family adventure by arriving at the Jordan Harbour where we drove down a small dirt road that opened to a giant stretch of open water. We were greeted but the lovely people who run the Niagara Rowing School and didn't waste any time getting out on to the water to take in the lily pad speckled Lake.
The low swooping cranes were amazing to see and the dancing fish leapt from the waters depths to hear our gleeful cheers. The kids were anxious to stretch their legs and I was anxious to finally get on the water! My husband and I had often found solace on the open water in our days before kids, we loved to quietly paddle together in a canoe with the open sky and water surrounding us. We had been waiting for the right time to take our entire family out on the water together and the time was finally here! Our children are finally at the ages, where they listen to instruction, and for lack of a better word, won't rock the boat! They're already twelve, nine and six and have a love for adventure we are trying to cultivate any chance we can get.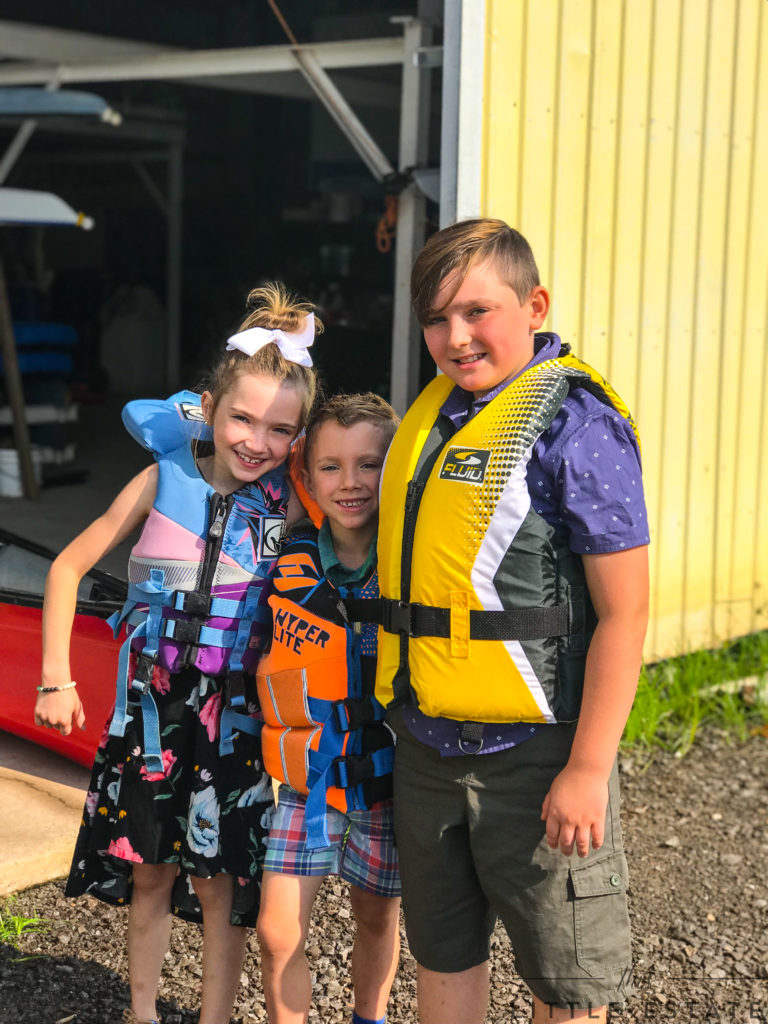 Our youngest however, has been extremely cautious of open water. He voiced his concerns and fears and in unison, we washed his worries away with our best sing song voices speaking encouragement. The kids sat between us, my husband at the back at the stern, directing the canoe, and I was situated at the bow, with admittedly the best view of the open and vast Lake Ontario. We paddled hard against rough water until we crossed the harbour and found still, flat water that we easily glided across.
I'll never forget, the peaceful feeling of being out in the open, a small dot on the water, my little family together, seemingly alone, while the world carried on without us. In the end, the welcome burn in my shoulders from the rowing rivalled my cheeks from the smiling.
All in all, we had a memorable first family canoe experience and our littlest who was cautious at first, exclaimed he didn't want his first canoeing experience to end! A trip to the Niagara Rowing School and Paddle Boards Center is was a winning family adventure for sure!
Next, we drove the short distance to check in at the lovely Guest House at Vineland Estates. The home, a sprawling white brick bungalow, is situated on the outskirts of the property and is perfect for a family of five.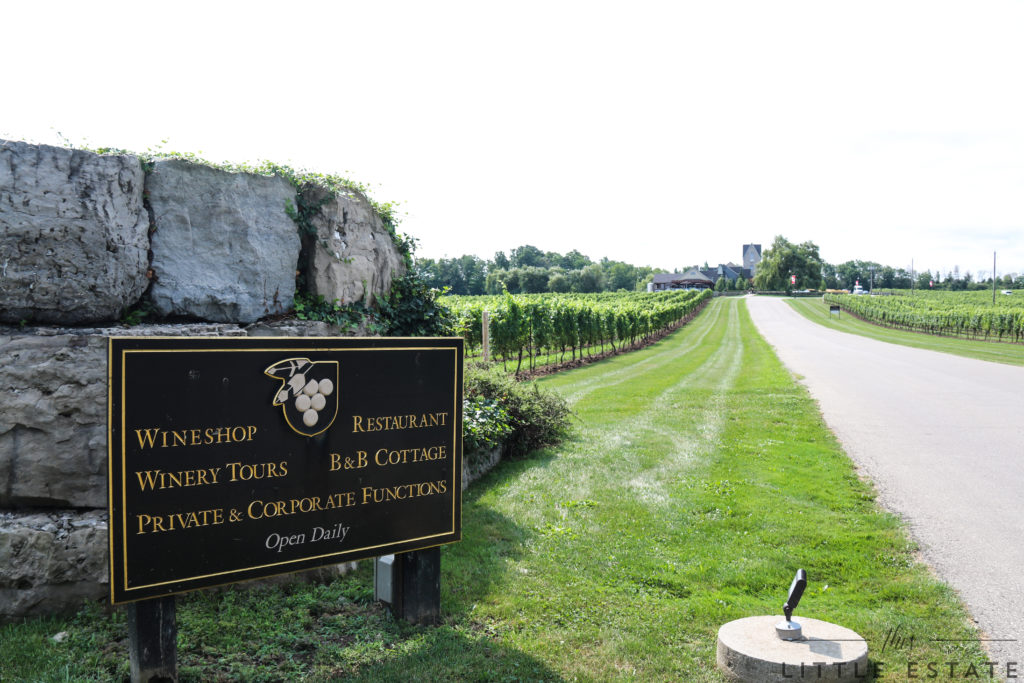 The three bedroom home, is complete with a beautiful traditionally decorated master, and two bedrooms across the hall. The kids ran excitedly from room to room upon our arrival and debated over who would sleep in the pretty four poster bedroom, or the room with the functional and fun double bunk beds. Eventually they decided they would sleepover together, in the bunk bed room and indeed all three fell asleep on the top bunk together, so they could enjoy the views of the magnificent vast rows of the vineyard that sprawled outside the bedroom window.
We unpacked briefly, freshened up super fast in the beautifully bathroom with the beautifully updated decor with double sinks (a luxury for our constantly renovating family!) and headed out for lunch.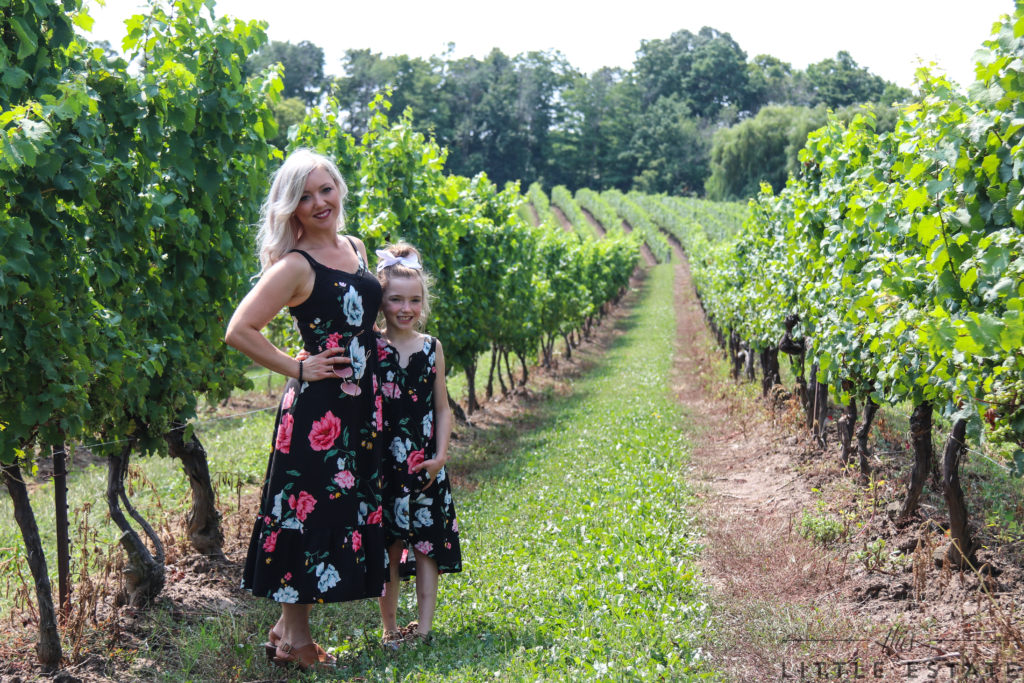 Another short jaunt away was our next destination, nestled on Niagara's Beamsville Bench in Beamsville Ontario in Twenty Valley: Fielding Estate Winery.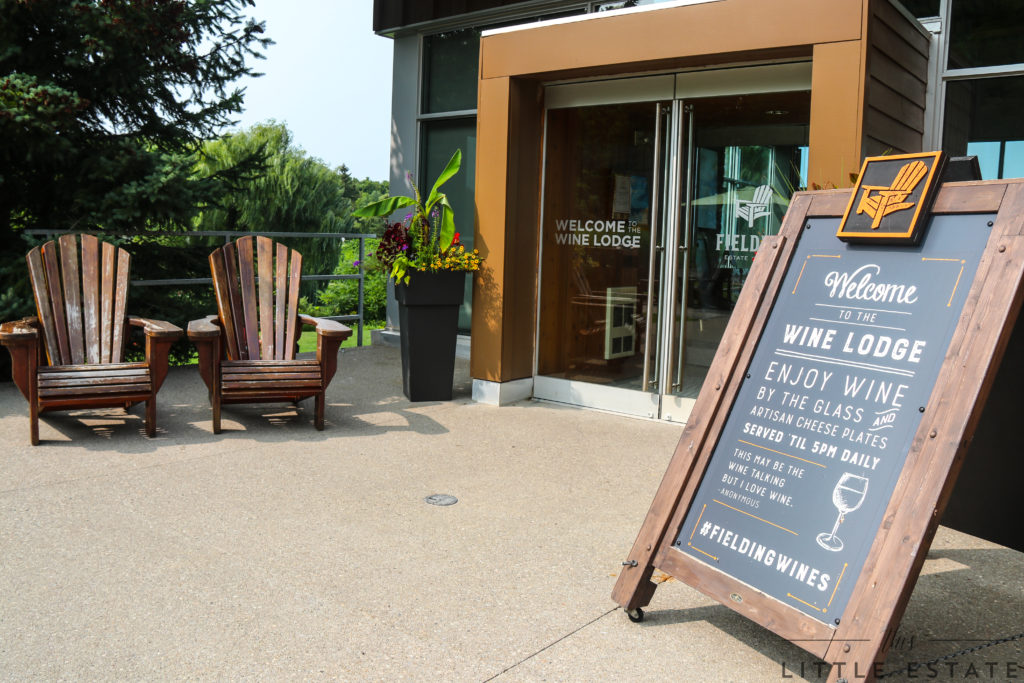 The Fielding family searched the area extensively before settling their winery on the perfect location, atop a rolling hill with vast views of Lake Ontario. The Fielding's son, Curtis and his wife Heidi lead the warm and informative team at Fielding. They pride themselves on making small batch, high quality wines, and operating a family friendly atmosphere. As parents who love to bring our children everywhere with us, but also long to carve out some special moments together, this was the ultimate destination.
Upon arrival we were greeted by a handful of interactive outdoor activities like corn toss, that the kids were immediately drawn to. Not far from them was a slow sloping hill dotted with brightly coloured adirondack chairs, also seen in the Fielding logo, and the absolute best perch for us to watch them enjoy the afternoon.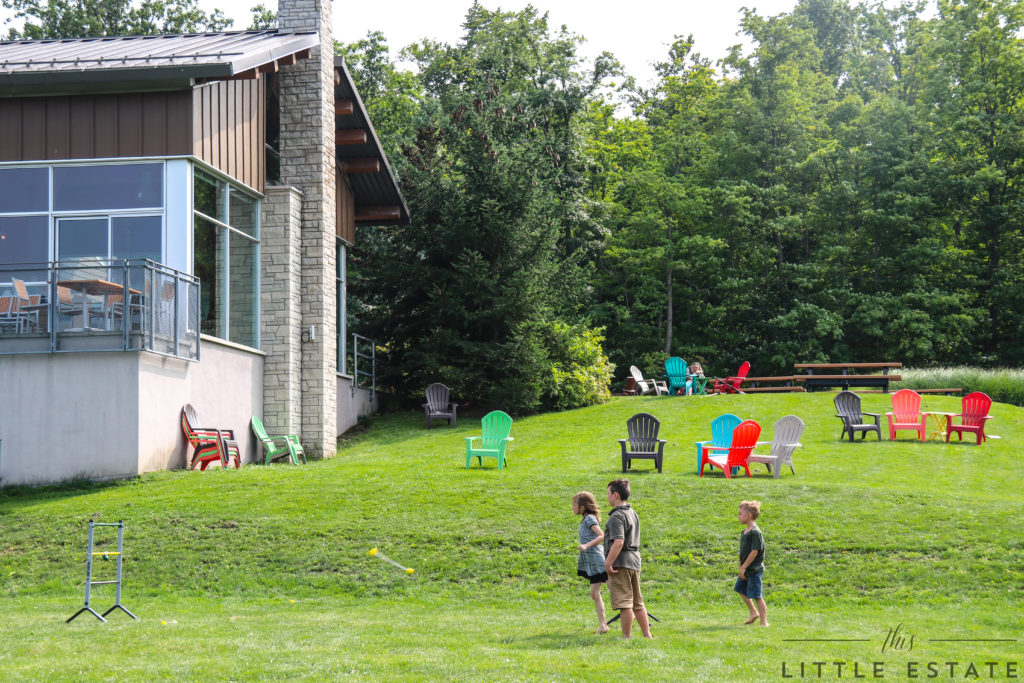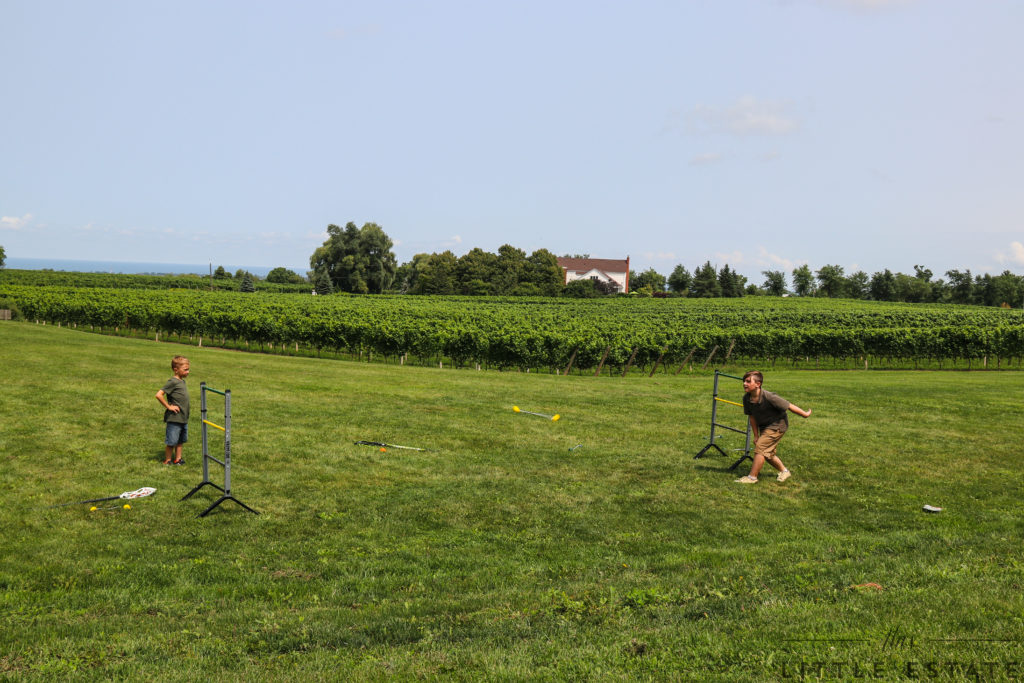 We arrived on a day known for their "Taco and Tunes" and it didn't take long to determine why the place was happily overflowing with guests laughing and enjoying the open cool breeze and the gorgeous August day.
Live music wafted through the air and down the hill where the kids ran and chased each other beneath the most magically fluffy and magnificent willow tree. Its tendrils served as a curtain for them to play beneath, its trunk and base almost immediately turned into a massive stage for their imaginative play leaving us to do nothing more than seat ourselves and enjoy the relaxed and happy atmosphere.
 We were taken care of by the lovely and down to earth Karyn who allowed us to cheers the day with a tasting of their pale peach blend, sparkling rosè, a gold medal winner from the 2018 National Wine Awards of Canada. Served in tall slim flutes, the 69% pinot noir and 31% chardonnay blend was delightfully fresh. With its fruit focused flavours of cherry, red berries, peach and yeast, it was the perfect toasting wine for a perfect moment to ourselves.
Although Fielding was serving tacos and their incredible cicer, we just had to taste a couple of the locally made cheeses they offer in a build your own cheese plate option first!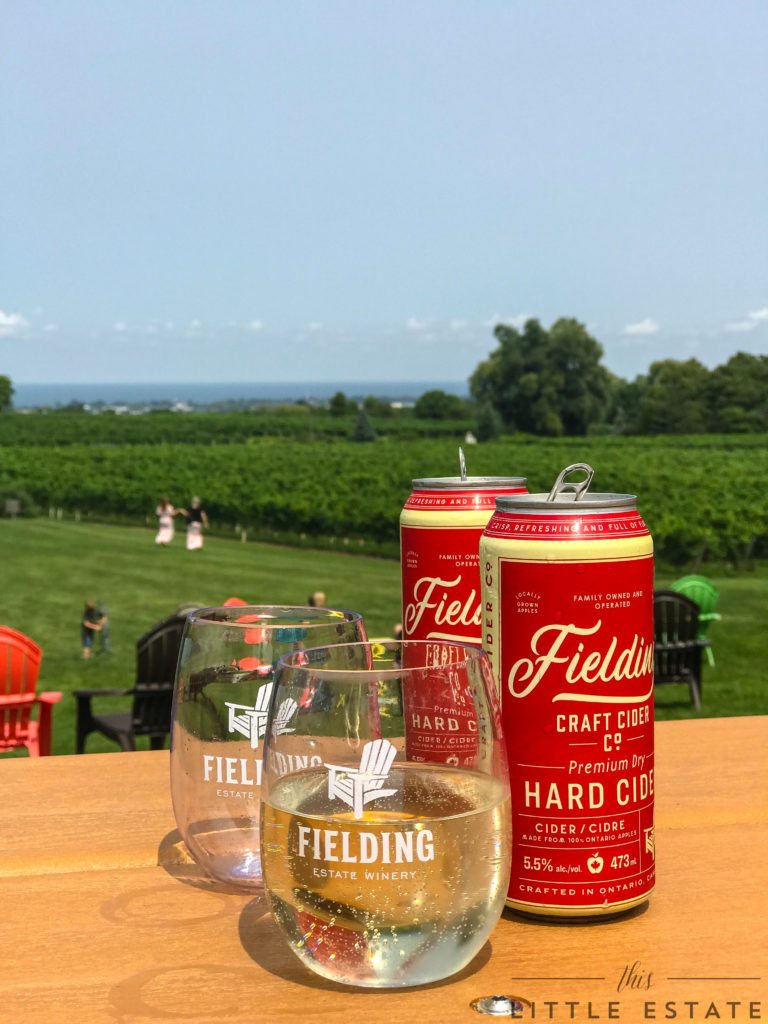 With Karyns' careful selection, we enjoyed Bothwell Maple Smoked Cheddar, Bellavitano Merlot, a petite pot of Rosewood Wildflower Honey, spicy "Pickles, EH!" Golden Beets and crisp Crostinis accompanied by a glass of their full-bodied and delicious 2016 Cabernet Franc.
We loved Fielding's relaxed and friendly environment and didn't want to leave, but we also had learned that mere minutes away there were two hidden waterfalls amidst beautiful hiking trails at Balls Falls Conservation Area.
We promised to come back the next day (and we did!) and headed off with some hiking essentials; sunscreen, water and our camera. I imagined we would be hiking for hours on end to find these waterfalls encircled by dense forest, but it was actually only a 20 minute hike on wide flat trails! The perfect trek for little ones with little legs.
As a concerned Mom who is terrified of steep cliff edges and imagined falls, the wide paths with their soft covering allowed us to hold hands, as a unit and eased my nagging Mothering worries. We carefully stepped up to the falls edge,and listened to the way the water fell and couldn't believe that we had never uncovered these beautiful illustrations of nature that were so close to where we have lived our whole lives.
As a history enthusiast, I needed to know all about this area. As someone who studied Recreation and Leisure studies in College, I needed to know how I had never heard of this spot with its dual falls. We met with Lilly, our tour guide and she explained that Balls Falls had a deep history.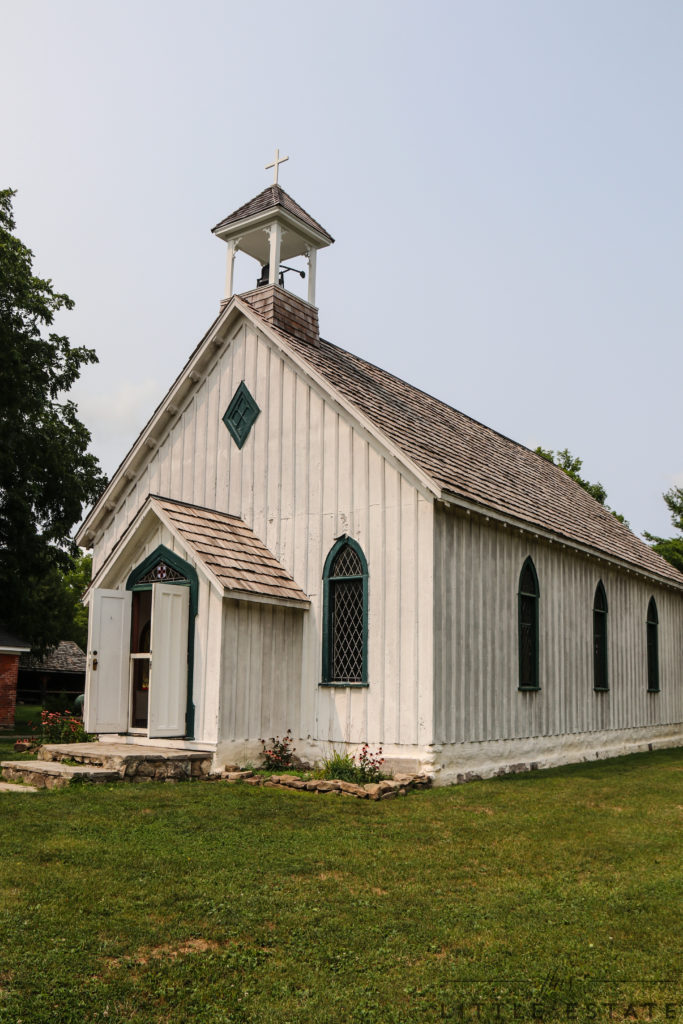 Balls Falls is also known as Balls Mills and dates back to the early 19th century. The town was established by the Ball family who was granted land in Niagara because of their allegiance to the British Crown. In 1807 they inherited 1200 acres of land and subsequently acquired Twenty Mile Creek where the two waterfalls are situated. At the lower falls the Ball brothers built a grist mill a saw mill and at the upper falls they built a woollen mill. At the time, the town flourished because of these mills and continued to grow until the addition of the Great Western Railway in the late 1850s which moved businesses and establishments farther away from the town, allowing it to have the quiet and intentional undiscovered feeling it boasts today. In 1962 the last one to inherit the area, sold the land to the Niagara Peninsula Conservation Area and the town, known as Balls Falls is now a tourist destination dotted by heritage buildings.
We toured the grist mill that remains today, with its dovetailed exterior, original equipment and wide hand scraped wood plank floors harvested from its surroundings.
Lastly, we toured the Balls Homestead complete with 95% original finishes. Its massive high ceilings and interesting lay out attribute to the fact that the home once housed businesses at the front of the home with the living areas tucked away at the back of the home.
The Ball family through and through lived an entrepreneurial lifestyle that I found fascinating and admirable. The home was extremely interesting with artifacts from the turn of the century and before. Original wallpaper lines the rooms, and massive 18 inch baseboards have stood the test of time along with the coped edges of the door frames, such carpentry mastery! The oversized giant black kitchen stove, the main wood burning stove and each rooms' gold metal radiators sparked questions from the kids and it was fun to teach them about the evolution of heating a home.
All the discussions about home building had me thinking about our to do list we left behind and how much we actually love getting our hands dirty.
Up for some hands on learning, we headed to the Watering Can Flower Market to see what their workshops and drop in DIY creations are all about.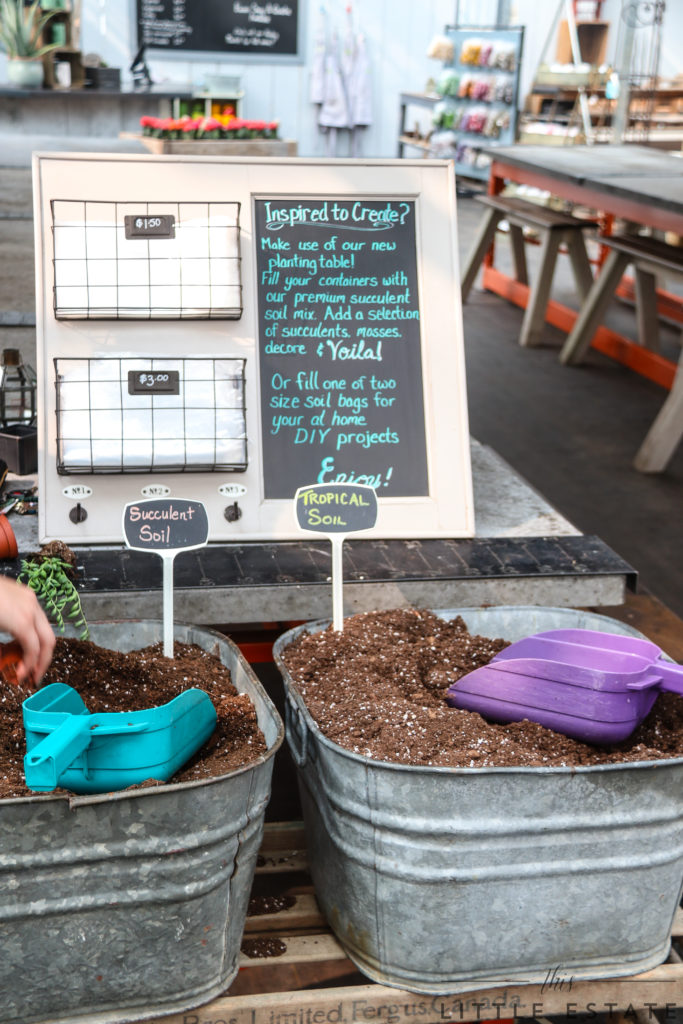 We were greeted by Amanda who showed us around the main shop area that is overflowing with floral arrangements for any type of green thumb. They carry premade succulent arrangements, grab and go floral bouquets, arching orchids, sweet potted plants in an array of terra cotta containers and hanging plants galore.
The Watering Can Flower Market is every creatives dream come true. Every square inch of their constantly expanding shop is covered with unique displays to present some green and pretty. In the midst of it all, we discovered that they have a fully stocked coffee shop, with every type of beverage one could desire. Small tables with groups of patrons sprinkled the shop and a low mull of laughter and chatter filled the space. Vintage sofas in soft pastels were placed perfectly amidst the aromatic displays like the vintage cast iron tub overflowing with green, or the live wall, with cascading green.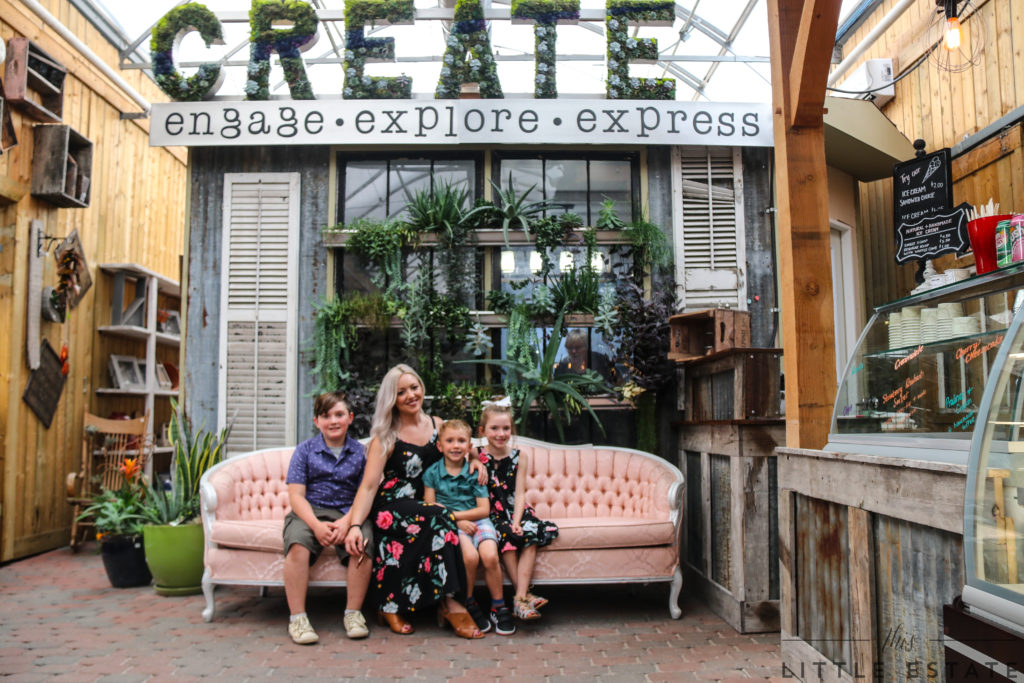 Amanda shared with us that the Watering Can Market had started small twelve years ago and had grown steadily ever since. It didn't take long for us to understand why. The shop had started as a store front and every year has expanded in some capacity. Now, in the area that was once their green house, they have a DIY potting area, set up with long tables and benches to accommodate groups of any size. We took advantage of this area fully and created our own succulent arrangements. We were shown what kind soil to use for the plants we each chose, but then had full creative liberties to choose what colour of moss and stones to adorn our potted arrangements. The kids happily got their hands dirty and proudly left the Watering Can Flower Market with their new plant firmly held in their grasp. It was such a fun and unique experience, that the kids are asking to host their birthday parties there, and I agree, I think it's a great idea!
We returned back to the guest house on Vineland Estates to wash up and change for dinner for reservations at the on site restaurant. The restaurant, with it's beautiful outdoor dining room was adorned with dangling patio lights overlooking the rows of the vineyard.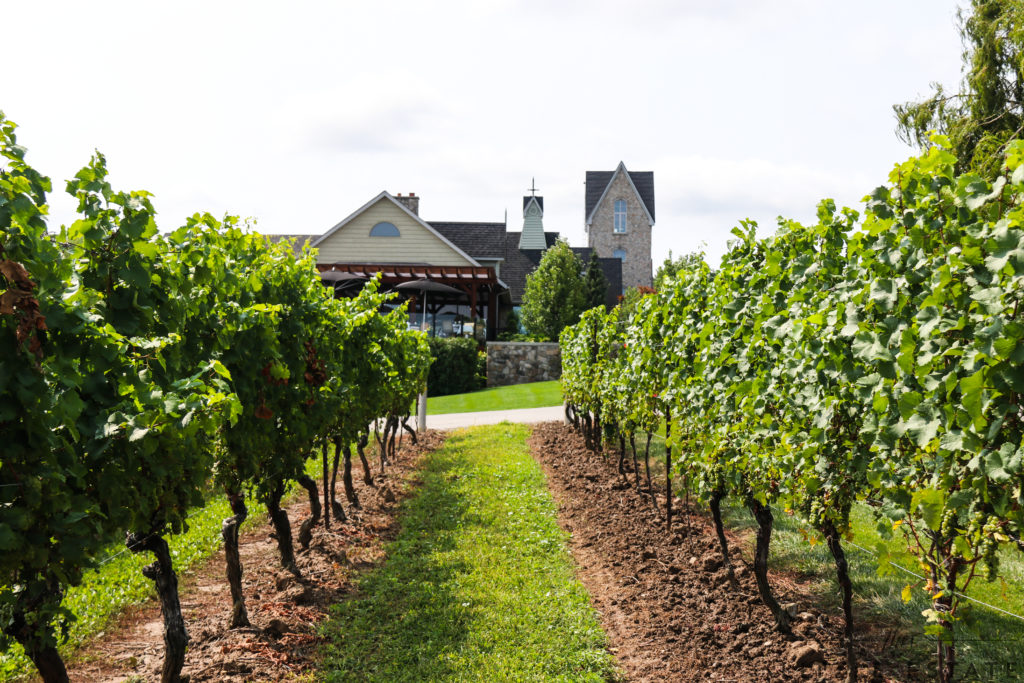 As we slowly walked the vineyard, up to the beautiful stone building, I noticed the outdoor tables with their flowing white table cloths and knowingly smiled at my husband. Eating alfresco is my all time favourite way to dine, and this elegant space was such a special spot to enjoy.
The kids took this opportunity dining outside to pull out their crayons and colouring books allowing my husband and I to toast our drinks to a full and memorable day. Art tried the Bench breweries IPA and I had the rich house red. Both paired well with our delicious seared local perch and hand cut frits, served in a neatly stacked grid we subsequently documented with a quick picture.
Although the restaurant didn't have a children's menu, our server suggested pasta for the kids and they happily gobbled up the thick linguini noodles and creamy alfredo sauce that was presented.
When our youngest dozed in and out of sleep on my lap, we opted to head back to the guest house to uncork the red wine that was gifted to the room while enjoying the quiet outdoor patio at the back of the guest house.
With such a big day, the kids were exhausted. They decided to take turns splashing in the bathroom's big bathtub before calling it a night, while my husband and I sipped and read outside. To our surprise, a beautiful cheese plate was left in the fridge for us. Combined with a fresh loaf of rustic cherry bread, allowing us to indulge a little bit more.
By now, the sun was starting to fall and a soft haze fell across the vineyard. A beautiful fleeting sight that tore us from the pages of our books until the sky fell completely dark.
We listened to the crickets song that mixed with the quiet rustling of the near by poplar leaves and promised each other we would come back to this quiet little slice of heaven again.
When the mosquitoes dared to leave their mark, we turned in, tucked the kids into bed and spent the next hour quietly working side by side in the kitchen prepping breakfast for the next day. The guest house at Vineyard Estates was thoughtfully stocked with eggs, bacon, fruit, coffee, milk, juice and all the trimmings so my husband could make his "world famous" baked potato hash.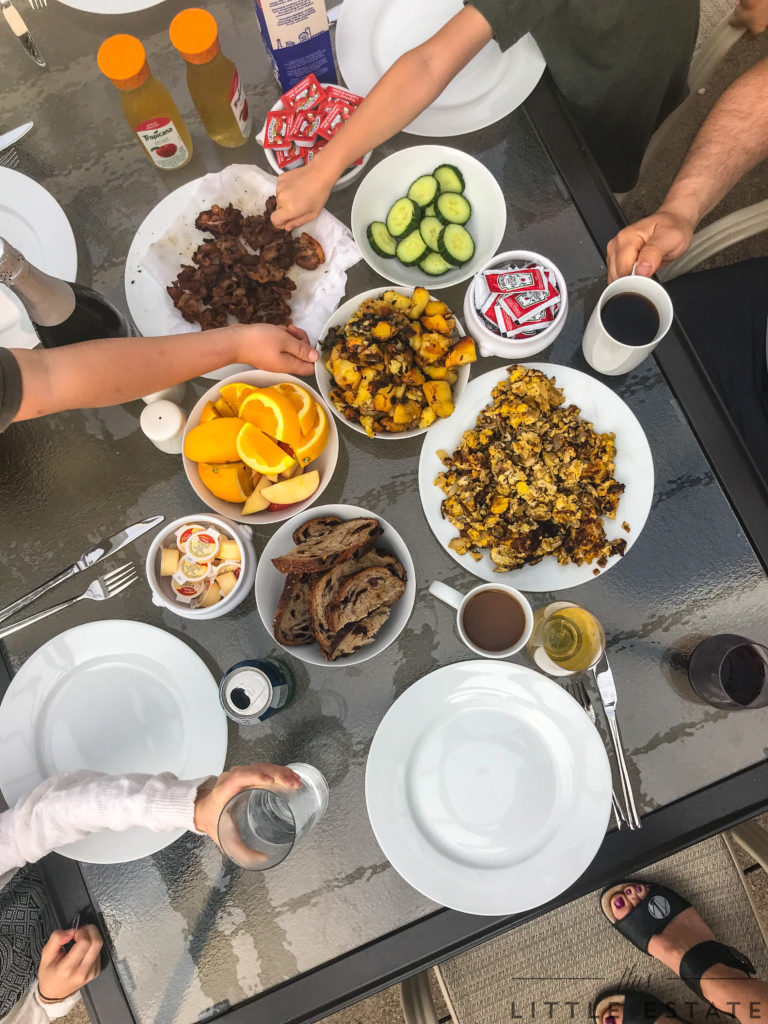 We all slept soundly that night, exhausted from a fun filled day and woke refreshed to enjoy a giant breakfast that would fuel the coming days adventures. It was bitter sweet to pack up, as the family time away was so needed but a day ahead outdoors was still to be had.
Not wanting the experience to end, we decided to go back and revisit some of the places we had seen the day before. We hiked Balls Falls again and then made a unanimous decision to go back to Fielding Winery to play some ladder ball while basking in the late August sunshine. We basically recreated the day before, with cold and crisp cider, another cheese plate, but this time, while contemplating, how to make the region of Twenty Valley home sweet home.
After all, we mused, how has this area been under our nose all these years without us really exploring it?! We drove the short distance home, the whole time planning our return visit. We decided we must come back with friends who have littles so we can share this seemingly hidden gem of an area with them too. Next time, we said aloud, we would bring our bikes so we could wouldn't miss any side streets and all the wonders Twenty Valley has to offer.
With such an uncovered area, we know there will be many trips back, discovering both quaint and luxurious restaurants, shops galore, miles of wineries and parts of nature that really make one stop and stare. Twenty Valley, you have our hearts.
We want you to experience Twenty Valley, so we partnered with Twenty Valley Tourism to offer you YOUR CHANCE TO WIN A $150 giveaway for you to #uncovertwentyvalley with 10 of your favourite people!! Head on over to my Instagram HERE to enter! I can't wait to pick a winner next week and to allow one of my lovely readers the chance to enjoy an escape to this little piece of paradise. Good luck Lovelies!