If you shop at thrift stores, junk stores, antique stores, consignment stores and in alley ways, then you will probably see me there too.
Wave back next time, k? 😉
I will be the girl with the lipstick on, hair coiffed, probably donning heels, yet armed with my measuring tape, a dreaming mentality and a back seat ready for treasures.
A few weeks ago, no dumpster diving was required though.
phewffffffff.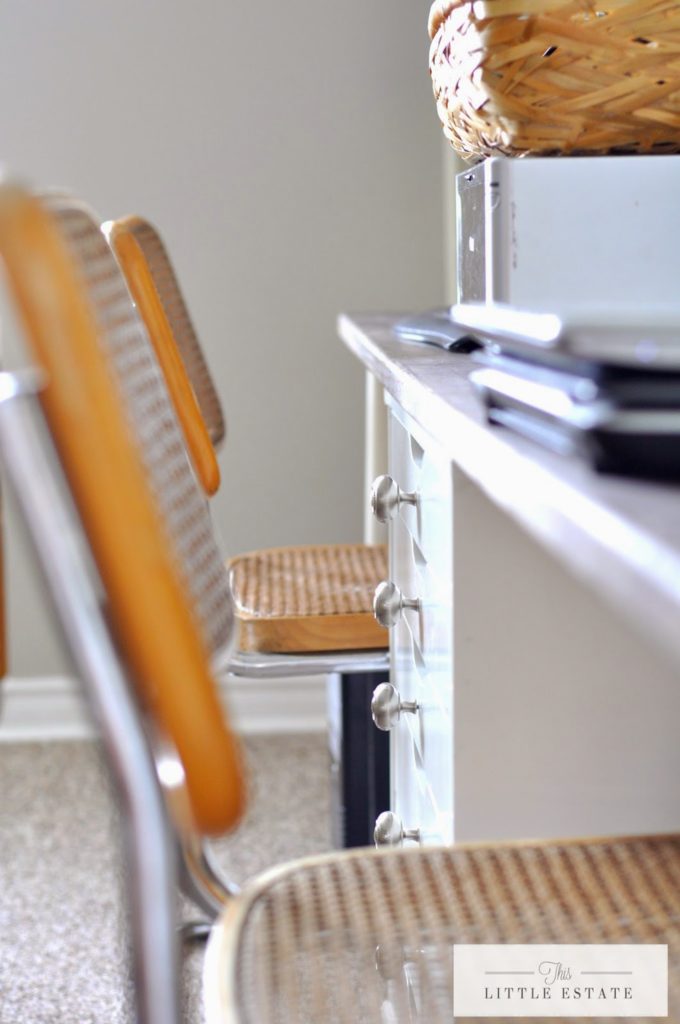 I found these two beauties in my local thrift store and fell in love with their shape and texture immediately.
You see, our two year old had recently ruined/ ninja kicked/ broke/ colored with permanent marker, all over our previous desk chairs. They also had patted seats that couldn't hold up to juice stains and grubby hand prints, not to mention, when friends visited I prayed they would lovingly avert their eyes from the yuckiness that our old chairs were.
So, when I spotted two matching chairs, that were easy enough to wipe down and stand up to
the abuse of two year olds and their budding artistic talents and messy juice chugging, I scooped them up!
At $8 each, I knew they could be transformed into something wonderful with a good clean and perhaps some new paint.
My visit to the CNE this year confirmed my thoughts. I found these gorgeous chairs (pictured above) with a similar design at the Bowring outlet location during the last long weekend of summer. I loved how the chairs metal base was painted a metallic gold and how the textured sides were a beautiful contrast in a dark hue.
Best of all, I loved that THEIR version was $321 more than the ones I scored. If my budget could afford them, I would love to bring some of the Bowring version home, but unfortunately at this time in our life with permanent marker wielding babies pricier pieces wouldn't work out too well in our beautiful mess of a house.
#youknowyouknow
These two will do just fine for this time in our lives. 🙂
And actually, now that they are in their permanent new homes, I'm wondering if I even need to give them a little makeover now.
????
Im kind of digging their color and texture and how they add some much needed warmth to this bright space that is a corner in our family room. My thoughts are, that if I tire of them eventually, or the kids take the coloring action into their own hands, I may need to pull out the spray paint collection later on. 😉
Until that time comes, Im tempted to just enjoy them as is, and try to convince my husband that I saved $642 by shopping the thrift store instead of the mall.
I wonder if I can convince him that that big sum of money I saved us should be spent on other house hold things? Do you think he would buy that?? Get it? BUY that. 😉
#punproblems
What would you do with these babies? Paint them or leave them as is? I would love to hear what you think!
PS: CHECK BACK OFTEN, I AM PUTTING TOGETHER A POST OF MY FAVORITE THRIFT STORES (AND WHAT TO LOOK FOR!!) TO MAKE SURE THAT YOU TOO GET FIND FABULOUS THRIFTING DEALS.