It is so ironic that I planned a wellness series and then our whole family got awfully sick!!
We got the dreaded stomach bug that was going around and we were out of commission for a few days, as we got better and Super Woman I deep cleaned the whole house!
Germ-aphobes do not like catching sickness! Spring Cleaning needed to be done anyways! So, I am staying positive and taking it as we got a good head start on the whole thing.
Spring cleaning gets me in the mood for lush green grass and little sprouting spring flowers, sunshine and most of all, clean eating!
If you live somewhere that gets snow from November till April (sadly
US
!), it is easy to throw on the layers and pack on the winter weight. When the sun starts to stay up later, and the month of April rolls around, everyone is ready to shed that extra weight, pay attention to their meals a little more, and ultimately get really ready for the days of short sleeves and swimsuits.
I love a good salad, and decided to try my hand at a spring salad that incorporates some amazing foods, that if added to your diet, will help you stay full longer, and satisfy your palette!
(Leaving more time for wearing your Super Woman cape and saving the day….)
This Strawberry Spring Salad, can be made in a few short minutes!
Mix in a large bowl:
4 cups of baby spinach
1 cup of Spring Mix Salad
1/2 a cup of broccoli florets
1/4 of cut snow peas
1/8 cup of dried cranberries
1/2 cup of sliced strawberries
This size salad can feed two people for a lunch by itself, or can be added to a meal to feed a family of four.
Now, for the lip smacking delicious part of this meal. The NO GUILT dressing!!
This dressing incorporates the crazy nutritious Chia Seed.
Chia Seeds have become an honorary "super food" in much of North America as of late, and for good reason! If you aren't sure what chia seeds are, they have been shown to help with weight loss, since they are full of beneficial fats and oils. Chia seeds are totally natural and are grown in Mexico and much of South America.
Chia seeds are full of Omega-3 fatty acids, high in anti oxidants, dietary fiber, protein and oil.
They inhibit the speed of carbohydrates being turned into sugar, and essentially fat within your body.
Though they were used in the 80's in the making of the popular "Chia Pets" that grew abundant "Grass hair", they are now being held in high regards as a weight loss assistant; the natural seeds swell in size making one feel fuller longer and less likely to fill up on unhealthy foods!
Sounds pretty amazing, right??
Well, I have jumped on the band wagon since super foods are perfect fuel for a Super Woman diet, and have been putting chia seeds on everything! They start on my morning oats and midningt baking, and in between those times they lovingly get included into my salad dressing!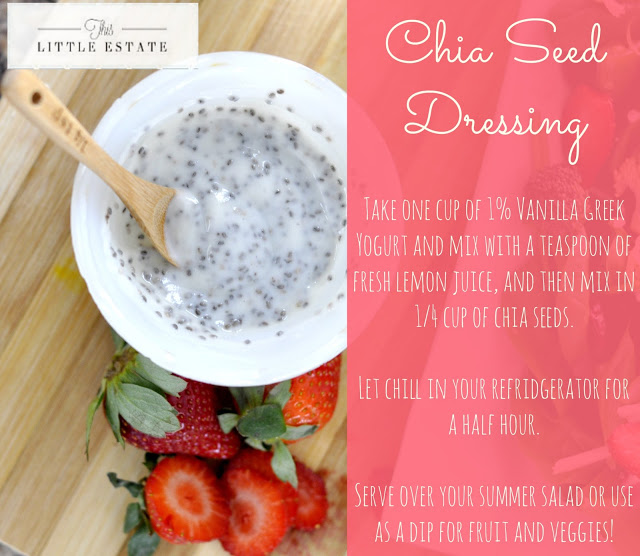 This dressings base is Greek Yogurt, which is also full of protein!
Protein takes longer for your body to digest and your body has to burn more calories breaking down protein to be digested.
The fact that protein also helps build strong muscles, is another added bonus!
Make sure to chill your chia seed dressing; when moisture is added to chia seeds, they swell up, and turn from looking like a poppy seed, to having a slight gelatin coating. The fridge time will soften them and solidify your dressing into a nice creamy consistency.
Coat your Strawberry Spring salad with your super food dressing and sit down to enjoy all the health benefits of greens and chia seeds combined.
The fullness this meal provides will give you the energy to make it through your day being the Super Woman you are!!
Enjoy!