It is "What to cook Wednesday" here! I am glad you came to visit today.We are talking secrets and pie, couldn't get better than that!
I must clarify, there is no exaggeration here….
THIS is the best pastry crust recipe ever.
For years we asked my grandmother what her secret pie crust recipe was, and for years she didn't tell. Grandmas was a vault!
I was shocked to eventually find out how easy it was and how it is just a variation from the recipe on the Crisco box! This crust has been bringing families together since 1911! Wow, one hundred plus years of delicious indulgence.
Are you ready to learn my Grandma's "secret crust recipe" and join the masses in their love for a good shortening based crust??
Here goes!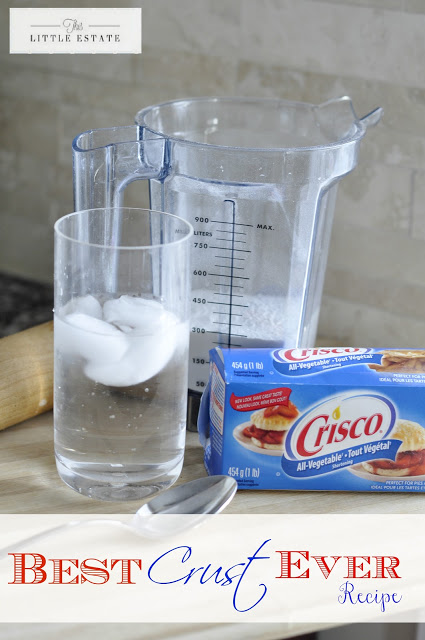 You only need a few ingredients!!!
Three to be exact.
These measurements will make two 9 inch pie shells.
All purpose flour

Crisco shortening

Ice cold water
Don't let these three simple ingredients let you believe this isn't the best crust around, because, quite frankly, it IS.
Do not use a substitute, if Grandma was the swearing type, she would swear by this: Crisco is the star of the show here.
(No I am not being compensated to declare my undying love for fatty shortening. But I will gladly receive these beautiful blue packages in the mail and make pie for weeks — if I really had to.)
First, put the flour in a bowl (or pastry blender) and cut half inch cubes of the chilled shortening into your flour. You might want to use two knives to cut up your shortening so it mixes into coarse crumbs.
Sprinkle your ice cold water by the tablespoon over your flour mixture and mix well with your knives. You will feel like a kungfu-Samari-king –it will be amazing.
Add more water if desired. Your flour and Crisco will form into dough easily right before your eyes!
Separate dough into two balls, press them flat and wrap them in plastic wrap.
Chill them in the fridge for 20 minutes. This cooling time helps the dough to be more malleable and not too crumbly.
On a lightly floured surface roll out dough, sprinkle with water if it is too dry and coat your rolling pin in flour for smoother rolling.
Place your rolled out dough in pie plate to be filled with seasonal toppings of your choice, or make your own little pastries out of this delicious flaky crust.
If you only need to use half of the dough, you can wrap the remaining in plastic wrap (like we do) and put in a freezer safe bag and freeze for impromptu baking. Thaw and roll out with a little extra water and flour as needed when you are ready to use it.
Enjoy surprising your guests with pastry crust that has been good enough to grace tables for one hundred years.
Grandma would be proud.

I hope you enjoy!! Happy baking friends!!!
Do you have any "secret" family recipes?
With all of the holidays coming up, I would love to know more great recipes!
Feel free to share in the comments, or email, if it truly is still "secret". 😉
Getting inspired at:
Primp
French Country Cottage
Savvy Southern Style