It is the third week of the one room challenge which around here means PAINT week. I've given up on counting the white paint drops that are in my hair and have killed at least three manicures this week. I'm over pretty nails at this point and my kids say my hands look like they don't have a mother. I applaud their keen perception but am hopeful to be done with paint for a while so I can sport spring nails in the near future.
Since I shared our before pictures of this room in WEEK TWO, I have truly gotten my hands dirty.
First I started by taking down the vintage dropped ceiling to reveal a plethora of mouse droppings. Yes, I know, groooooooooss.
 Next, I spent an evening ripping out the heavy duty closet that spanned the length of the back wall in the room. It was connected with 4 inch nails and was literally my workout for the week. Old houses are built unbelievably well which is amazing. Taking them apart is not quite as glorious…
.
Once the closet was removed, (I made that sound easy!!) the planking behind the closet needed attending to. I decided to repaint the room in Benjamin Moore's Simply White for a bit of brightening up.
I also decided that replacing the ceiling was not a good idea at this point in our home renovation journey. Down the road we will tackle the whole basement and I want the ceiling to be cohesive. Instead, I decided I would paint the bare bones of the ceiling, saving me money and time.
I want this room to feel like a little escape. Something completely different from the traditional and farmhosue vibes of the rest of our space. Ofcource it will end up having a heavy dose of white and wicker, as is my calling card, but more than that I want this space to have a laid back vibe. Dare I say, a touch of beachy bohemian elements?
Here are a few of my favorite exposed and painted ceiling inspiration pictures.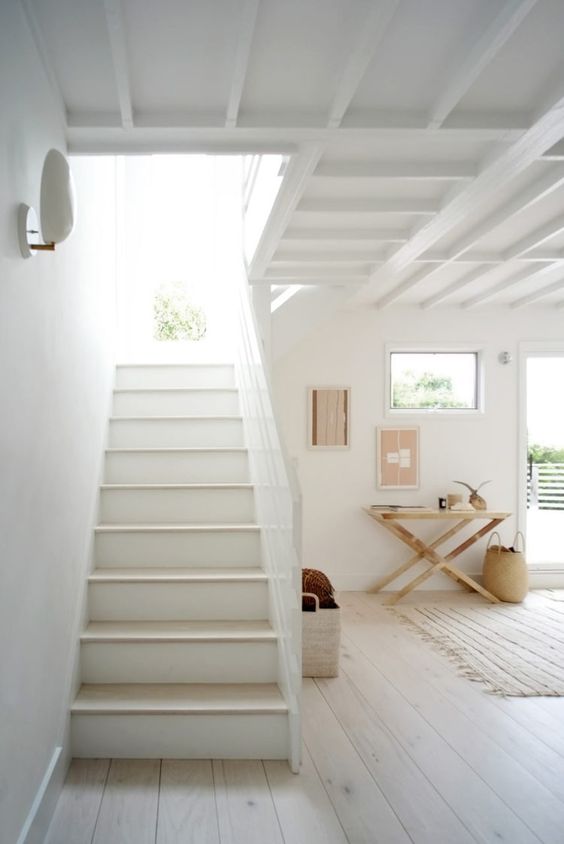 To start, I knew painting the ceiling would enforce that feeling of escaping to a little beach house with it's laid back liveability and secondly, remember this project is being completed on a strict budget.
So, I got to work, on my trusty ladder, neck cranked, painting every little crevice of newly revealed wood. It took a full gallon of paint, and a couple long evenings really getting into every nook and cranny, but in the end, it looks both clean and relaxed. I imageine it will be an intresting sight to gander at when Im counting down my trust situps too, right?
This week I might have more speckles of white paint in my hair than my daughter has freckles on her cheeks, but Im so pleased with the end result. I cant wait to show you this space all painted and pretty but first Ive got a lot od DIY's to tackle. It feels so good to get my hands dirty! Please dont mind the nonexistent manicure. 😉 Personally, Im keeping my eyes on my ceiling that I pray turns out like this…
(All inspiration images in this post from Houzz.com)
Would you ever leave an exposed ceiling??