When we first saw our home we knew it was lacking curb
appeal.
Not only was it rundown and not updated but its mid century modern flat
roof and assymetrical fascade was unappealing to us.
Did I mention the weeds were like something out of a horror movie?
So we picked them all and made some wishes on them!
We had a lot of work to do after all.
My dreamer side went into immediate overdrive upon laying
eyes on our house. I knew that with it could be a dream house straight out of the
mountains of Vancouver if we updated the mid-century look of our home while still holding on to the
homes modern vibe. I pictured another level, popping off the roof….or heck, simply
knocking down the house and starting from scratch!
I had a million ideas swarming through my mind along side the dandelion seeds.
Easy fix right? Simple solution,
wouldn't you say??
Ya my hubby and our bank account disagreed with my enthusiasm.
We decided instead of jumping in full throttle to a major reno we would instead maintain our budget and to do what we could to add curb appeal to our home. We kept in mind utilizing our outdoor space to it's full capacity, as an initial step, and decided that by doing so we would be taking full advantage of our outdoor space!
We knew a front porch would do just that for us.
The addition of a front porch was practical for our family, but more than that it would also add some much needed layering to the front elevation of our house. If you have been following along on Instagram (@bethanythislittleestate) you would have known that as soon as the last snow melted we started building our outdoor space. We decided to get to work in the spring time so we could enjoy the porch all summer long.
I mean, summer parties, right? Family bbq's to usher in the weekend? Yes please!
Here is where we started …
and here is where we ended up…
I'm still kind of in shock that my hubby and I actually got this outdoor space completed in such a short amount of time. (We were also finishing our living room and other projects while working full time!)
(Insert crazy nervous laughter here.)
We were driven to get this space done during the evenings of late spring season, because we figured the summer evenings are meant to be soaked in!
Also, we really wanted to sink into our new Leon's patio set sooner than later.
Stay tuned, we cant wait to show you how we built this DIY deck just in time to enjoy summer sunsets, cricket songs along side a pitcher of my famous sangria.
Now the question is, when is the next summer party so we can see how many people we can squeeze on this baby. 😉
It's not too late to enjoy
your
summer outdoor space! To get more patio ideas and to see more pretty patio furniture check out
Hello Sunshine
a
guide to a bright and happy home.
The crickets are singing your song and the great outdoors are waiting for you.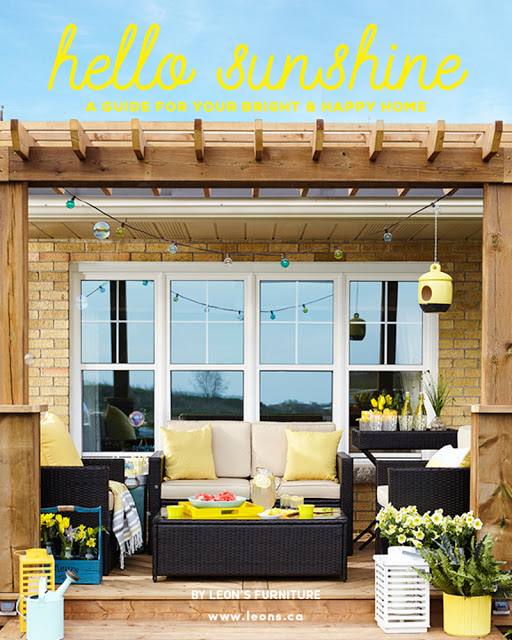 Stay tuned for all the details on our DIY deck!