It is the beginning of a new month, and with new months, come new opportunities to enforce change!
I don't know why I get so excited about the beginning of a whole new month, but I do.
I
picture the whole month in front of me, the days not lived up yet, all
the opportunities, to be better, to love more, and the days seem to be waiting for positive changes to happen.
So,why
not take this new month by surprise? Make the changes you and I both
always wanted to? To look back at the end of the month of April to
think,
"Wow, I changed in so many positive ways and know so much more about creating a happier life!"
As
women, we play many different roles and have so much responsibilities.
We work, care for our families, spend hours searching for wholesome
meals to feed our children, we work out with children grasping on to our
ankles, we push through exhaustion and long grocery isles, we fold
mountains of laundry while holding a child and making a sandwich, we
nurse babies, teach alphabets, bathe crying kids and barking dogs, we
fix broken dishwashers and find the lost toy, stuffy, blanket,
backpack, sock and favorite book.
We do a lot.
We do so much at any given time, are constantly multitasking and yet sometimes flop into bed feeling like we got nothing accomplished.
If you are female you probably should be diagnosed with having "super-woman-syndrome".
It is genetically passed down to you from birth, and no matter what you do to change, super woman syndrome, is hard to kick if you are blessed enough to be a female.
Super Woman syndrome is something I realised I had as a young girl!
I
would brush my hair, while cleaning my teeth while studying for my
spelling test, while wondering if my outfit would get compliments, and
if my dog knew I loved him.
Fast forward twenty something years and I am still
that girl in the mirror. I find myself brushing my hair and teeth at
once, bouncing a baby on my hip while swiping on mascara and wondering
if the baby (who is pulling at my earrings and my shirt) knows that my
heart is bursting for love for him so much that it physically hurts.
I have super woman syndrome.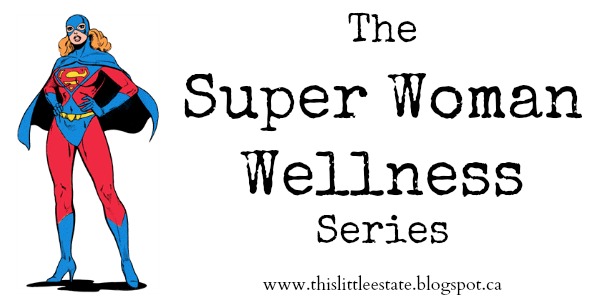 Super
Woman Syndrome is awesome in so many ways, and then, not so much when
one can so easily work themselves into a frenzy; feeling run down,
exhausted, aimless and unhappy.
Enter: The Super Woman Wellness Series.
I want this to
be a place for moms to come and feel like they can share about
completing tasks and projects while loving on babies, working, staying
healthy, balancing a busy schedule while still maintaining a feeling of self.
I am not an expert, but I have learned a lot in the last decade about being a happy wife, a mommy to three, and about caring for myself along the way.
I
cant wait to talk in depth about simple tricks for the whole family to
eat well, about making and using green products around the house, about
cutting corners to multitask more effectively, about maintaining your
own identity while being overly busy, about squeezing fitness into your
day and loving it, about staying organized despite your inner messy
child, and about creating an all around happy life.
Sounds like a lot to cover, but I am all about sharing my secrets that help my family live a healthy and happy life while just being your average little family.
I
hope you are able to follow along for this Super Woman Wellness Series,
I hope you will share all of your tricks and tips too!
Us Super Women have to stick together.
Ok.
I'm going to go dig my cape out of that mountain of laundry waiting me.
Talk soon!