I have had many requests from you guys on what can be cooked in a crock pot since the Sweet and Savory Curry Recipe ended up in your weekly rotation for quick meal ideas. (Thank you so much for letting me you know you enjoyed that quick and easy recipe! I love hearing when your family enjoys recipes from here!! What can I say, I am one of those people that love with food! ;))
Well, I thought I would do one better this time and give you an easy crock pot recipe while making it extremely kid friendly!! We eat pasta once a week here. It is an easy go to meal when you know the kids slipped the tofu to the dog the previous night.
But, we have one slight problem, the hubs and I love a pasta sauce chocked full of onions and chunky tomatoes, but our six and three year old don't have the same feelings.
So, over time, we have developed the KID APPROVED old world pasta sauce!!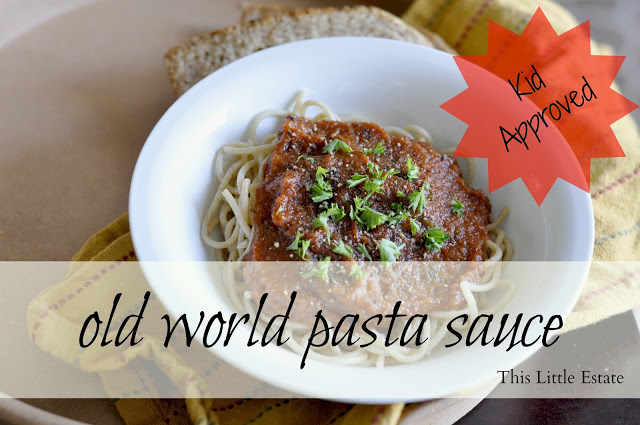 This sauce has all the flavour that your European Grandma would add to her tomato sauce and yet it is easily devoured by the pickiest child eater.
To add to the awesomeness of this pasta sauce, this particular sauce can be cooked in your crock pot! NO LIE!
This deliciousness can be thrown into your crock pot the night before you have a big family luncheon. Or it can be mixed up in the morning when you leave for work. You will come home to the aroma of home cooked cookin and garlic for days!!
This one is easy, and all you need is a blender to disguised all of the nutrient packed veggies from the inspecting eyes of your picky eaters.
You will need:
1 (6 ounce) cans of tomato paste
1 (28 ounce can of tomato sauce. Any brand that you like)
1 (28 ounce) can of crushed tomatoes
4 cloves of garlic
1 medium sized onion
1 green pepper (cut and discard seeds)
1 red pepper (cut and discard seeds)
3 tablespoons of extra virgin olive oil
2 tablespoons of white sugar
1 teaspoon of salt
1 teaspoon of dried basil
1 teaspoon of dried oregano
1 teaspoon of pepper
1/2 cup of dry red wine (Or omit and drink instead)
2 cups of water
Blend all your ingredients in your blender and pour into your crock pot.


I told you this was an easy one.
We usually serve pasta sauce over whole wheat pasta and serve it with a side of fresh bread and a big salad. It is nice to know your family is getting a sauce full of vegetables and this time they wont be getting their fingers messy from picking out the small pieces of onion that six year old boys ("CAN see!")!
😉
I hope you enjoy this one and I hope you still receive kisses even when you smell like garlic.
Bon appetit!
xoxo
Sharing at:
French Country Cottage
Craftberry Bush link party
Chic on a Shoestring