Around This Little Estate we are constantly teaching our children to have loving and giving attitudes. This time of year especially, we have had many opportunities to encourage them to show kindness and to give in many different forms.
It is so nice to see that they genuinely want to give to each other. We cant get stickers from the doctor without getting an extra one for their sibling. We cant get one child a treat while out alone for one on one time, without them saving half for the sibling at home. It seriously makes my heart smile so big!
But we could all be reminded a little more to give of the things that we hold close to us. For me, I need to learn to share my time more with others, to help a friend with a project, to go out of my way to spend a day with a loved one, or volunteer at our church more.
For my kids, it is learning to share their beloved toys.
I decided to finish a project and put a constant reminder on it to be "generous".
The spot where the project would end up, would be very visible, and it would be great to be reminded daily to strive to be more generous.
I started off with this old toy box.
This wooden box once lived in our closet to collect dirty shoes, and once it lived in a child's bedroom closet full of books, and most recently it lived in a toy room full of Barbie clothing.
Well, we dressed all the nudist Barbies and I decided to take this wooden box from forgettable to memorable.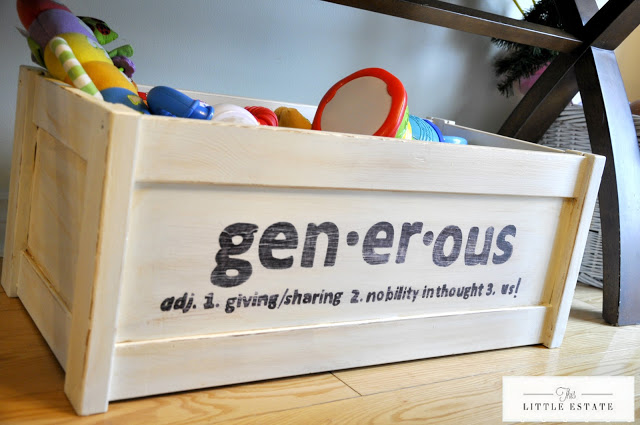 I painted it white. The same white paint that I was suppose to use to finish painting our living room trim. But these days I am having to hold or wear my six month old in a babycarrier around the house. Those mean old teeth he is growing!! Climbing a ladder while wearing my precious boy didn't seem very safe…so I added this to the project list and crossed it off a few hours later! (Am I the only one who loves lists and has them all over the house??)
After two coats of white paint, I printed off some definitions of generous and used
my same method of transferring font
that I used when making the kids
over sized measuring stick.
After the ink was dry I sanded the whole things down with some sand paper to give it a worn look, then I took some regular brown acrylic craft paint and smoothed some on in places with a paper towel. See? Easy! There was no real technique used, I just sanded and added paint where I thought it needed to look aged.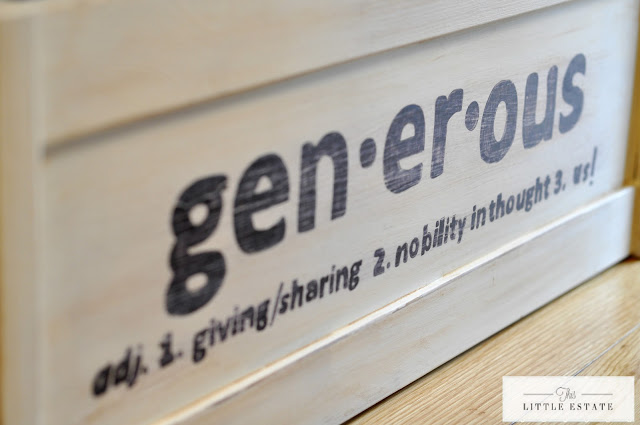 I love the definition of generous.
1. giving and sharing
2. nobility in thought
…and I added the last one for some positive motivation!
3. us!!
I wanted the text to look messy and natural, so I didnt care if it was too neat, and I love its imperfectness!
This new toy box holds all of the toys meant for little babies. All of the loud bright musical ones. It is nice to have them easily accessible since the baby spends so much time with me during the day in this area of our home. My three year old little-mama-girl loves to be in charge of what toys her little brother plays with too, while her older brother is in school. I have no idea where she gets her bossiness from! 😉
The toy box now lives happily under our console table in our dining room area. I can see the saying from the living room and I love being reminded to be generous all of the time. Not only in a giving and sharing sense, but to show generosity to people even when they don't deserve it, to love when it is hard and to give love and kindness at all times.
And a little close up of some of our Christmas decor. We went very traditional this year with red and golds. More to come later on that, if I can clean up the dry wall dust and insulation residue off of the Christmas tree! 😉
And because we all love a good before and after…
And
May your day be filled with your loved ones loving on you generously!!