Sometimes the noise level in our house is deafening.
Our poor neighbours.
It always seems like the moment the baby starts crying is the same exact time someone is hungry, tired, needing help in the bathroom or throwing a gigantic fit. (Or all of the above simultaneously, usually.)
It is a hard job being a Mama or a care giver or Grandparent or anyone who is looking after small children.
One day I just got stick of hearing my own voice.
You know those days too, right?
The days when everyone is exhausted and it is easy for kids and grown ups alike to become frustrated. After discussing it with the kids, I realized it is their nature to want to please. They naturally want to obey and to get approval, and I want to pour it on them by the bucket full.
But there are also those days when they are plain tired and overwhelmed and need to take a breather. (Much like us grown ups!)
So together with my children, as we walked through our local Goodwill we decided to hunt down a "Quiet Time Chair". This was going to curb the saucing back, the silly arguing and the constant whining on those "off" days.
I had my fingers crossed at least.
We decided on a dinged-up-mini-pine-child's-chair and brought it home with us.
Then I made a big parenting mistake.
Since the children were involved in the thought process behind this "Quiet Time Chair" I asked them what color they thought we should paint it. They were happy to choose a can of what-looked-like-sunshine in a spray paint bottle.
This is where I lost two weeks of my life.
This little yellow beauty was well loved during those two weeks.
Since the kids adored being involved in the choosing of the chair and its aforementioned color choice, they readily fought over who got to sit in in.
Every single day they pinched eachother or caused problems with the other so they could have some quiet time all to themselves in their special chair.
This was all too much.
I wasn't about to let two small children and a happy yellow chair ruin all of our sanity.
So I took an opposite approach.
I sprayed that baby Grey. Cloud grey I told them.
Goodbye self proclaimed sunshine yellow. You are no more.
Only "cloud-grey" which (I made sure to tell the children) represented rainy days where no one got to play. 🙁
This idea straightened them out immediately.
No one liked the little grey chair with the imaginary grey cloud that seemed to hang above it.
They decided to rename their old friend the-happy-yellow-turned-forlorned-grey-chair.
Thus the "Time Out Chair" was born.
We got to work renaming her.
Then making her look like she had been around for a long time.
I used Ralph Laurens' "Historic Crackle" that I had on hand and put a quick coat on. It is suppose to crackle the top layer of paint and show the beloved yellow underneath.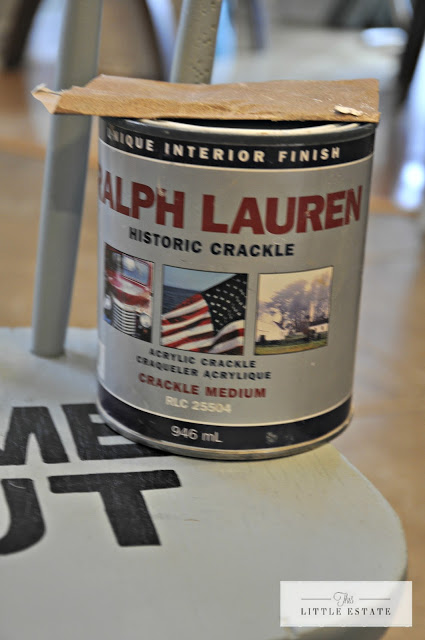 I let the crackle dry and decided to give the chair a light sanding to mimic the look of one hundred years of naughty bottoms sitting in it. 😉
The mere sight of this chair was making the kids think twice about talking back and having to take a break from play time.
And the "Time Out Chair" lived happily-ever-after in random corners of our house.
Never to have another little hooligan sit upon it.
Ever again.
And the angels in heaven rejoiced.
At the end of the day I am so blessed to have good little kids who strive to be empathetic, kind, encouraging, helpful and loving.
This chair has seemed to encourage them to try harder when negative emotions cloud their better judgement.
It helps for all of us to be reminded that a little quiet time and time out from our daily lives may be exactly what we need to refocus and put our energy into being positive in all circumstances.
Because of that thought, I find myself looking to this little reminder often.
I love learning life lessons through my children.