I've always loved a good sauce.
And I'm NOT just talking about the good old days when I was an angst filled young teenager and my exhausted parents would proclaim: "You've got more sauce than you know what to do with Bethany!"
No, not THAT kind of sauce. 😉
I'm talking about the feel good, hearty, delicious, pasta sauce variety.
Through the years, I've tried every type of vegan Bolognese sauce out there, and I've loved  a lot of them. The problem for me was I rarely left myself enough prep time to create the lentil based varieties that I loved so much. So, I set out to create a faster alternative, that didn't require the lengthy process of cooking/cooling/draining lentils. 
After a little trial and error, I came up with this super easy, lentil free, nut free, wine free, cream free, gluten free and vegan recipe. BUT WITH LOTS OF FLVOUR!
Also, THIS vegan Bolognese sauce has no time consuming elements in it. In fact, it takes twenty minutes to make and has about ten HEALTHY ingredients!
INGREDIENTS:
1 block of firm drained and dried tofu
1 package of mushrooms, washed and halved
2 shredded carrots
1 can of crushed tomatoes
1 chopped white onion
4 garlic cloves
1/3 cup of red wine vinegar
3 TBS of Italian seasoning
4 bay leaves
1 tsp of sugar
1 tsp of chilli flakes
Salt & pepper to taste
A splash of EVOO
HOW TO MAKE: 
Sauté your chopped onion in EVOO in a non stick sauce pan.
Add in chopped mushrooms and shredded carrots.
Let cook through covered.
Add hand crumbled tofu in to your pan, the tofu will soak up the moisture from the vegetables and their flavouring, so be sure to cook the times in this sequence.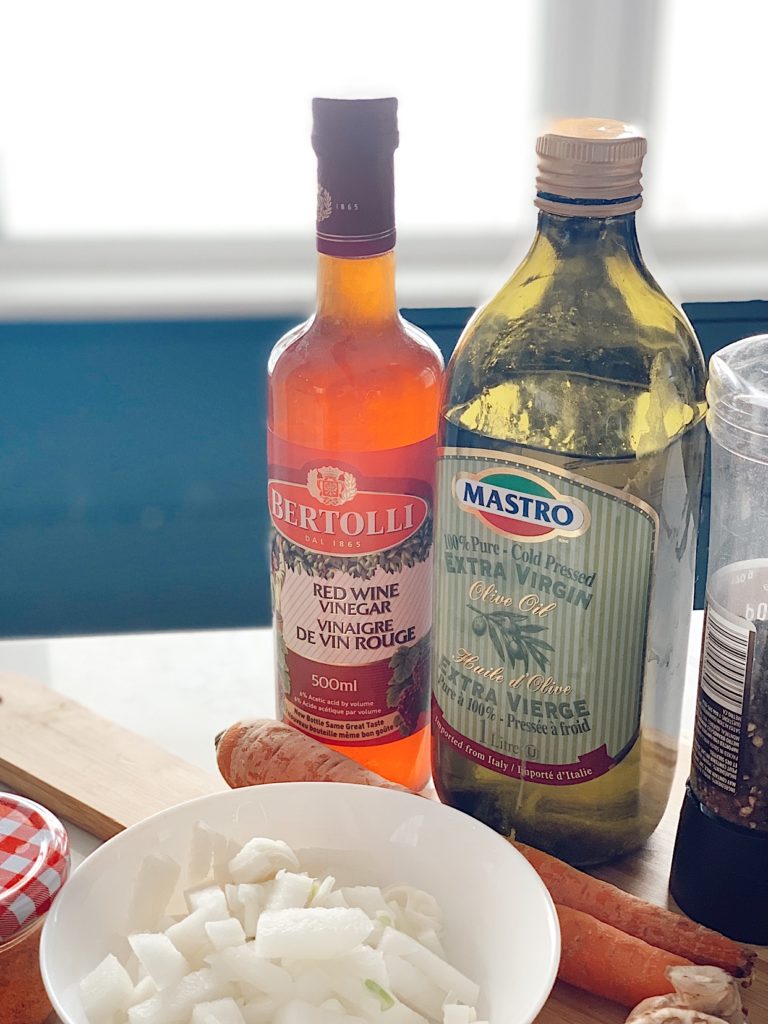 Add in vinegar and spices and tomatoes.
Cover and cook for ten minutes.
Remove bay leaves.
Remove sauce pan from stove top and carefully use a hand blender to emulsify your sauce into a chunky texture.
Return your vegan bolognese sauce to your stove top and simmer covered for twenty more minutes.
KITCHEN CHEAT:
OR, transfer your sauce into a small crockpot/slow cooker and go finish whatever other task you need to do! Let it cook on LOW for three hours.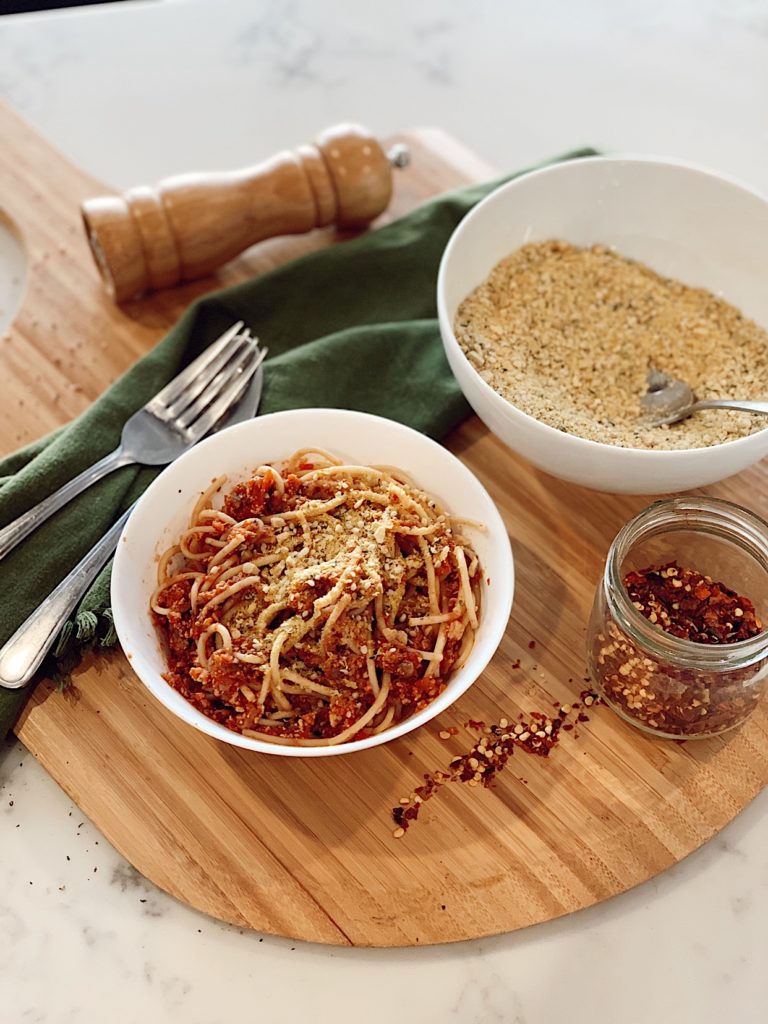 The longer this sauce cooks, and the spices get a chance to mingle together, the better. The flavours of this sauce will combine and intensify and truly, it will become an even tastier dish the following day!
KITCHEN CHEAT: Make this sauce a day ahead if you're planning on making a lasagna, or double it and freeze the remaining sauce for quick midweek dinners!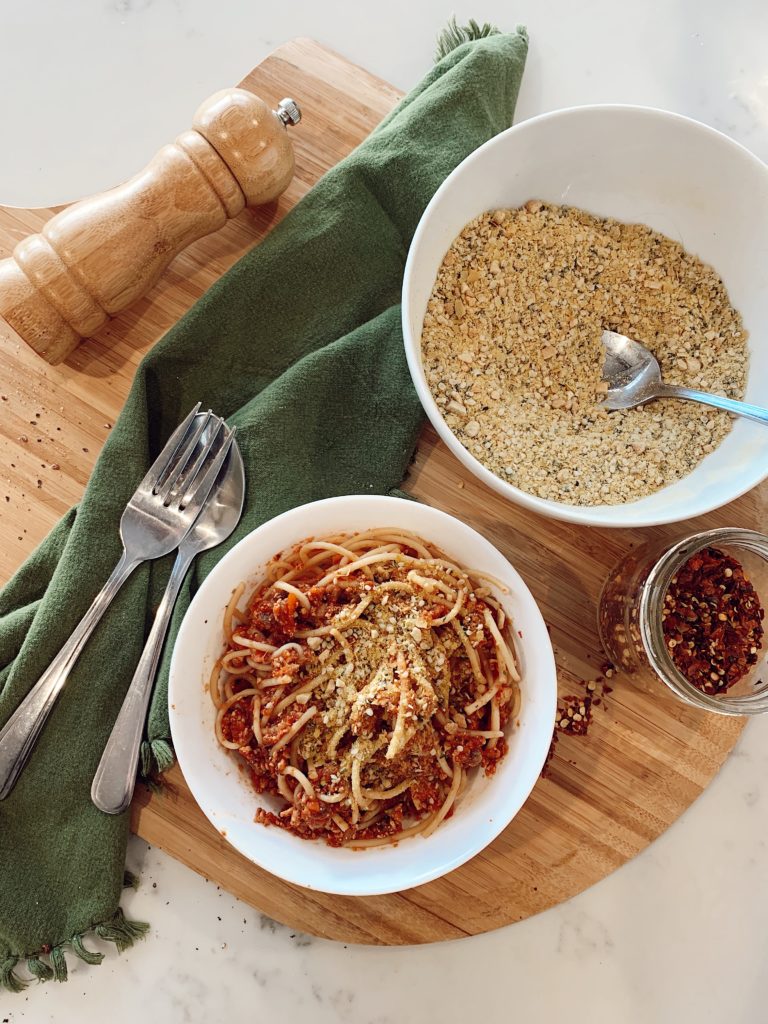 For a little bit more authentic flavour you can garnish with your favourite parmesan cheese, or, if you'd like to keep this meal completely vegan, I have shared my five ingredient vegan parmesan recipe below!
FIVE INGREDIENT VEGAN PARMESAN:
1/2 cup of hemp hearts
2/3 cup of nutritional yeast
1/4 cup of hand ground cashews
1 tsp of garlic powder
1 tsp of onion powder
Sea salt to taste
KITCHEN CHEAT: Store your vegan parmesan in a glass, air tight container in your fridge. Add the yummy flavour on top of soups, salads, pastas and so much more!
This vegan parm is earthy in flavour, perfectly chewy and lasts for months when stored properly! I just know you'll love it on top of this easy, delicious vegan Bolognese sauce!
So, are you a sauce loving gal like me? Do you have a favourite vegan sauce you'd like to share too? I would LOVE to know what you are cooking up in your kitchen! Leave YOUR fave sauce in the comments!
If you recreate this recipe and share it on social, I would love to share it with my community! Tag me at @bethanythislittleestate