Around here, up in Canada, when warm weather is fleeting and summer lasts for a quarter of the year, we soak it up.
We are like most Canadians who emerge from hibernation in early spring to survey the damage winter has done and to eagerly embrace outdoor work, whatever that will be.
For us, it has meant updating our homes dated exterior and rejuvenating our inherited dandelion filled yard and overgrown gardens.
Slowly but surely we have made some updates to our front porch, and we couldn't be more excited about the way things have changed!
In three short years (and even shorter spring afternoons!) we have upgraded our space with some quick and easy DIYs.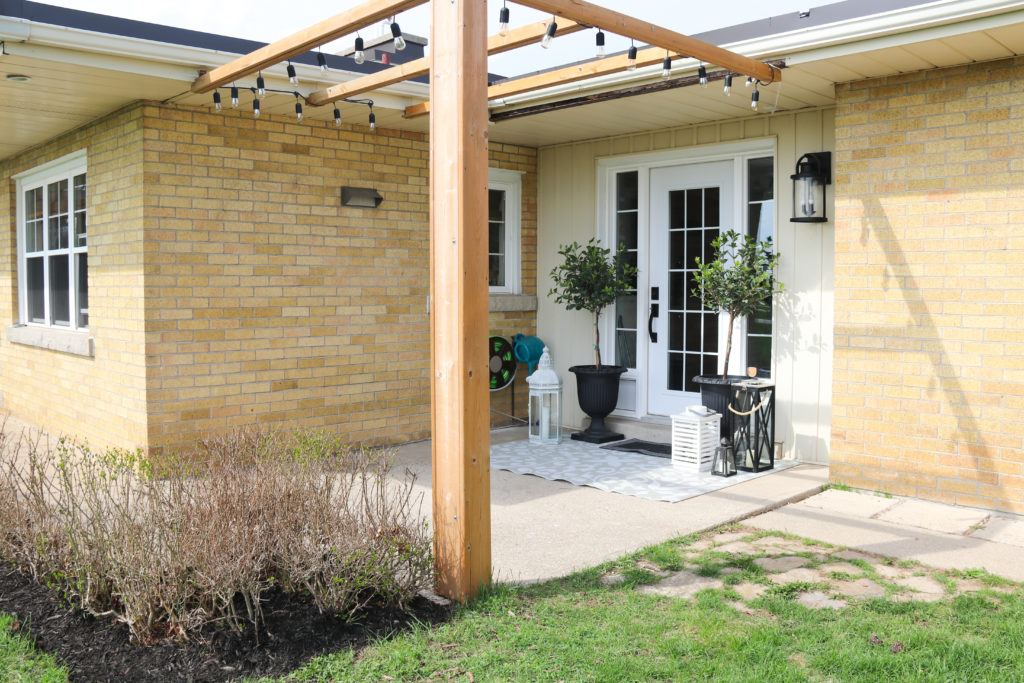 First we started by replacing our homes 1954 original door and windows with a new set. We installed them, convinced my father in law to help with the white and bright flashing and painted everything out a nice crisp white. Then, we flanked the rusted metal porch base with some outdoor lumber, to hide the poles cracking and peeling paint. Doesn't that simple step make the space look so much better?!
Next up, I power washed every bit of our cement pathways and decking, removing years of grime and build up.
Luckily, with some simple elbow grease, I was able to lift our front porches cement colour to the untarnished round patch you can see below. (More after pictures of this part of our exterior in another post!)
After that we added a pretty exterior light and new door hardware.
This past week, we traded in our winter mitts for gardening gloves courtesy of Home Hardware and their current lawn and garden event. We got busy adding some much needed character and charm to our cleaned up front porch which you can see below!
I started by softening our porches cement pad with some layered outdoor carpets which visually grounds our exterior entry while adding some character. I chose a fun pattern in a light tone that reminds me of the trendy design found on cement tiles. Then, I pulled in a nice heavier mat for guests to wipe the spring mud from their boots, and flanked our door with two beautiful urns.
I took advantage of Home Hardware's Lawn and Garden event (running until May 15th!) and filled my set of pots with premium pro mix. For both planters, I only needed two bags of the mix. I loved the fact that these urns have a faux bottom on the inside that sits half way down the pot! Less soil means easier to maneuver pots!
Not only does this allow for optimal drainage, but this also means I can easily keep my temperamental gardenia trees outside when the weather is right and I can easily pop them inside at night when the spring weather drops.  No extra muscle required! Which is great since Ive been SO looking forward to adding beautiful green to our porch and couldn't wait another minute despite our cold evenings.
We finally added a much needed hose and holder on to an exterior spout and even added a watering wand for when we add hanging baskets to our exterior! Hallelujah! No more dragging out the ladder!
Speaking of ladder, I finally pulled out our extra long one and some hand tools to tear off the old ceiling from our porch. It seemed like a treacherous task, but took me all but an evening of dedication and brow sweat. NOW, our porch, gets so much beautiful sunlight! Which is just what spring is all about!!!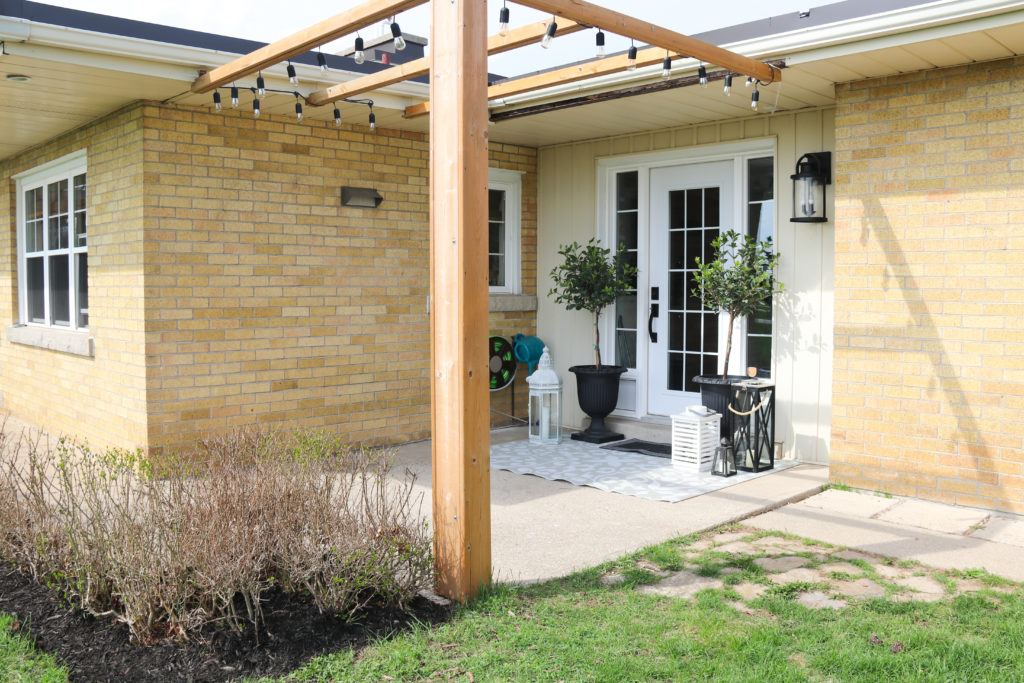 Which of course, has me, and everyone else, smiling ear to ear.
Next up, I cant wait to show you how we have turned our lawn from a dandelion jungle into a cushy green star gazing blanket. HINT: its easy and you can do it too!
What do you guys think of the new changes to our porch? Do you flank your door with potted plants too? Maybe annuals or perennials OR herbs?!! What do you like to grow on your porch?