Lately, I have had a lot of questions come in from YOU, my lovely inquisitive readers, about HOW I created my book page wreath that happily hangs in our families living room.
My mom loved it so much as well, so I made her one last Christmas.
I'm hoping all the interest is because you too want to make a paper page wreath for your mama? She would love it, I promise.
It really would make the best gift for a friend that appreciates home made gestures of love and re purposing old items.
This textured wreath was easily made from a vintage book and took all but an evening to make. You could totally make one for that person on your Christmas list who seems to have everything all ready.
It certainly would add instant charm as you can see here:
I was actually inspired by a similar wreathe I spotted on
The City Farmhouse blog
. Which is my favorite, number one wreath out there on the Internet. I love, LOVE
LOVE
it.
I pretty much love
everything
that
Jen
touches. Her pretty wreath caught my eye instantly last year and I knew I had to have a similar one in our home – immediately.
If you want to see how she made hers and basically how I made mine, then you can click on the picture above and check out Jens beautiful blog.
IF you have some time today and like pretty re purposed crafting, then hold on a second, and check out the beautiful wreathes I am dying to make soon.
I compiled a grouping of my ten favorite paper wreaths so you can find some of the prettiest most interesting ones in one search. You can click on each picture to be taken to the source directly.
Feel free to pin this post but make sure to pin each bloggers wreath from their original post. 🙂 It is only fair since they did all the pretty work.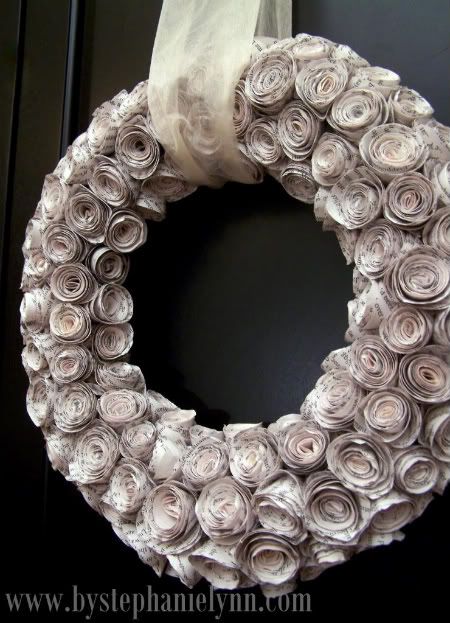 I am basically jaw droopingly smitten over this rosette wreathe. It is seemingly time consuming but worth the effort! Love it!!
I love the pretty paper page leaves that make up
this
wreathe. It looks so simple and yet it adds the perfect amount of visual interest.
This wreath is so complex and yet could be personalized for any decor. I want to make one with white floral centers and maybe with a tinge of sparkly glitter.
This beauty had me with the first glimpse of all those ruffly edges! Ruffles make me swoon and this wreathe just looks like ruffles upon ruffles upon more ruffles. I want to touch it soooo bad.
I couldn't believe this wreath was made out of paper at first glance! I thinks the options with this design are endless. You could use bright craft paper or that awesome metallic paper they have out now, or newspaper. It is so original and downright beautifully eye catching!
This one looks so simple and interesting. I love the colour of it and the way it would pop against a neutral wall. The aged tone makes me think of tea stained china and old linens. This vintage loving girl loves things that knod to the past and this wreath does just that for me.
Talk about a happy intriguing wreath! This paper cone version wreath is so intricate, and keeps the eyes movin' over its curves and colour and makes me imagine using all those scrap booking pages I "just had to have" when I thought I would scrap book every last detail of my life. Big thanks to my husband for buying me all the supplies that are still in a plastic tote somewhere.
I want a few of these beauties…like yesterday.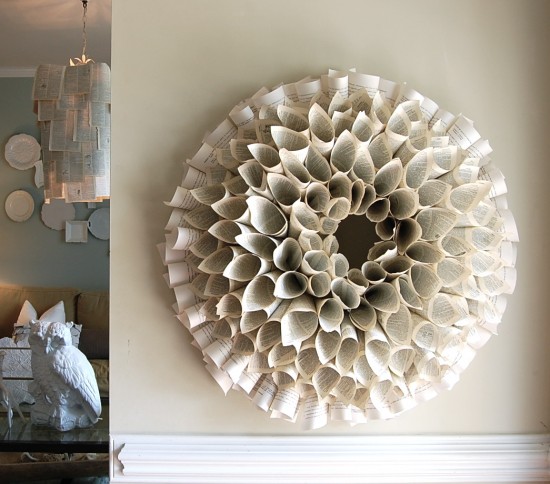 This perfectly symmetrical, simply beautiful, cone paper wreath is lovely. I don't think I could ever make one that is this perfect, but I want to try my hand at it. Besides,
the Nester
says that a home doesn't have to be perfect to be beautiful. You know what? I totally believe her. I am also dying over her chandelier covered in paper. So random, and
so
beautiful!
I made my wreath by using an aged book and by folding and gluing randomly. I love that the hap hazard way of crafting gives it personality and texture galore. It is the best tone of colour and is what keeps reminding me that I need to sit down over the holidays and try my hand at making some of these beautiful paper wreathes.
What do you think? Which one is your favorite?! 🙂
I know, I cant decide either.
Would you hang a paper wreath in your home? Do you agree that they add instant character to a space? Are you like me and want to have a paper wreath on every door in your house now?
Ya? 🙂
I think I might make that happen…. 😉
Happy crafting!